Leaving Party Ideas and Tips for a Fun Farewell
Details

Category: blog
Updated: 06th April 2023
Saying goodbye is hard—unless you've been waiting for an excuse to throw a party!
While every going away party is bittersweet, at Bands For Hire, we prefer to focus on the sweet. The best leaving party ideas allow friends and coworkers to reminisce about good times while making a brand new memory together. Whether you're planning to grab farewell drinks at a favourite pub or throw a bash at a massive venue, you owe it to your guest of honour to pull out all the stops.
Planning a memorable leaving do requires toeing a fine line between sentiment and celebration. We've created this guide to help you navigate the planning process and curate a party worthy of a solid send-off. We've included everything from leaving party themes to ideas for party food and drinks.
Keep reading, and you'll wish every parting involved a party!
Embrace Nostalgia
Hire the right venue and the perfect band, keep the alcohol flowing, and set the mood with lights and decor. When the party essentials are in place, the good times will follow. The best leaving parties allow for a blend of good times and heartwarming nostalgia, so don't forget to leave room for speeches, slideshows, and gifts.
Speeches and Toasts
Your party guest list should include people the guest of honour knows well. Ensure you invite a few volunteers who can give rousing farewell speeches and toast to their parting. If your guest of honour has a thick skin and a sense of humour, you could also host a roast!
This part of the party is easy when you hire a professional DJ, who will come prepared with a microphone and speakers.
Remember that guests may be tipsy. Encourage them to write their speeches down or bring a few notecards, just in case. Your DJ can help maintain flow and keep things moving, playing music between each toast.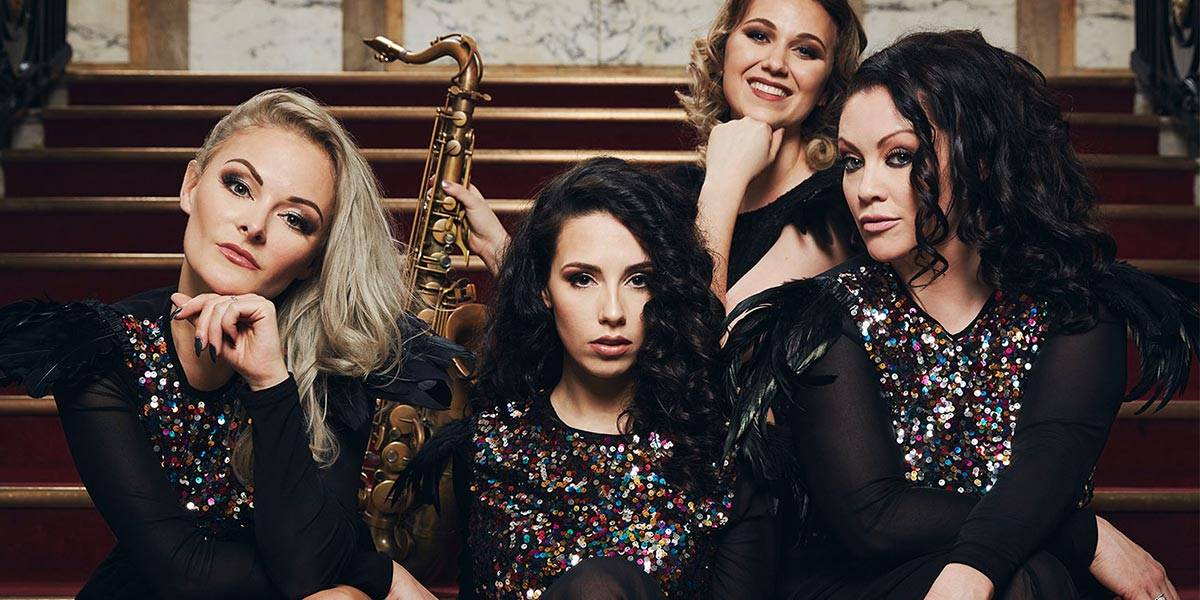 Party Entertainment
Take your event to the next level with one of our live party bands, musicians or DJs
Slideshow
We're lucky to live in the twenty-first century when nearly everyone has a phone in their hands at all times. Thanks to social media, anyone can access their favourite pictures, silliest selfies, and best memories from anywhere. Something magical happens when you gather all those incredible photos and include them in a slideshow to commemorate good times with great friends.
Try to include photos of as many of your party guests as possible. Everyone lights up when they catch a glimpse of themselves on screen. It provides your guest of honour with an opportunity to recall a fond memory with everyone in the room.
While a picture's worth a thousand words, every photo slideshow improves with music. If you hire a live band, you might ask them to accompany the slideshow live for a surround-sound sensory experience. We'll work with you to create the perfect setlist to accompany your humble stroll down memory lane.
If you pick songs everyone knows, your slideshow might become a spirited sing-along!
Going Away Gifts
A leaving party is unlike a birthday party, as guests don't traditionally bring individual gifts. It's common for the entire group to chip in and pick out a parting present with some meaning or nostalgic value. Your best bet is to choose a representative to shop for the group and ask each guest to kick in a bit of cash to cover the cost.
A meaningful gift is one that the guest of honour can use after their transition. It might be a tool that will come in handy in their new professional role, something helpful for travel, or a survival kit for students studying abroad. It's best if it's something that they wouldn't choose on their own, and keep in mind that bulky gifts are inconvenient if the person is moving house.
If you prefer a nostalgic gift, consider something like a book or album that includes photos and notes from all the attendees. You might also buy an inspiring book full of advice about their new path and ask everyone to sign it like a card.
If their departure removes them from the area, consider a gift you can only get locally or something that references or depicts a favourite landmark.
Present the gift after the speeches or at the end of the slideshow while the guest of honour is still the centre of attention. Leave plenty of time for them to make the rounds and say thank you and farewell. Tips for Choosing a Party Venue
The best place to host your farewell party will depend on the type of party you choose. Some hosts plan a pub crawl, allowing your guest of honour to enjoy farewell drinks at their favourite places in the area. The crawl can end at a pub or restaurant with an event space where you can settle down and celebrate.
If you're planning a surprise party, you'll need to stick to one unassuming location. If it's a pub, ensure it's a place your guest of honour patronizes regularly. If the venue is familiar, an invitation for a drink won't seem unusual or suspicious.
We tend to think that the best location is a private venue where you control the space and the noise level. This control makes it much easier to hire a band to add life and energy to your event. You don't want your bash to start as a melancholy affair, so letting a band set a positive vibe makes a huge difference.
If you hire a band, ensure the venue has plenty of room for dancing and mingling.
If your guest of honour is going to depart the city or country indefinitely, you might want to prioritize a venue with nostalgic value. What is a place they'll miss when they're no longer in the area? Is there a local speciality or cuisine they won't find near their new home?
Ultimately, a practical space with deep meaning is ideal for this type of affair.
Unique Leaving Party Themes
Not every party needs a theme, but a good one can be a helpful organizing principle that helps keep the party's aesthetic cohesive and engaging. At a leaving party, the theme should always be about the guest of honour.
If they're off to school, consider featuring their new school's colours or mascot in the decor. If they're moving house, focus on remembering their favourite parts of your city. If they're leaving their workplace, choose something they enjoy outside of the office—that way, they aren't fixating on work when it's time to party.
Here are a few general themes that can work for nearly any parting:
Dr Seuss's "The Places You'll Go" party
Mexican-themed "Adios Amigo" party with a mariachi band
"Bye, Bye, Bye" 2000's themed nostalgia party with a function band
Bon Voyage party with a travel aesthetic
"Donut Forget us" farewell brunch
"Your Future is Bright" Neon-themed celebration
Sardonic "You're Dead to Us" theme for someone with a dark sense of humour
Nearly every theme gets better when you include a live band. Imagine a 90s cover band playing the best pop hits at your nostalgic bash. If you're celebrating the end of a long career, book a band that can play the hits from when they started at the company.
Activities for Mingling
It's fun to include a few interactive ways for guests to celebrate the guest of honour during the mingling portion of the event.
Interactive Top Ten Lists
Tack a large piece of kraft paper on the wall and set out some coloured markers. Label each sheet with a heading such as "Top Ten Reasons We Adore You" or "Top Ten Memories." From there, let the guests fill them up.
You can anticipate silly responses, fond memories, and even fun doodles. As a bonus, the lists serve as wall decor, so you won't need to go out of your way to decorate.
If your guest of honour won't be travelling, you can roll the lists up and send them along as an extra parting gift. They are simple, sentimental, and cost almost nothing to create.
Photo Booth
You might also want to include a photo booth or selfie station where guests can capture a final photo with the guest of honour. Balloon arches, streamers, or textured walls make stunning photo backdrops. Set out a few silly props or goofy signs so everyone can display their personality in the photos.
A photo booth is also a thoughtful way to approach gifting if your guest of honour is trying to travel light. It's a simple way to manage a smaller leaving party budget.
Instead of handing over a physical gift, collect all the photos from the party and curate them into a website or online photo album. Your giftee will be able to appreciate them without adding more bulk to their packing list.
Meet and Greet Bingo
Going away parties sometimes bring people together from different parts of the guest of honour's life. Coworkers may not know family members, and friends from school may not know friends from hobbies. If this is the case at your party, consider including an icebreaker to make mingling less awkward.
Our favourite is Meet and Greet Bingo. Hand each guest a Bingo card. Each square should include a characteristic, such as "Person who has known the guest of honour the longest" or "Someone related to the guest of honour."
Guests will check off boxes as they mingle and get to know one another. The first guest to achieve a Bingo can win a prize! What to Serve at a Leaving Do
Whether your event is large or intimate, guests expect food or refreshments. What you offer will depend on your venue, budget, and the tone of the event.
Many hosts wonder if they're responsible for all the food and drink or if guests should pick up the tab.
If you're hosting a pub crawl or celebrating at a local restaurant, you might open a tab for a limited period. For example, you might offer a "happy hour" during the first hour of the party and then ask attendees to pay for their own drinks after that. You can order some shareable dishes for the group, but encourage guests to order off the menu if they'd like.
Canapes or appetizers are appropriate for a casual party that's mostly mingling, but a party at a sit-down venue generally calls for a catered meal. As a rule, if the party has a dress code, expect to provide a dinner. A party that size is most appropriate for large-scale, celebratory departures, such as retirements.
Whether you provide the meal or leave it up to the guests, nearly every farewell party involves a cake. It's an easy, photogenic way to offer dessert to a crowd.
At a casual goodbye gathering, it's appropriate to ask guests to tip in for the cake. At a more formal party, the host should provide the cake. If your guest of honour is leaving the area, consider ordering a cake from a beloved local bakery or patisserie. Leaving Party Ideas for a Perfect Parting
Whether someone's leaving the office for a new position or leaving the country for a new adventure, they deserve a worthy celebration. Our leaving party ideas will help you plan a going away party that's so good they won't want to leave at all! The best farewell parties are opportunities to turn your final moments together into magic.
Whatever the occasion, every party gets better when you have live musicians on hand. At BandsForHire, we go out of our way to match you with the musical act that will set the perfect tone for your celebration. Our popular bands book up quickly, so get in touch todayto ensure you get your top pick.