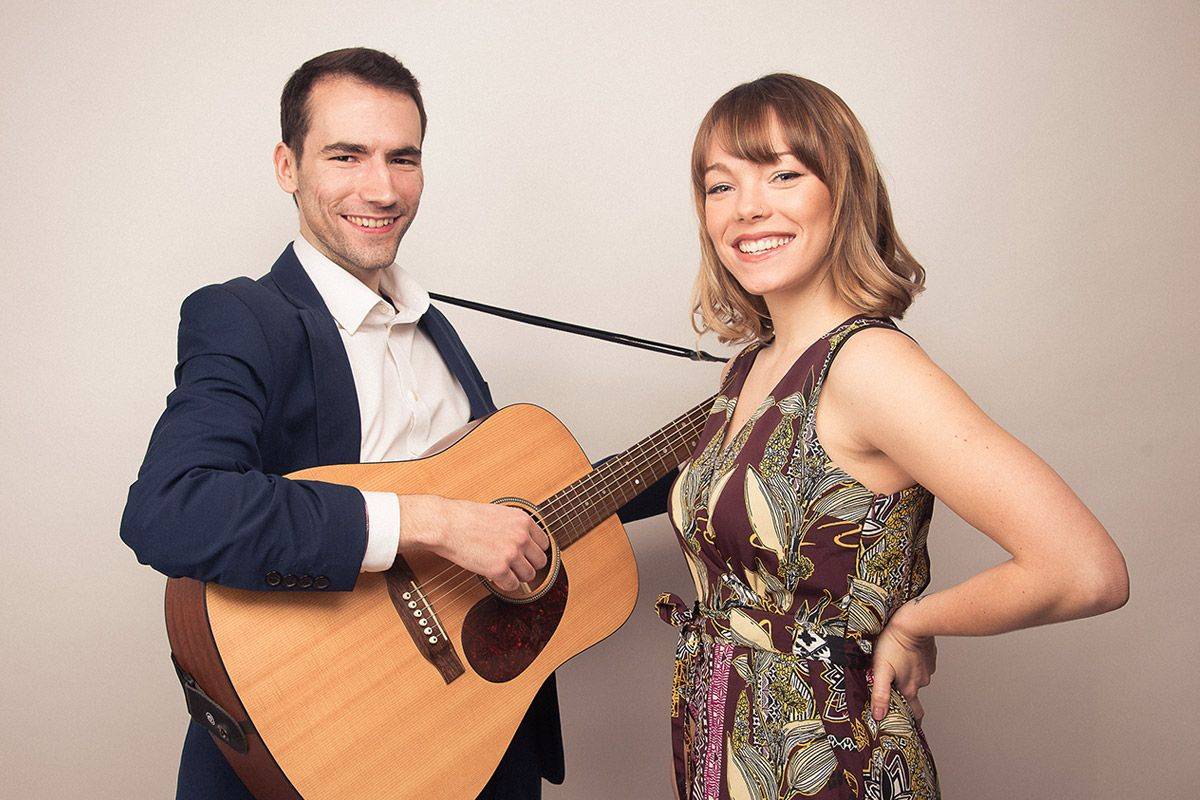 Soul Front
Soul Front are an acoustic duo offering chilled out acoustic music for weddings, corporate events, civil ceremonies, parties and more.
From £495
Biography
With stunning vocals and beautiful guitar work, this acoustic duo are the perfect choice for an intimate and sophisticated drinks reception or evenings entertainment.
Their mix of modern and classics will appeal to guests of all ages making them ideal for wedding receptions. For more information, please get in touch with details about your event and we'll send you a quote. I Just wanted to whole heartedly say thank you so much for your presence and beautiful acoustic performance at our engagement. It meant so much to us you guys being there and we thoroughly enjoyed ourselves. You both truly are amazing!!

★★★★★

Mark and Priya, Wedding engagement party, London

Soul Front were absolutely wonderful, they were both incredibly talented artists and her voice was absolutely heavenly. Soul Front was exactly what we wanted when we were having our drinks reception on the terrace and they played a great selection of songs. Amazing!!

★★★★★

Alice Lowenhoff - Wedding

Soul front were wonderful. Music is incredibly important to us and I didn't want to listen to just anything on our wedding day. I wanted to listen to wonderful music with a singer who made me emotional and stop and listen. They were 100% professional and everyone complimented us on how great they were. A highlight of our special day. Would highly recommend them to everyone. What excellent talent. Thank you for making our wedding day even more wonderful.

★★★★★

Oliver - Wedding

We hired Soul Front for our wedding day on 6th July 2019 and they were absolutely incredible! She has the voice of an angel! Soul Front sang for me whilst I walked down the aisle and the moment they started, I was fighting back the tears. Their vocals and guitar playing compliment each other perfectly, we could not have asked for anything more. They then played throughout our drinks reception and had guests on the dance floor all afternoon. All of our guests commented on how amazing they were and my new husband and I could not agree more! Communication from the band and Sam at Bands for hire was brilliant from the word go. Nothing was to much trouble and the band even kindly agreed to learn two songs of our choice especially for our day as they are very special songs to us. The service we received was impeccable! Thank you for making our wedding day so special, it was just perfect. We cannot recommend you highly enough.

★★★★★

Rebecca Baxter - Wedding

This is just a quick note to say thank you so much for performing at the Tate event on Friday. Your set created just the right atmosphere for the beginning of the night and we have already had some great feedback from the guests about you both. We will be sure to keep you in mind for any upcoming events and promise to spread the word about Soul Front! Thanks again and good luck with the future.

★★★★★

Catherine Davenport - Corporate Event, London

Soul Front were amazing from booking through to showtime, so definitely a 10 on all aspects. Would book them again in a heartbeat.

★★★★★

Charles Pacy - Wedding in Portugal

Soul Front were fantastic! Nothing was too much trouble and they were on time and professional throughout. Incredibly soulful and the perfect duo for our event. I would definitely hire them again.

★★★★★

Lisa Pavitt - 20th Anniversary Celebration

We can't thank Soul Front enough for making our wedding day very special. The band were an absolute pleasure to deal with throughout and were very professional. The two sets went down incredibly well and our guests were literally begging for more at the end. We've had so many amazing comments about the performance. We knew they would be very good but somehow managed to exceed our lofty expectations.​

★★★★★

Mike & Caroline Edmunds Wedding

They provided the perfect backdrop for the evening. Giving an intimate performance and leaving our customers thoroughly entertained! They had a great mixture of songs that complimented the flow of the night, and had our guests up and dancing by the end of it! Both professional and charismatic, I would highly recommend them. ​ ​

★★★★★

Jacob, Manager at Caffe Machiatto, Aldershot

Very happy with the high quality these guys delivered, they are a dynamic duo indeed! The level of professionalism and talent was outstanding and I am now on the lookout for any excuse to have another party just so I can book them again! Thanks for a great night!

★★★★★

Richard, 50th Birthday, Birmingham

A big big thank you to you both, very impressed, all my guests were commenting on how talented you are. The song choices were perfect and we enjoyed listening to you so much. Amazing voice. thank you for making the day magical. Best of luck to you both, I know you'll go far!

★★★★★

James Howard, Wedding, London

I just want to say thank you, the entertainment for my Civil Partnership, Soul Front were amazing!! The repertoire was perfect and so many guests commented on how amazing she was. I am so happy I picked this band for such a special occasion and I couldn't have asked for more.

★★★★★

AJ Lewis, Private Party Event, Kent

Just wanted to say a huge thank you for for fantastic performance at our party on Sunday. Many people commented on how excellent they thought you both were and you really helped to take everyone's minds off the fact that it was a very wet and cold SUMMER garden party!!

★★★★★

Lisa & Lee

Thank you to yourselves and Soul Front for helping to make our day so special.

★★★★★

Sam Clarke - Wedding

Very talented duo, the customers at the event loved them and bought drinks for them. I would use them again, without any hesitation. They have a brilliant voice and perfect for any event!

★★★★★

Sami Uddin - Restaurant 30th Anniversary

I really like the song selection and their beautiful acoustic arrangements of all time classics. And both the singer and the guitarist are excellent.

★★★★★

Shan Lin Lau - Wedding

Soul front were absolutely incredible on all fronts. Couldn't have asked for a more amazing act for our wedding. Learnt our first dance and were very accommodating with my song requests. Would book again 100%. Would score 10/10 on all points.

★★★★★

Kate Moore - Wedding

Soul Front were excellent and a really fabulous addition to our party. They were very punctual and lovely to speak to, as well as wonderful musicians. I would certainly recommend Soul Front to anyone looking for great musicians to give an event a relaxed atmosphere, and make sure your guests have a great day

★★★★★

Lucy Clayden - Party

Soul Front were an amazing band and totally made our night, fantastic, couldn't recommend enough.

★★★★★

Megan Robertson - 40th Birthday Party

Soul front was amazing, her voice was stunning and they were ever so friendly !

★★★★★

Leah Thompson - Wedding

Soul Front were an amazing addition to our wedding reception. My husband and I were so excited to hear them perform and they did not disappoint, with everyone we spoke to commenting on how brilliant they were. As well as being fantastic performers, they were both lovely people who were happy to take the time just to have a chat. They ensured that an already amazing day was made even more special by playing/singing the music for our first dance and we would highly recommend them to anyone looking at having a band perform at a function.

★★★★★

Shilpa - Wedding

Just wanted to send over a note to say that Soul Front were amazing last weekend at our wedding! Really lovely to deal with throughout the day, and wow what a voice she has and everything went really smoothly, no stress for the bride or groom, which was fab! I think having direct contact with the band before was really useful, as we didn't get that with our eve band and had a few issues, due to the agent not communicating everything! We both thought her voice was amazing from listening to her recordings, but it is even better in real life! :) Unfortunately I didn't get to hear all of what they did, as I was off having photos etc, but the bits I did hear were amazing! She sang the walk down the aisle and the first dance so beautifully, it was perfect! Josh heard more, as he was waiting at the aisle for me and he said it was absolutely perfect! So many guests commented on their performance, and even the gardener at the venue has been in touch asking "who was the singer as she was brilliant!"

★★★★★

Fiona Williams - Wedding

I was extremely pleased with Soul Front. Sound level was spot on and their music was very pleasant, easy listening. Number of my Guests commented to me how good they were and perfect for the occasion. First time I have had to organise live entertainment and have to say the complete hiring process was excellent and I would certainly highly recommend bandsforhire. Thank you

★★★★★

Tony Hewitt - 60th Birthday Party

Soul Front were everything we hoped for. A beautiful touch on our big day. we had non stop comments from our guests about how beautiful her voice was.

★★★★★

Ken Taylor - Wedding

Beautiful singing and playing for our wedding ceremony- very very pleased :)

★★★★★

Gemma Wheeler - Wedding

We really enjoyed Soul Front, it was difficult for them as there was a lot of children and because of the weather being so rubbish it wasn't the exact set up that we wanted, but they were brilliant and just got on with it would definitely love to hire then again.

★★★★★

Heather Reid - Corporate Event

Soul front were a great band. The singer was superb and was an awesome singer who EVERYBODY commented on. The range of songs were what we wanted and they literally made our day even more special, I would 100% recommend, to anybody.

★★★★★

James Boyce - Wedding

Really great band with fantastic vocals. Lovely vibe for our wedding day and all our guests enjoyed. Friendly and professional - would recommend for any event.

★★★★★

Naomi Savage - Wedding

Soul Front were a fantastic addition to our wedding, and made the ceremony and drinks reception really special. I was nervous given that we'd only heard a few songs online and never seen them in real life, but I had no need to be. Would highly recommend for beautiful but subtle live music. Thank you!

★★★★★

Hannah Senior - Wedding

Soul Front were absolutely fantastic. They performed the songs we requested from their repertoire and received so many positive comments from guests throughout the day and after our wedding. We would highly recommend the duo to other couples/anyone organising an event.

★★★★★

Christian Capell - Wedding

Soul Front were perfect for our corporate Summer Party, they created a great atmosphere and everyone enjoyed their music.

★★★★★

Sarah Wadsworth - Putney & Wood Ltd
Select Video
Don't Know Why
Audio & Repertoire
Scroll down the artist repertoire below and listen to the audio samples to hear more. If you're interested in hiring Soul Front for your event, please fill in the contact form below and we'll come back to you with a quote.
Repertoire
Slow Songs
I Ain't Got You - Alicia Keys
At last - Etta James
Better together - Jack Johnson
Aint no sunshine - Bill Wither
Thinking Out Loud - Ed Sheeran
All Of Me - John Legend
Lets Stay Together - Al Green
Fast Car - Tracey Chapman
I Can't Take My Eyes Off You - Lauryn Hill
Somebody that I used to Know - Gotye
Use Somebody - Kings Of Leon
I can't help falling in love with you - Elvis
Wonderful World - Lois Armstrong
Fields of Gold - Eva Cassidy
Killing me softly - Lauryn Hill
Just like a star - Corinne Bailey Rae
Rather go blind - Etta James
Crazy - Gnarles Barkley
Eden - Hozier
Stronger than me - Amy Winehouse
Wicked Game - Chris Isaak
Thinking out loud - Ed sheeran
Say a little prayer - Lianne La Havas version
Will you still love me tomorrow - Amy Winehouse cover
You've Got The Love - Florence And The Machine
Feeling Good - Nina Simone
I Can't Help It Michael Jackson


Mid-Tempo
I wish - Stevie Wonder
Isn't she lovely - Stevie Wonder
For Once In My Life - Stevie Wonder
Valerie - Amy Winehouse
I Want You Back - Jackson 5
Kiss Me - Sixpence Non The Richer
I'm Yours - Jason Mraz
Heard It Through The Grapevine - Marvin Gaye
Moondance - Van Morrison
American Boy - Estelle
Cheek To Cheek - Ella Fitz Gerald
L.O.V.E - Nat King Cole
Brown Eyed Girl - Van Morrison
Is This Love - Bob Marley
Faith - George Michael
Pompeii - Bastille
You & Me song - The Wannadies
Put your records on - Corinne Bailey Rae
Sunday Morning - Maroon 5
These are the days - Jamie Cullum
Lovely day - Bill Withers
Wonderful world - Sam Cooke
The Girl From Ipanema - Frank Sinatra
Big yellow taxi - Joni Mitchell
As - Stevie Wonder
Superstition - Stevie Wonder


Uptempo
Treasure - Bruno Mars
Blame In On The Boogie - Jackson 5
Dancing In The Moonlight - Toploader
Rather Be - Clean Bandit
Sweet Home Alabama - Lynyrd Skynyrd
PYT - Michael Jackson
Ain't Nobody - Chaka Khan
Marry You - Bruno Mars
Moves like Jagger - Maroon 5
Happy - Pharrell
Domino - Jessie J
Uptown Funk - Bruno Mars
Forget You - Cee Lo Green
Signed, Sealed, Delivered - Stevie Wonder
Rock with you - Michael Jackson
Walking on sunshine - Katrina and the waves
Kiss - Prince
Get Lucky - Pharell
I'm a Believer - The Monkees
Crazy in Love - Beyonce
I Got You (I feel good) - James Brown
Never Too Much - Luther Vandross


Christmas Songs
White Christmas
Winter Wonderland
Baby its cold outside
Jingle Bell Rock
Rudolf the red nose reindeer
Santa Clause is comin' to town
Merry Christmas - Slide
All I want for Christmas is you - Mariah Carey
Fairytale of new york
Send Enquiry
Interested in hiring Soul Front for your event? Simply fill in the form below with your event details and we'll come back to you with a quote.