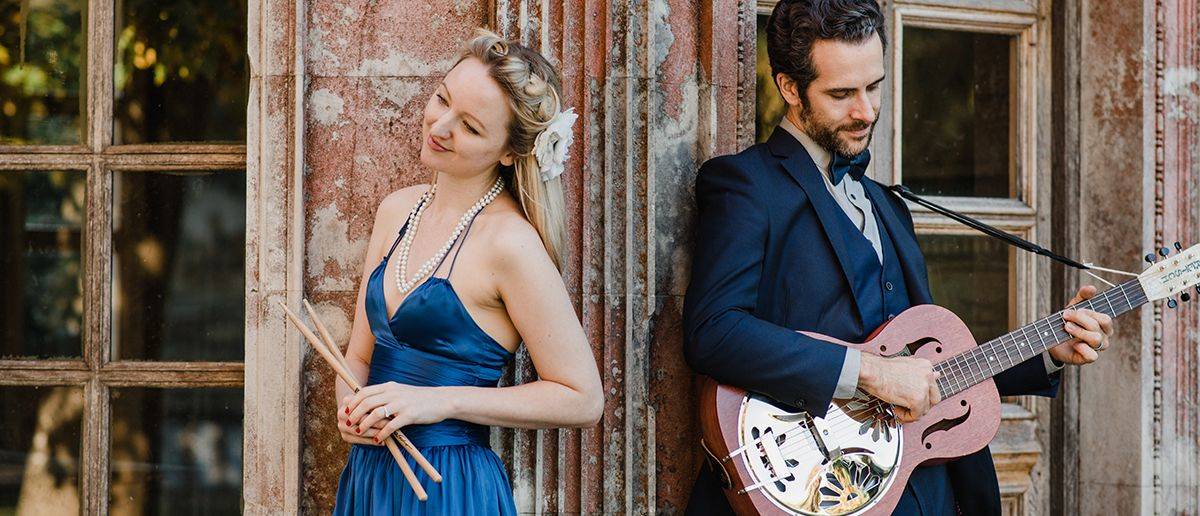 Jazz and Swing Bands
Add a splash of style to the proceedings with one of our talented jazz and swing bands, available to hire for weddings, corporate events, private parties and more.
Hire Jazz Musicians For Any Occasion
As the leading supplier of jazz and swing bands in the UK, you'll be sure to find a live act that fits the bill. From solo jazz pianists, jazz trios and quartets to jazz ensembles with additional horn section and jazz singers.
Jazz Bands For Hire
We offer a huge range of local jazz and swing bands to suit your event. It really depends on the size and vibe of your event – big parties, corporate and charity functions and wedding receptions tend to be held in larger venues and have larger budgets, so they would typically benefit from the fuller sound and larger scale spectacle our jazz ensembles provide.
Wedding Jazz and Swing Bands For Hire
Our flexible and accommodating wedding jazz bands can strip themselves down to a three or four-piece; if your venue can't house a drum kit, or if you'd prefer quieter jazz to be played in the background, then this is the option for you.
Browse All Jazz & Swing Bands
Browse through our exclusive roster of jazz bands and swing bands in the UK. Our jazz musicians are the perfect choice for your champagne reception, corporate event, wedding reception and more.
Need some help?
Call us on 0845 073 9440
Our experienced team book live bands for thousands of events every year, so if you're in need of some friendly advice, please feel free to get in touch.
Jazz and Swing Band FAQs
Looking to hire a jazz function band but not quite sure where to start? Below you'll find answers to some of the most common queries about jazz and swing bands.
How much does it cost to hire a jazz band?
The price of a jazz band varies due to a number of factors such as travel costs, time of the year and the experience of the musicians.
As a ballpark figure you might expect to pay between £175 - £200 per jazz musician for a band based in your local area. However, this can increase for jazz acts that are more specialised or in higher demand.
How many musicians are there in a jazz band?
Whatever budget or venue size you're working with, we have a jazz band to meet your needs.
For background jazz we provide jazz duos and jazz trios for hire featuring two or three musicians, often led by piano, saxophone or guitar.
For something tailored towards evening entertainment, you may like to add a jazz singer to create a jazz quartet or a 2-piece horn section for a full-sounding 6-piece swing band.
How long does it take a jazz band to set up and sound check?
It depends on the line-up but in most cases a small jazz band of two or three members will be able to set up in less than half an hour. For larger bands set-up times may increase to an hour or 90 minutes.
How long does a jazz band play for?
Jazz bands typically base their prices on two to three 45 or 60 minute sets. This is ideal for afternoon champagne receptions or early evening arrival drinks.
If you need longer sets, please just let us know in your enquiry and our bands will be able to tailor a quote specifically to your needs.
What styles of jazz and swing do you offer and what's the difference?
Jazz is a multi-faceted genre, to say the least. We offer a wide range of jazz and swing bands performing many of the most famous and well-known styles of jazz. Below are just some of the most popular:
Gypsy jazz
A uniquely vibrant genre of jazz originating from legendary guitarist Django Reinhardt in 1930s Paris. Taking jazz standards and incorporating a more rustic sound featuring acoustic guitars and violin, Gypsy swing or 'Jazz Manouche' is ideal for wedding receptions and arrival drinks. Take a look at our roster of Gypsy jazz bands to see what's on offer.
Dixieland Jazz
Developed in New Orleans in the early 20th century, this famous style of traditional jazz can feature any number of instruments that might include clarinet, trumpet, banjo or Sousaphone to name a few. Dixie jazz is often a favoured choice when hiring a roaming band to move freely across the venue.
1930s / 1940s Swing Bands
With its origins set in the early 1920s, the term swing music is used to describe many forms of jazz. From early 20 th century swing bands in the style of Duke Ellington to 1930s and 1940s big bands performing well known jazz standards from the Great American Songbook. A popular swing band line-up might feature a vocalist, drums, keys, double bass and two or three-piece horn section to create a 'mini big-band' sound.
Crooner Singers
Many of the most popular jazz standards we know and love were made famous by legendary Crooner singers such as Frank Sinatra, Bing Crosby, Dean Martin and The Rat Pack. One of our most popular line-ups is a jazz quartet featuring a jazz vocalist accompanied by piano, drums and double bass.
Versatile Jazz Bands
The majority of our jazz trios and bands perform well known jazz standards from a range of styles; from cool jazz (developed by jazz legend Miles Davis) to modern jazz, trad jazz and swing.
From solo jazz musicians to 8-piece swing bands, our bands are flexible with the line-ups they offer and will be happy to work with you and your requirements.
Do jazz/swing bands provide their own sound system?
Our jazz bands will usually provide all of the sound equipment required.
When booking a small jazz band for background music, the musicians will often use their own individual amplifiers rather than setting up a full PA system. This creates an organic and natural sound that's more than loud enough for both indoor and outdoor events.
If you're adding a singer to the mix the band will usually provide a small PA system for the vocals. We'll always specify exactly what's included in your quote.
Do I need to provide a piano?
All of the pianists we work with provide their own stage piano / keyboard, so you don't need to worry if there isn't a piano at the venue.
How do I book a jazz band?
We make hiring a jazz band a simple and stress free booking process.
Step 1. Browse through our roster or jazz bands and send us your event details through the contact form on the artist's page.
Step 2. We'll check availability and send you a bespoke quote for your event.
Step 3. If you have any questions, just let us know and one of our team will be happy to answer your queries.
Step 4. Once you're ready to book, we'll send you a booking contract to sign online and an invoice for a small deposit of approximately 20%. This can be paid by card or bank transfer.
Step 5. From here we'll send you a booking confirmation email with everything you need to know.
What songs and artists do jazz bands cover?
Our jazz and swing bands perform a selection of the most well known jazz standards taken from the Great American Songbook. Many of these jazz standards were made famous by jazz singers such as Nina Simone, the heartbreaking Billie Holiday, the heartwarming Nat King Cole, and the dripping-with-coolness Rat Pack: Dean Martin, Bing Crobsy, Sammy Davis, Jr., and, of course, Ol' Blue Eyes himself, Frank Sinatra.
Below are just some you might be familiar with:
Frank Sinatra - Come Fly With Me
Etta James - At Last
Frank Sinatra - Have You Met Miss Jones
Duke Ellington - Take The A Train
Van Morrison – Moondance
Cole Porter - I Get A Kick Out Of You
Nina Simone - Feeling Good
Ella Fitzgerald - Cry Me A River
Nat King Cole - Let There Be Love
Frank Sinatra - It Had To Be You
The Jungle Book - King Of The Swingers
Frank Sinatra - Fly Me To The Moon
Duke Ellington - Caravan
Bobby Darin - Mack The Knife
Irving Berlin - Cheek To Cheek
Nat King Cole - L O V E
Duke Ellington - It Don't Mean a thing if it Ain't Got That Swing
Ray Charles – Georgia
Ella Fitzgerald - My Funny Valentine
The Jungle Book - The Bare Necessities
Irving Berlin - Puttin' On The Ritz
Fats Waller - Ain't Misbehaving
Django Reinhardt - Sweet Georgia Brown
Frank Sinatra - I've Got You Under My Skin
Sammy Davis Jr - Mr Bojangles
Django Reinhardt - Minor Swing
Ella Fitzgerald - A Foggy Day
Dinah Washington - What A Difference A Day Makes
Take Five - Dave Brubeck
Dean Martin - Sway
Louis Armstrong - Jeepers Creepers
Tony Bennett - The Lady is a Tramp
Frank Sinatra - New York New York
Can I make a song request?
Yes, if have a song request that isn't already in the band's repertoire, just let us know and we'll run it past the band.
Our jazz musicians have earned their stripes at some of the most notable jazz conservatoires in the UK and are able to perform a wide range of jazz standards from the Great American songbook.
Do your bands play modern chart songs in a jazz/swing style?
Absolutely! Jazz is notable among musicians as being one of the most complex and difficult styles to master – but this doesn't mean our fantastic jazz and swing bands are above playing a decent pop tune now again!
Jazz musicians know better than anyone that more complex jazz can leave some people scratching their heads – so if any of your guests fall into this category, our jazz and swing bands will have a few pleasant surprises in store for them. Keep your eyes open for jazzed-up versions of popular hits by the likes of Daft Punk, David Bowie, Ed Sheeran and even Justin Bieber!
Event Planning Articles
Our team of live music experts have put together a number of live music guides and blog articles to help you with your event planning journey.