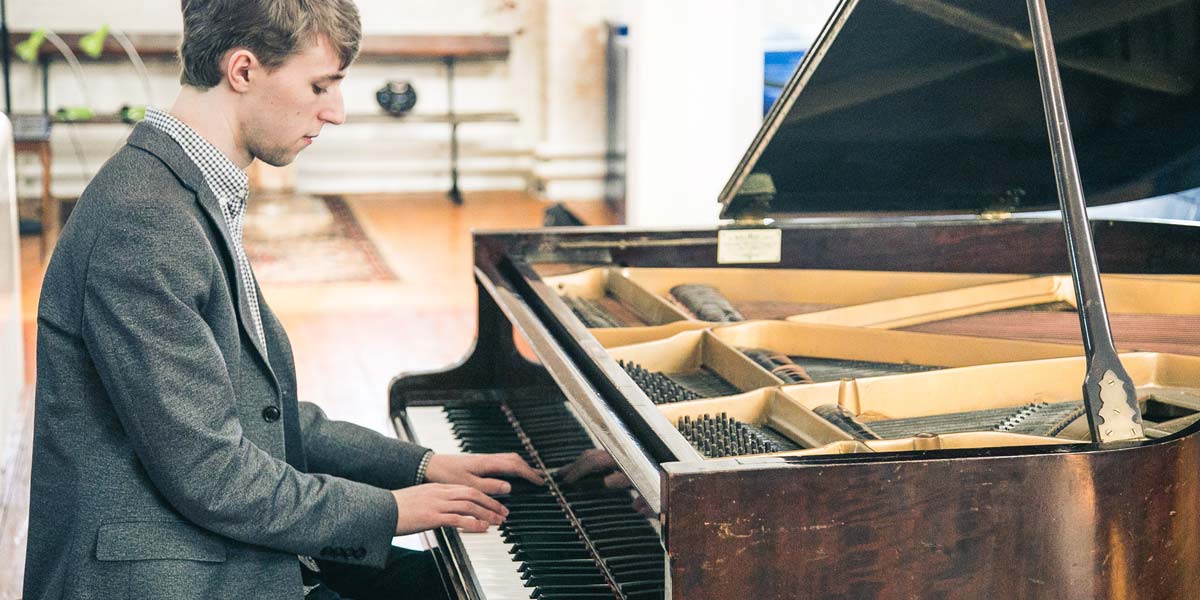 Hire a Piano Player
Our piano players are highly accomplished musicians with an extensive track record performing at weddings, corporate events and private parties. From classical pianists to jazz and modern, there's something for everybody's taste.
Whilst perfect for wedding background music, many of our wedding pianists do also provide vocals, so please let us know what you're after, and we'll advise on the right option for you.
Hire a piano player for a wedding, function or corporate event.
We represent corporate and wedding pianists throughout the UK, for more information on those based locally, feel free to check out our London pianists, Surrey pianists, Birmingham pianists and Kent pianists. If you're looking to hire a pianist for your wedding ceremony music and drinks reception, please send us details of your requirements, and we'll let you know the options available.
Pianist Booking Guide
We've outlined some of the most common queries our clients have when booking a pianists for their special day.
Why hire a pianist?
If you're organising an important event, a live musician will add a personal touch that you simply can't match with recorded music.
A pianist can tailor their song choices and performance during the ceremony to ensure a smooth running. They can deliver a non-obtrusive ambience for a drinks reception or dinner, allowing guests to mingle and feel comfortable.
Our pianists are regularly booked for events of every kind including:
Weddings / Civil Partnerships
Corporate Events
Award Ceremonies
Birthday Parties
Anniversary Parties
Bar Mitzvahs / Bat Mitzvahs
Charity Events
Hotels and Restaurants
Festivals
Outdoor Events / Garden Parties / BBQs
University Events / Graduation Balls
Military Events (Army/Navy/RAF)
Holiday Camps
Cruise Ships
Exhibitions / Trade Fairs
Sporting Events
Funerals
Pubs and Clubs
What type of pianist should I book for my wedding ceremony?
We have an extensive roster of pianists who specialise in various mixed genres, the style you opt for largely depends on the type of music you enjoy or the theme of your event.
Classical and Jazz pianists are the classic 'go to' options, and Pop/Contemporary pianists are also highly sought after options.
Browsing our musician's repertoires will give you a good indication of the prefered style of the pianist. However, our pianists are versatile, and if you have something in mind that isn't listed, it's always worth asking.
How long will my ceremony musicians play for, and when?
A pianist will typically perform two or three sets over a set period to suit your preferences. As standard, you'll find most piano players quote for 2 x 60 minute sets with a short break.
If you're looking to hire a pianist for your wedding ceremony, a standard structure might look like the following:
Guest arrival: 20 mins playing
Bridal entrance: 1 song
Signing of the register: 2 songs
Bridal party exit: 1 song
Guests exit: 5 - 10 mins playing
It's not unusual to book the pianist to entertain guests for a drinks reception and wedding breakfast afterwards.
How much does it cost to hire a pianist?
Costs vary depending on the musician's fee, travelling distance and the set duration. In general, you can expect prices to start from around £230.
Do pianists learn song requests?
Yes, most pianists will accept song requests limited to one or two and in the musician's style. For example, requesting Chopin for a Pop pianist a week before the event might prove tricky!
Always check with the musician when enquiring, and remember, the more advance notice you can offer your musician, the better.
What time do pianists arrive, and how long does it take to set up?
Most musicians arrive about an hour before they're due to perform. If there's a piano at the venue, set-up time is minimal, but the pianist will still arrive with plenty of time to change and warm up before guests are due.
I'd like my music to be performed outside. Is this possible?
Most musicians are happy to perform outside, but there are a few things you'll need to consider. Before making a booking, we recommend you check with your venue to ensure there's a suitable power supply and shelter for the performance - in case the British weather doesn't play nicely!
Do pianists also sing?
Some pianists are also vocalists and can offer a combination of both instrumental piano and vocals with piano.
You'll find all our pianists have videos showcasing everything they offer. If you're not sure, drop us an email to speak with our team.
What equipment will my pianist bring with them?
If the pianist has arranged to play an in house acoustic or grand piano, there will be minimal equipment required. Usually, an electric piano will need a small speaker set up for amplification. Pianists often expect to squeeze into small areas or corners of the room, and a compact set-up will reflect this.
When should I book my pianist?
With many couples organising weddings up to two years ahead, we recommend booking your pianist as soon as possible to secure a specific pianist.
If you're open to a variety of pianists, booking six months in advance should still leave you with plenty of options.
What are the most popular songs for a pianist to play?
It varies depending on the genre, but in no particular order, here's our top 10 to get you started:
i Giorni (Contemporary)
Your Song (Pop)
River Flows In You (Contemporary)
Autumn Leaves (Jazz)
A Thousand Years (Pop)
Claire de Lune (Classical)
Pachelbel's Canon (Classical)
Fly Me To The Moon (Jazz/Swing)
Make You Feel My Love (Pop)
Misty (Jazz)
What style of music is suitable for the ceremony?
There really aren't any rules anymore! We've had requested recessional music as diverse as Jurassic Park theme, Eminem and Foo Fighters. It's what means something to you and what is musically possible that matters.
For more ideas, head over to our wedding piano songs blog featuring the best piano songs in every genre.
Pianist Blogs and Guides
Our team of live music experts have put together a number of live music guides and blog articles to help you with your event planning journey.
Why book a pianist through us?
Over 20 Years experience in the events industry
Hundreds of 5 Star reviews across Facebook and Google
All pianists hand-picked by our team of experts
Dedicated member of our team assigned to your event
Professional contracts for your peace of mind
Find out more ★★★★★
Chris was excellent, he played exactly the sort of music that we wanted for our drinks reception, and he played very well. He was a really pleasant and friendly guy as well which I think is very important to anyone on their wedding day. Lots of our guests commented on his performance and really liked the atmosphere that his music created. I would definitely recommend him to anyone looking for a jazz pianist.
Pippa - Wedding
Pianists For Every Occasion
We offer an extensive roster of talented pianists to compliment your event, covering everything from popular jazz and classical repertoires to contemporary chart music. Performing the most popular jazz standards from the Great American Songbook, a jazz pianist will provide a sophisitcated backdrop to your event. Bringing a wealth of experience, our pianists are ideal for formal dinners & corporate events. Browse through our extensive roster of talented solo musicians and duos, available to hire for your wedding, party or corporate event.