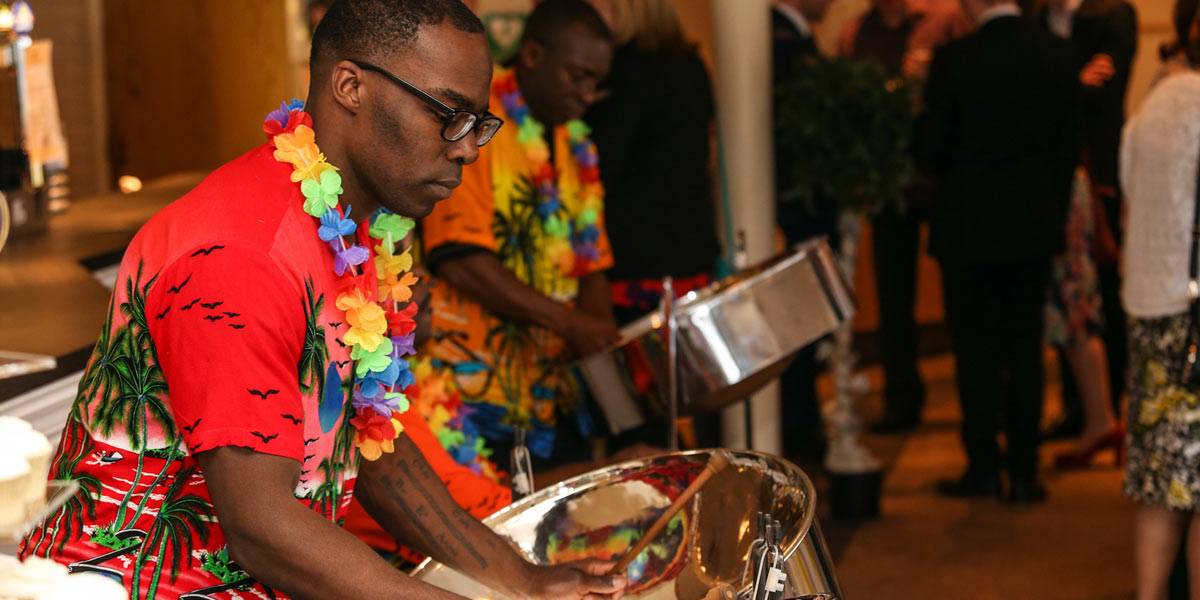 Steel Drum Band Hire
Our Caribbean Steel Bands (sometimes mistakenly referred to as Steel Drum Bands) offer authentic Caribbean music perfect for outdoor weddings, festivals, summer fetes, garden parties, international events, private dinners and much more. Browse through our roster of musicians below to get started.
The warm sun, clear crystal blue waters and luscious green vegetation evoke relaxation and peacefulness; it's no wonder the Caribbean is the vision of paradise to those of us living in Great Britain. And for those who have been lucky enough to visit these glorious islands know it's not just the scenery and food that bring us such pleasure, but the music too! We are therefore proud to introduce Bands for Hire's Caribbean Steel Bands, the soundtrack to the Caribbean and all that is tranquil.
Our Steel Bands offer a range of different line-ups to suit your event; from a solo pannist for your outdoor ceremony to a quartet, you'll find something to suit your requirements.
Our Steel Bands also offer vocals and other instrumentation in their line ups upon request.
All of the musicians we work with meet our strict criteria, providing excellent musicianship and a highly professional work ethic.
Hire a Caribbean Steel Band
If you're looking for a specific song to be played for your precessional or recessional, then please don't hesitate to ask, as our bands will often happily learn a song upon request to make your day extra special. Not only do our Caribbean Steel Bands offer authentic Caribbean music, but also provide a wide selection of contemporary chart hits through the decades with a Caribbean twist! They cover well known artists such as Keane, Daft Punk, The Beatles, Adele, Amy Winehouse, Sting, Simon & Garfunkel, John Lennon and Pharrell Williams but also plenty of traditional Caribbean genres such as Calypso, Soca, Island Songs, Reggae, Ska, Cuban and Brazilian.
If you'd like a taste of the Caribbean at your event or special occasion, we highly recommend hiring a Steel Band; all that is needed is rum to be poured and a gentle breeze to carry the sweet island sounds.