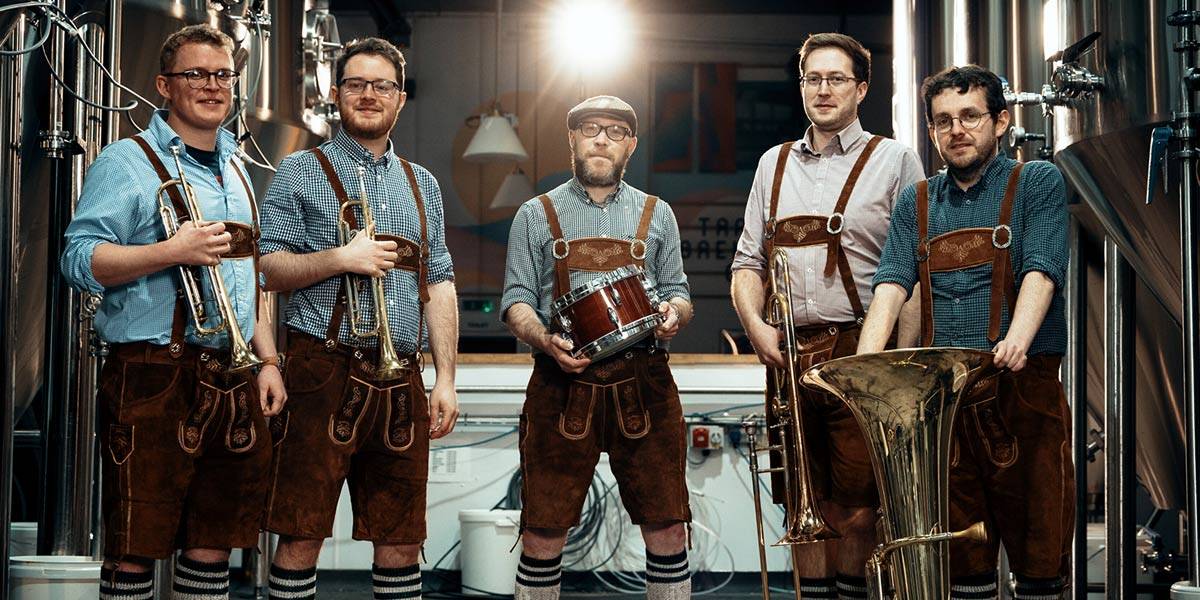 Brass Bands for Weddings & Events
Whether it's a grand opening, wedding reception, festival, or gala, a brass band adds a touch of excitement and entertainment that's sure to set your event apart.
Brass Band Booking Guide
Whether you're looking for a dynamic brass band for a corporate event, a wedding brass band with a contemporary twist, a traditional oompah band or a New Orleans style big band, we have a fantastic roster to choose from. Check out some of the common queries below and get in touch for a quote.
What types of events are suitable for hiring a brass band for?
Brass bands are a fantastic addition to a wide range of events. Whether it's a wedding, corporate event, garden party, drinks reception or festival, a brass band can create a dynamic and energetic atmosphere to get your guests dancing.
What kind of music do brass bands typically play?
We offer various types of brass bands for hire, each catering to different types of events. Many brass bands perform a broad mix of music, but in general, fall under the following categories:
Modern brass party band: Our modern brass party bands are perfect for events that want a contemporary twist on brass music. They specialise in playing popular songs from various genres including, pop classics, rock, hip hop funk, and modern chart hits - often creating brass arrangements of party favourites from the likes of Stevie Wonder, Amy Winehouse, Bruno Mars, Lady Gaga, Robbie Williams, Pharrell Williams. With their bold and dynamic sound, a modern brass band is the ideal entertainment for wedding receptions, corporate events and parties.
Oompah Band: Our traditional oompah bands are perfect for events that want to capture the spirit of traditional German tunes for an authentic oompah experience. They typically perform lively and upbeat performances with a focus on traditional oompah music, complete with accordion, tuba, trumpet, and trombone, creating a festive and energetic atmosphere perfect for Oktoberfest celebrations, beer festivals, and themed events.
New Orleans street band: Our New Orleans style bands are inspired by the vibrant and lively music of New Orleans and offer a unique and festive experience. They typically play a selection of Dixieland trad jazz that captures the spirit of traditional New Orleans street music. Perfect for events that want to create a lively and festive atmosphere, such as Mardi Gras celebrations, street parties, and other upbeat occasions.
Each type of brass band offers a distinctive performance style and repertoire, allowing you to choose the perfect fit for your event based on the atmosphere you want to create.
What equipment do brass bands require for their performance?
Due to the natural volume of brass instruments, most brass bands perform completely unplugged, allowing them to roam free and interact with the audience with ease.
Some brass bands do feature vocalists and so may provide PA system as part of their package. In most cases this will be outlined on your quote, but if in doubt, just ask a member of our team.
Can I request specific songs or customise the brass band's performance?
Many brass bands are open to special song requests, although are more limited than traditional function bands. Remember that every song has to be specifically arranged for brass and some songs are better suited than others.
How far in advance should I hire a brass band for my event?
It's advisable to book a brass band as early as possible to secure their availability for your desired event date; we recommend at least 6-12 months in advance.
October is typically the peak season for brass bands, as they are in high demand for Oktoberfest celebrations. If you're organising an event in October, we recommend booking at least 12 months or more in advance.
What makes a brass band a great choice for my event?
Brass bands bring a melting pot of musical styles, from traditional oompah to modern brass, and cater to a diverse range of events, including weddings, corporate events, garden parties, and more. If you're looking for a feel-good performance with audience interaction as a top priority, a brass band could be just the ticket.
Can brass bands provide a vocalist or other line-up options?
Yes, some brass bands do provide a vocalist and can offer different line-up options to suit your event's needs. Whether you're looking for a smaller lineup for an intimate gathering or a full band for a high-energy evening performance, we have a brass band to suit your requirements.
Event Inspiration
Add some pizzazz to your next event with tips and ideas from our event blog. Are you up for the challenge of hosting the... From swing and soul to contemporary pop, the... Ramp up the festival atmosphere with one of our German Oompah bands for hire.
Why hire a Brass band through us?
Over 20 Years experience in the events industry
Hundreds of 5 Star reviews across Facebook and Google
All Brass bands hand-picked by our team of experts
Dedicated member of our team assigned to your event
Professional contracts for your peace of mind
Find out more ★★★★★
A very friendly and professional organisation. Their expedient service was tremendous, giving me the assurance that my event would be a huge success. All written communication was clear and concise and telephone conversations were polite and gave me confidence. This was the first time I had used Bands For Hire, and I would certainly recommend them.
Julie - Wedding Reception