The Art of Art Deco: How to Plan Your 1920s Wedding
Details

Category: blog
Updated: 16th September 2022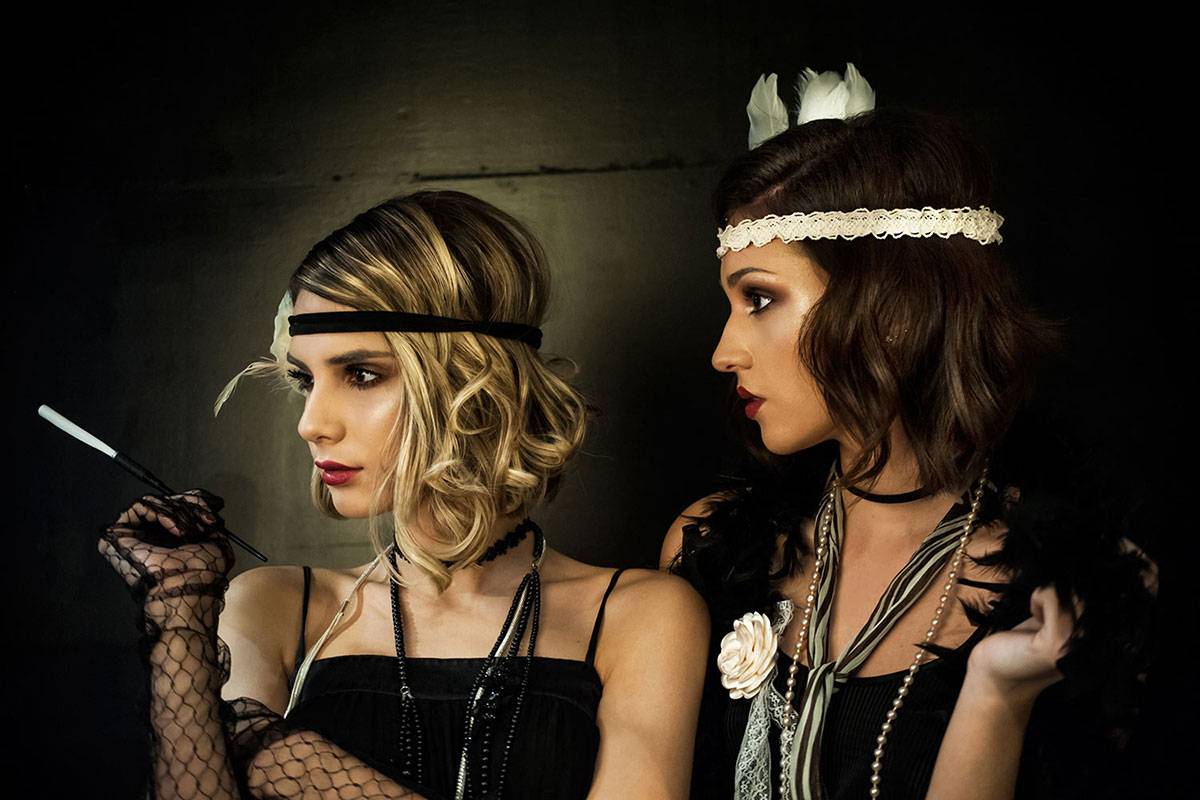 In 1921, prosperity was on the rise, and Britain was emerging energetically into a swinging, post-pandemic world. Many women were eager to gather and show off new, shocking styles. Live music could be heard everywhere, creating an enticing soundtrack that would become the rhythm for a mass return to normalcy.
Sound familiar? If you're looking to plan your first big post-pandemic bash, a 1920s wedding is a brilliant nod to the glamorous ways in which history repeats itself!
A 1920s wedding theme or Art Deco Wedding aesthetic provides endless opportunities for incorporating vintage details into your modern event. Read on to learn about how you can craft a contemporary take on the roaring '20s!
The Roaring 20's - Historical Context
It's the roaring 20's again! One hundred years ago, a series of historical events created the backdrop for a unique period in history with its own fashion, music, and even architecture.
The thing that made this decadent decade unique was the attention to detail. A quick history lesson will help you decide where to incorporate historical elements, and where you may prefer to make a contemporary swap.
Dancing the War Away
In Britain, the 20's would mark a victorious end to the first world war. Those who profited during the war would only grow wealthier, with money to spare. They put that money back into society and culture, as the population was eager to resume gathering following the 1918 Spanish Flu pandemic.
This would lead to the rise of the jazz clubs and cocktail bars that define this era. The youth were eager to get out and live life, grateful to have been spared by the flu and the war alike. It was a time for new dances, new drinks, and new literature.
Bright Young Things
A lot of the action was taking place in British tabloids, as journalists took to reporting on the goings-on of the young aristocracy.
The journalists called this group of Bohemian taste-makers the 'Bright Young Things.' They were known for wild behaviour, from over-the-top parties to all-night treasure hunts throughout the city of London. It was this crew who inspired a majority of the literature where depictions of this daring decade can be found.
A look at the wildest of the Bright Young Things can be found in many of the popular books from the period. These books include The Great Gatsby, Highland Fling and A Dance To The Music of Time. These roaring parties might make fantastic inspiration for a memorable 1920s wedding! Art Deco Wedding Details
The Art Deco period in Britain spanned from 1908 until 1935 but has become synonymous with the Roaring '20s and the Jazz Age. Art Deco was a flamboyant aesthetic characterized by geometric patterns, chrome and mirrors, natural motifs, and dramatic contrasts. We see it more after World War I because, by then, wealth was on the rise and it was accessible to individuals from all classes.
The look of Art Deco is similar to the Old Hollywood Aesthetic, which may inspire the decorative details of a modern event. In Art Deco, artists elevate everyday objects in a way that is thoughtful and glamorous. You can still see many of the buildings from this period in Britain today!
Your 1920s Wedding Theme
Now that you know a little more about what was going on then, you have some choices to make about how to incorporate these elements into your wedding now! Since the period was defined by joy and decadence, this is a fun party theme to plan! By incorporating thoughtful vintage and period details, you can bring this decade to life and leave your guests amazed! Roaring Fashion
The first place to start when planning a period wedding is with the fashion. When it comes to a 1920s wedding theme, you have many options that can evoke the era without coming across as old or dated! This period in history was revolutionary in terms of fashion, and so much of the culture involved dressing to the nines!
The Wedding Dress
When planning a themed wedding, the dress can be one of the elements that will cement the cohesive look of the party. This is where many brides start to build the aesthetic of the event, and the options for period glamour are almost limitless!
When choosing an Art Deco wedding dress or 20s inspired ensemble, look for dresses in silk or satin. Don't be afraid of lace, fringe, metallic embellishments, tassels, and over-the-top beading. These are the flamboyant elements that made this historical period so iconic!
Because of the influence of geometry on art deco style, you may want to look for sunbursts, zig-zags, and dramatic curves in the beading or stitching of your gown. These details can immediately evoke the art and architecture of the era and can be the thing that ties your theme together.
You have several choices when it comes to 20s inspired dress shapes and silhouettes. The decade was known for cap sleeves and scalloped skirts. 1920s brides could be seen in drop-waist gowns with looser fitting tops or cowl necklines.
Embellished necklines were popular, with details ranging from beaded pearls to fur and feathers. It is the details that will help you to stand out as a Gatsby-era bride.
If you are thinking about accessories, you have just as many options that can help you tie in this flamboyant theme. Cloche-style hats were popular at the time and immediately add a vintage touch. Many jazz age brides also kept their shoulders covered with eye-catching capes.
Don't forget that it's a party, however, and parties in the 1920s were famous for music and dancing! Choose something that you can move in so that you can join your guests for The Charleston! Vintage Outfits for the Wedding Party
Another great way to incorporate the theme into the fashion is to dress your wedding party in vintage looks. You can go all-out and dress your bridesmaids in flapper dresses, or incorporate other art deco elements into their style!
If you are in an iconic 1920s floor-length gown, you can add contrast by dressing your bridal party in above-the-knee dresses. Consider patterns like scallops and zig-zags, and do not be afraid of shimmering sequins! The art deco movement was all about theatrical contrasts, so dressing each bridesmaid differently can add all of the texture and visual interest that this decade was known for!
Dressing the Groom
Don't forget about your groom and groomsmen when dressing your wedding party! A few vintage details can help add authenticity to your theme without too much extra hassle.
For example, men in the 1920s often wore flat-fronted, high-waisted pants without pleats. A skinny fit is popular for men seeking to emulate that dapper, 1920s look. For a summer wedding, white, ivory, or tan are great colour options.
Men did wear suits in the 1920s, and the benefit is that most of them would not look out of place, even in a modern wedding! Most men's suits had a wide or classic fit, and often boasted big, over-the-top art deco patterns!
Don't neglect the headwear, as hats were a hallmark for men in the roaring 20s. A linen newsboy cap is a great look, but you should also look at straw boater hats, as well as coordinated Panama hats or fedoras.
All That Jazz
Something that will help to build the atmosphere at your event is live, the 1920s inspired music! The music of the era was made for wild dancing, so it's sure to get your guests onto the dance floor - and keep them there all night long!
Daisy Buchanan definitely didn't have a DJ at her wedding when she married Jay Gatsby, so why should you? A key to period authenticity is hiring a live band to play music during your wedding dance and reception.
A swing band will know how to keep your guests moving. It can also add a vital vibrancy that is essential to emulating this historical period!
If you want to attempt that daring art deco contrast, consider mixing vintage and modern styles with a Post-Modern Jukebox style band. The right band will be able to play modern hits in that 1920s style, mixing nostalgia with familiarity. This will give you the freedom to choose any song you'd like for your first wedding dance without compromising on your theme and aesthetic.
Most Jazz/Pop Crossover bands can also play classic, period swing music taken right from that era. Many will even come in costume! Imagine how an upright bass in the corner of your reception space could add aesthetic authenticity!
Feast Like a Flapper
Even your menu choices can influence the authentic feel of your period shindig. If you want to add that jazz age or art deco touch to your food and drink offerings, look to see what the Bright Young Things were devouring back in the day and emulate appropriately!
Bathtub Gin and Moonshine
The 1920s looked a little bit different in America, as the period was defined by the prohibition of alcohol. Though here in Britain we did not need bootleg alcohol and speakeasies to get us through the 20s, the American prohibition culture has become synonymous with the jazz age as a whole. When planning what your guests will drink, you may wish to borrow some of the elements that kept the 20s roaring across the pond.
You can add a touch of prohibition-era naughtiness by serving drinks in mason jars. Alcohol was illegal to purchase in America, but not to consume. It became common for Americans to make their own moonshine in such jars.
Americans took these jars of moonshine and downed them at parties in secret speakeasies. A fun touch might involve requiring a secret password to order a signature drink at the bar!
You might also consider serving drinks in vintage teacups from the 1920s. These spoke to the abundant wealth of the time. Teacups are another great place to incorporate art deco details.
Eat Like Gatsby
If you are looking to serve a period-appropriate menu, there are a few little details that you can include to bring the 1920s to the table.
When considering passed apps or a cocktail hour, you might include finger sandwiches, shrimp cocktail, and deviled eggs. The main meal was typically a combination of meat and potatoes, plus a succotash. For dessert, include plenty of marshmallows and tropical fruit.
If you want to keep the menu more modern, focus your attention on building dramatic, art deco-style tablescapes with plenty of gold, sparkle, and decadence. A luxurious tablecloth can go a long way when it comes to setting the scene for an evening of over-the-top feasting!
A Classy Cake
As it turns out, brides in the 20s frequently had wedding cakes inspired by the art deco movement. This makes it so easy to keep your cake authentic to the time period but still bring in the over-the-top details that tie into your theme!
Remember those details that make a 1920s wedding dress stand out? You can incorporate all of those details into a cake! From dramatic geometric swoops to zigzags and sunbursts, there are limitless ways to add a touch of art deco to even the simplest cake!
By now it's obvious that simple has little place in a 1920s themed wedding, however, so go as big as you please! The cake is a wonderful place to incorporate decadence in the form of edible glitters and pearls. Details inspired by fashion and architecture can elevate your cake into a work of art!
Plan Your Incredible 1920s Wedding
If your mind is reeling with ideas for decadent, art deco wedding details, it's not too soon to begin planning your 1920s wedding! A 1920s wedding theme is timely, clever, and classic. It provides many opportunities to incorporate gorgeous historical details into your big day.
If you want to keep your guests dancing all night long, get in touch today to enquire about booking a jazz, swing, or post-modern pop band for your wedding day!