Introducing Shropshire Petals - Natural Petal Confetti
Details

Category: Blog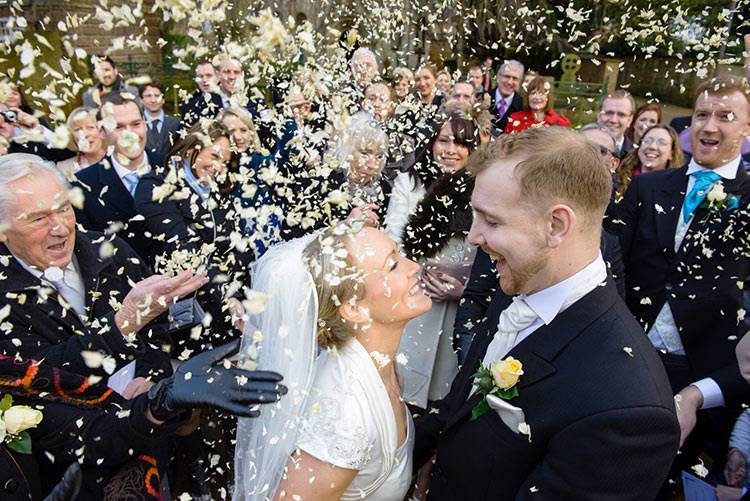 A wedding wouldn't be complete without a confetti photo, and the perfect choice is natural petal confetti from Shropshire Petals. The throwing of confetti has been a long-standing tradition at weddings, that magical moment when your guests shower your with a fluttering of delicate natural petal confetti.
Who are Shropshire Petals
Shropshire Petals grow and produce natural petal confetti on their Shropshire farm. All of their petals are 100% natural and biodegradable – the preferred choice by most churches and venues. They also grow wheat to make their Wheat Sheaves, which are great for alternative bouquets and natural table decorations.
Originally specialists in dried flowers and other arable crops, Shropshire Petals began when the demand for dried flowers decreased and they explored the possibility of their petals being used as confetti, which still ensured their specialism in growing flowers continued. After more than 10 years, Shropshire Petals is growing year on year and always introducing new products to meet the demand of trends in the wedding industry.
Choosing your confetti
Shropshire petals have a fabulous selection of colours and petal types to choose from. Couples can pick & mix their own unique confetti combinations to match or contrast their wedding theme. Long gone are the days when a handful of guests might bring a packet of paper confetti, couples now choose and provide it themselves to ensure they get the confetti moment they want – the confetti photo is guaranteed to be the most natural from your whole wedding day.
Shropshire Petals have thought of everything; for those not knowing how much confetti to order for their wedding, they have developed a confetti calculator that allows you to enter a few details including what you want to use petals for, how many guests you have and it calculates how much you will need to order.
Packaging
Displaying your confetti is half the fun. Shropshire Petals offer a variety of packaging options, such as their renowned Shropshire Box, confetti baskets and pails, their new Confetti Pops and fun individual options such as their sachets and cute petal pouches.
Free samples
If you can't decide on which mix to choose or want some inspiration, Shropshire Petals offer a free sample service where they will send out a few samples for you to compare and decide which is your favourite before you order.
Confetti can be used for more than just for throwing, visit the Shropshire Petals website for some inspiration and ideas, www.shropshirepetals.com.