Outdoor Garden Party Ideas to Entertain Your Guests
Details

Category: blog
Updated: 16th September 2022
42% of British people enjoy gardening. It seems that spending time outside helps us to relax.
But, we can think of another good reason for keeping your garden in pristine condition. That is, hosting an outdoor garden party. This year, the Queen of England recognises her 70th Jubilee, and we love any excuse to party.
Over nine million people hosted a summer garden party last year. With 77% saying it was just what was needed. So, spread a little joy this summer and host your own summer garden party.
The question is, where to start? Well, whether it's your first time or the hundredth, we've got all the information you need. We'll give you everything from outdoor garden party entertainment to this year's trendiest decorations.
So, grab a notepad and get ready to brainstorm the perfect summer bash.
Vintage Tea and Cakes Party
Did you know that Queen Victoria popularised the idea of afternoon tea and cakes? Follow suit and book a mobile tea and cake van. Failing that, if you love baking, you can make them yourself.
Three-tiered cake stands with china crockery are great visual additions. And, of course, it has to be the classic Victorian game of croquette for afternoon fun.
To play, position the wire arches in your lawn, then let your friends putt the ball through them. Costumes for the Victorian theme might include dainty lace gloves and bow ties.
You could also go for the more alternative styling and host an Alice In Wonderland tea and cakes party. Set your cake party table with ornate doilies, flower-patterned plates and dessert forks.
Host an Eloquent Soiree With a String Quartet or Harpist
Having a full band might be too much for such an intimate affair. So instead, schedule a string quartet or harpist to provide the soundtrack. The soothing tunes will be ideal background music, so your guests can still mingle.
Or, if you'd like, the performance could take place after dinner. You would only need to organise your outdoor seating into semicircles and let the performer take over the patio for a stunning personalised performance.
Mexican Fiesta
It's time to party Mexican style. But, what does that even mean?
Firstly, dish up fresh tacos, ceviche, and burritos for an authentic Mexican spread. Serving meals on printed plates is a fun way to add to the Mexican theme. Before summer, lots of cute printed plates go on sale, so watch out for avocado, cacti and flamingo prints.
Also, replace any flower decorations with potted cactus. Just make sure no one pricks themselves!
There are many traditional Mexican arts and crafts you can incorporate into your event. For example, check out El Ojo De Dios "The eyes of the Gods." These classic woven shapes are designed to ward off evil spirits. After your guests have made them, you can hang them in the garden or give them out as keepsakes.
Go Traditional With a Mariachi Band
We're sure you've been to an event with tacos. Taco-Tuesday anyone? So, to complete your Mexican themed party, go traditional.
A lively mariachi band is the ultimate way to get your garden party entertainment in full swing. The band are so perfectly attuned with one another that your guests will be swept up in their energy.
Even your nan will be foot-stomping and cheering. Of course, if you're partying with your friends, a sip of tequila or mezcal will always go down well.
Pizzalympics
Pizza + Olympics = Pizzalympics. We know it sounds strange, but bear with us on this one. Your outdoor garden party will be a laugh-out-loud occasion to be remembered.
To start, you have two options for cooking outdoor pizza. Option one is hiring a mobile pizza van, and you'll be surprised at how quickly they can make pizzas. Even if you're hosting over 100 guests, everyone will be fed and happy in no time at all.
The other option is investing in an outdoor pizza oven and cooking the pizzas yourself. All of your friends have eaten their delicious wood-fired pizza, and it's time to get the Olympic Games started.
You can tweak many Olympic events for the outdoors. And, most of these games are child-friendly. Split your friends into teams and watch them go face-to-face with challenges.
Olympic Tug of War
If you have an old rope in your shed, tie a ribbon around the middle. Then, let your teams try to pull the others over.
We all know that tug of war can hurt your hands, so be kind and offer your guests a pair of gloves. You don't want any injured competitors!
Olympic Javelin
Yes, it's possible to play javelin in your garden without the threat to life. The only difference is that the javelin will actually be pool noodles. These are inexpensive and easy to find online.
The original rules state that the furthest throw wins. However, for your garden version, you can set some targets. For example, buy a cheap hula hoop and tie it to a branch, or ask a willing friend to hold it.
The person to throw the javelin through the hula hoop gets points. Or, stack a pile of tins up in a pyramid shape and see who can knock it down with their javelin.
Set the Stage for an Ibiza Sax Player
After the craze of the Olympic games, the winning team will want to celebrate. So, set up a DJ stage in the corner of your garden and book an Ibiza DJ/Sax duo. The sax performer will play live to the DJ beats for a stunning finale to end your day.
Also, the sax player can interact because there are no wires.
Finish your pizzalympics off with fireworks, and you will have mastered outdoor entertaining.
Evening Campfire Party
The warm glow of a campfire creates a perfect summertime vibe. Your guests can sit on garden chairs or snuggle up on rugs and cushions.
For meals, evening campfires call for hot pots and stews. Or, if you start earlier in the day, prepare a delicious BBQ. But, most importantly, don't forget to think about lighting.
Your campfire will give a small amount of light, but it's not enough to build a cosy atmosphere. So, we'll tell you how to install ambient lighting later on.
Get Cosy With a Personal Singer
An acoustic singer/guitarist is essential for an intimate event like a campfire. Relaxing around a firepit while listening to a professional vocalist will be sure to ramp up the cosy atmosphere.
It's also a great conversation starter for guests who don't know each other. Singers can be a divide between daytime and evening festivities. So, after the performance, you could set up a popcorn stand and project movies outside.
Gypsy Jazz Hoedown
A hoedown is a social dancing party that traditionally included American hillbilly music. For this year, it's got an upgrade with gypsy jazz.
The unique sound of Gypsy jazz originated in 1930s Paris. You can combine these two styles, French chic and American country, for your party. Ask people to come dressed as a Gypsy-Jazzer or a Hoedowner.
The Gyspy-Jazzers might wear swinging fringes and drink cocktails. On the other hand, the Howdownerrs will probably don bandanas and cowboy boots.
For decor, place soft throws on top of hay bales for seats. Then, decorate your table with classic art deco tableware. You could also throw hay on the floor as a dancing area.
Tiki Summer Garden Party
Who doesn't love a summer-filled tiki party? It's a classic concept that never fails to make an impression.
Tiki parties are so popular that you can buy decoration sets. They tend to include table runners, paper pom poms and inflatable balloons.
You want your guests to feel like they've stepped onto a paradise island. So, a bar is vital for your outdoor garden party. But, before you start splurging the cash, consider making one.
All you need are a few wooden pallets. Whitewash them and add coloured streamers to the front. Ta-da! Easy.
Putting a neon sign nearby will draw your guests' attention to it. You could have a bar attendant or let guests mix drinks themselves. We've got some great cocktail and prosecco recipes below.
Feel the Rhythm of Summer With a Steel Drum Band
To create a fun, summer-loving vibe, hire a steel drum band. The rhymical beats and feel-good performances are perfect for outdoor parties.
They also won't need access to any electricity to perform, allowing them to move from one area to the next with ease .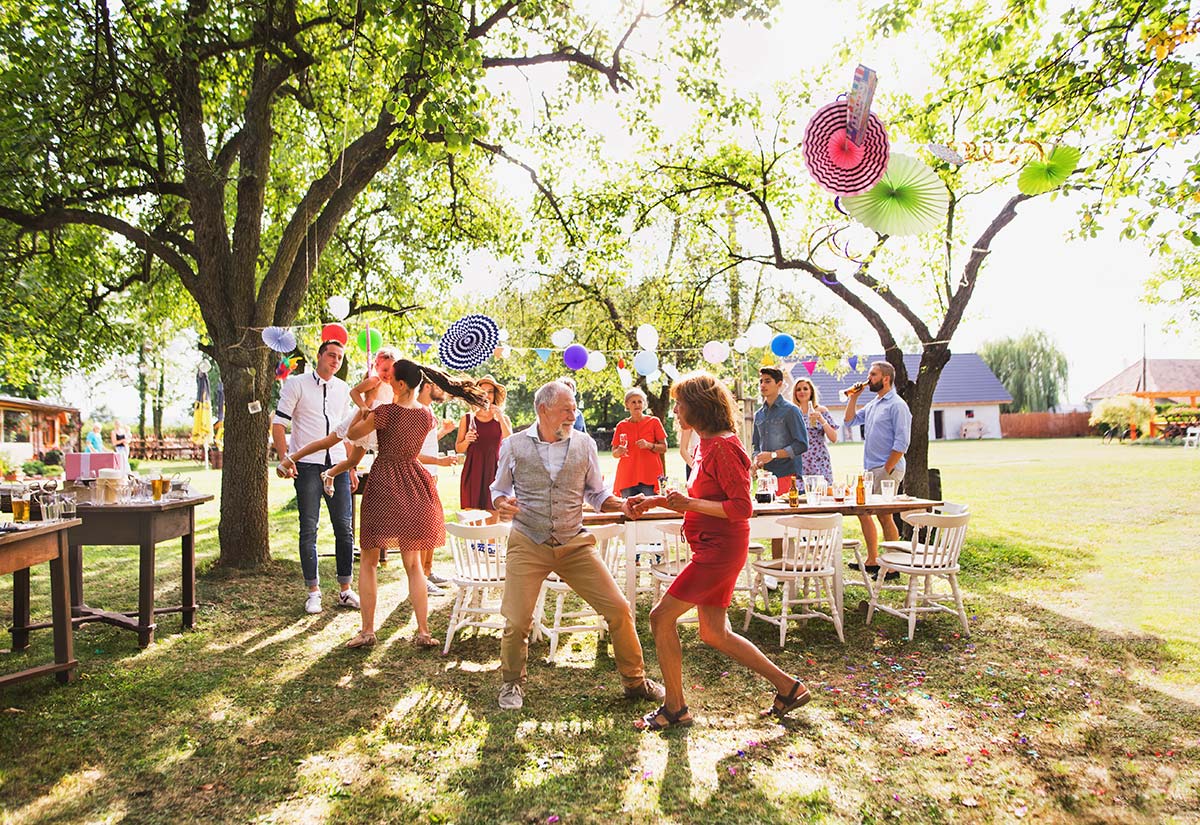 Funfair Garden Party Ideas
If you lived in a town with a fairground or have childhood memories of one, you'll love this.
No, we don't expect you to buy a helter-skelter and start charging your friends. You only need to remember the fairground games you played as children and adapt them. Before the event, print off some old-school tickets and prepare some fun prizes.
Rubber Ducky Dip
Grab a packet of rubber duckies and a paddling pool. On the duckies' underbelly, write a prize in a permanent marker.
Then, ask your friends to catch a duck from the paddling pool with a small net. If they succeed, flip the duck over and hand them their prize.
Hoopla
You can use any bottles for this. Save them before the party and paint them in different colours. Next, buy a few packets of fluorescent bracelets.
At your party, place the bottles together and encourage guests to fling a bracelet at them. If they hook it onto a bottleneck, they win a prize.
We love using fluorescent bracelets so we can still play in the evening.
Bouncy Castle
Who said that bouncy castles were only for children? Little did they know that adult bouncy castles also exist. They're larger and have an extra supportive base, so kids and adults can both enjoy.
To be safe, encourage guests to jump before they eat. Otherwise, you may have a few unwell visitors at your summer garden party.
Hit the Dance Floor With Classic Pop Hits
You can hop straight from the bouncy castle to the dance floor with a band that plays pop and indie. Hiring a cover band will mean guests of all ages are catered for, playing anything from Bruno Mars and Dua Lipa to The Beatles and the Rolling Stones. Take a browse through our cover bands to find your perfect match. A Garden Festival
Festival themed garden parties are popular because you can combine different areas. You know that music festivals have different stages and zones, right? Well, you can recreate these in your garden.
Want a chill zone? Put a large rug on the floor, set up a teepee and gather around on cushions. Have your bar area ready, and then all you need is the food court and music stage.
If you have an old wheelbarrow, scrub it, fill it with ice, and it will keep your drinks ice cold all day.
Nowadays, many festivals have art installations. Why not try to make one yourself? You could light up the garden, hang a homemade Piñata, or project images onto your house.
Get Your Feet Tappin' to a Folk Band
For the evening pièce de résistance, hire a festival style folk band. With live music, your festival party will become one to remember.
We've probably all heard of Mumford and Sons; their popularity flung folk music once again into the charts. We're so thankful!
Festival-style folk bands perform high-energy renditions of pop songs but with a folky twist.
Potluck Party
Try a potluck party if you don't want to cook for all and sundry. Ask your guests to each bring a dish to add to your summer garden party banquet. Admittedly, you'll have no idea what food they will bring, but that's half the fun.
Potluck parties tend to be buffet-style which suits the outdoors. They're also much more cost-effective for the host.
Get the Party Started With Salsa
Book a salsa band, and your garden party entertainment will be complete. High-energy salsa is the perfect way to get your guests partying. We can almost guarantee you'll see your guests trying to cha-cha within the first song.
Get Crafty With Garden Party Decorations
You can have hours of fun making garden party decorations. For example, paint wooden signs or blackboards to show the menu or order of the day.
It might also be worth investing in a few staple decorations to use whenever you're throwing a garden party next. Let's take a quick look at the most popular garden party ideas.
Make a Statement With Table Flowers
The heart of your outdoor garden party will be the table. A long table is perfect for an elegant spread or a help-yourself buffet. Sitting at a round table will encourage your guests to mingle.
Whatever table you have, everyone loves flowers as the centrepiece. You could put roses on the table for an elegant and sophisticated event. They'll look great with tea and cakes.
Swap roses for sunflowers if you want a lively affair. Also, dried sunflowers in a bouquet with long grasses give a relaxed bohemian vibe.
Decorate Your Chairs
Depending on the number of guests, you may need to rent outdoor chairs. The cheap ones are usually white plastic, so consider upgrading to wood if possible.
If plastic is all you have, don't panic. Throwing a garden party doesn't have to be expensive. You can buy coloured ribbons for cheap and tie them on the back of the chairs. It looks on-trend for garden party decorations, and we love their movement in the breeze.
Set Up a Dance Floor for Garden Party Entertainment
If you're planning a Tiki party, buy bags of sand and have a beach-style dance floor. Be a lovely host and buy a pair of cheap flip-flops for your guests in advance. They'll save guests' shoes from being ruined as they dance the night away.
Otherwise, you can rent or invest in dance tiles that easily slot together like a jigsaw puzzle. It's better to set your dance floor on flat ground like a patio.
Create Shade From the Sun
You could put up a big marque and have your table underneath. Or, for something contemporary, try overhanging table umbrellas to block out the sun.
Another popular option for this year is sail shades. This shaped material can cover small sections of your garden. We love their modern style and boho vibe.
Set up tipis around the garden for a more intimate hideaway. These work particularly well in chill-out areas.
Hang Ambient Fairy Lights and Lanterns
To cover your garden in a delicate glow, tie fairy lights and lanterns across the trees, fences and walls.
You can also invest in some sturdy solar panel lanterns for your lawn. You push them into the ground, and as the sun goes down, they light up. They're perfect for illuminating pathways.
Dangle Candles for a Boho Vibe
Set up a wood or metal X-frame on either side of your table. Lay a beam across the top, and this will be your hanging bar.
For added sophistication, make sure your candles match in style or colour. Feel free to grab all sorts for the organic boho look. Place them in the jars, and hey presto! Beautiful lighting.
Capture the Moment With a Photo Zone
Admit it. We all love the chance to pose with our friends. A photo zone in your garden is easy to make. Simply collect some frames, take the glass out and hang them up.
Ask your guests to gather behind them and have fun taking lots of silly shots for keepsakes. A photo zone is always a hilarious garden party idea.
"Pimp Your Prosecco" Summer Garden Party
To start your stand, you'll need a few key ingredients. Firstly, grab a variety of fruits and place them in jars. Mason jars filled with strawberries, raspberries, and blackberries look the best.
Next, pick up some juices and either decant them or take the labels off of the bottles. Orange is the most popular choice for classic mimosas. But, your guests might like to try other flavours such as mango, peach, or even watermelon.
Offer additional cordials such as elderflower or ginger for an extra fruity bang.
Some people enjoy adding shots to their Prosecco; creme de cassis, vodka and gin work well. Nasturtiums and violas are often used in drinks to add some colour. Finally, Lavender, rosemary sprigs, and orange swirls are perfect garnishes.
Throwing a Garden Party Invitations
Yes, you could Whatsapp your guests. But, a special occasion requires special invites. You can design these yourself either by hand or on a computer.
Canva is a fantastic, free design app. Remember to get your invites out to your friends well in advance so they can save the date.
Say Hello to the Sun With an Outdoor Garden Party
We spend lots of time stuck indoors during the winter. Welcoming the summer is a fantastic chance to meet with friends, connect with family and have fun outdoor entertaining.
These outdoor garden party themes will help you make lasting memories together. From the moment your summer garden party starts, your guests will love every minute.
First, serve delicious food across an immaculate table. Then, impress your friends and family with live music and entertainment.
Music can get them dancing or relaxing, depending on the atmosphere you want. So this year, create a spectacular outdoor summer party that will stay with them forever.
Contact us today and start planning your garden party entertainment.