How to Plan the Perfect Wedding After Party
Details

Category: blog
Updated: 16th February 2023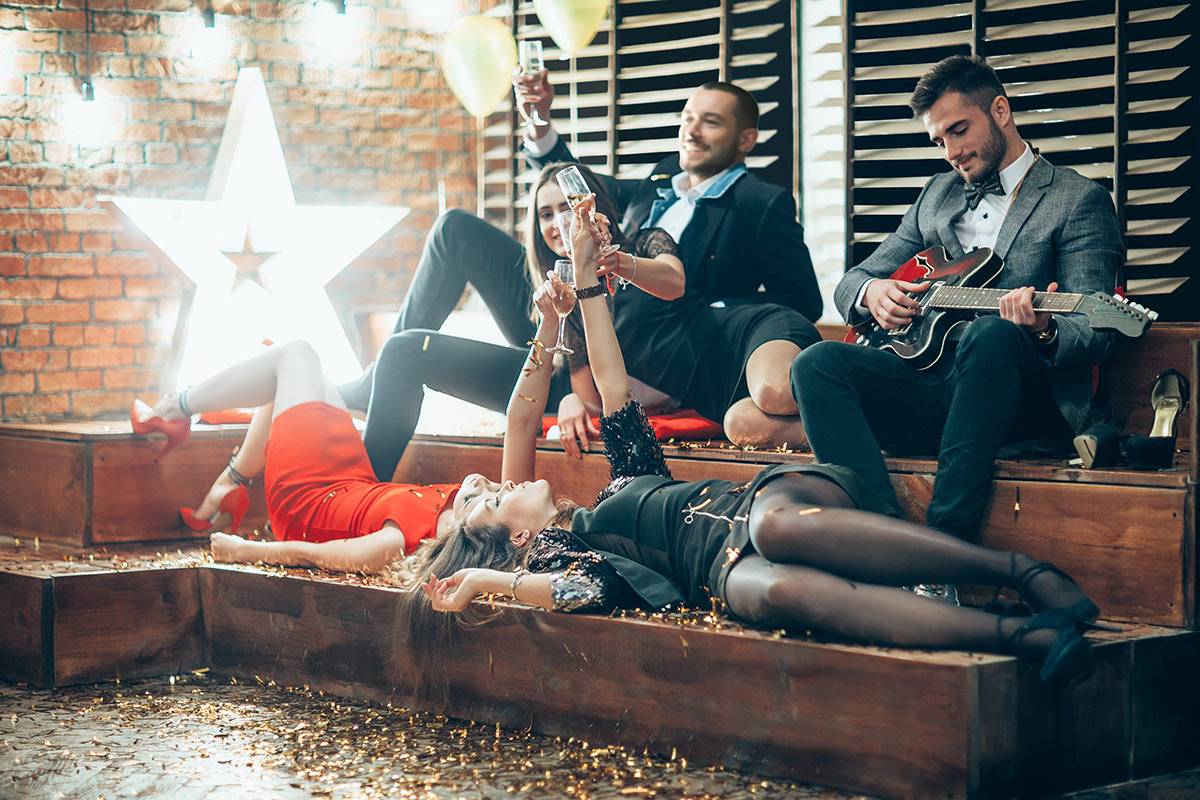 The average wedding reception, including the ceremony, lasts about six hours - but the average wedding guest isn't always ready to wrap things up by then! Most weddings end right when everyone is beginning to get tipsy and have a good time! Why do we let our vendors and venues determine when the party should end?
You can keep the party going when the adrenaline is high by planning a wedding after party to follow your celebration! It's the best way to burn off your remaining energy, keep the good vibes flowing, and enjoy the company of a more intimate crowd. The party doesn't have to stop because the caterer has somewhere else to be!
When so much blood, sweat, and tears went into planning the main event, how can you ensure that the after party won't be a letdown?
We've put together this guide to help explain exactly how to plan a wedding after party. From frequently asked questions to ideas for wedding after party themes, we've got it all covered.
Read on to learn the ins and outs of extending your electric wedding celebration!
After Party Etiquette: Frequently Asked Questions
First off, what is a wedding after party? In essence, it's any celebration that follows your primary reception. While you might have a large crowd at your wedding, your after party can be as large or as intimate as you'd like.
Are you wondering if a wedding after party is worth it? We've compiled a list of the most frequently asked after party questions and their answers. Give it a read and see if a celebration after your celebration is a good match for your big day. Who Hosts the After Party?
Traditionally, the wedding hosts are also the hosts of the after party. In other words, planning is on the bride and groom. Arranging an entirely separate event can feel overwhelming when your wedding is still on the horizon!
Just because you're hosting doesn't mean you have to plan the whole thing. It's the perfect task for your best man, maid of honour, and bridal party. An after party is typically much less involved than a wedding reception, so all they'll need to do is hire a band and reserve a venue.
With that said, you'll need to budget for the after party. It should be a financial consideration when you begin planning for the reception.
When and Where Do Wedding After Parties Take Place?
Most after parties begin immediately after the reception. It's sometimes wise to give guests time to freshen up, change into trainers, and get to the venue. Most after parties aren't as strict as a proper wedding reception, meaning guests can be fashionably late!
It's easier for most couples to hold the after party at a second venue. The shift can help eliminate confusion when the evening transitions from one celebration to another. It also ensures that the event's overall tone can shift to become more laid back.
With that said, there's no hard and fast rule about it! Some couples host the after party in a smaller room at the same venue. Others stay in the same space but shift the lights to signal the change.
If you're keen on hosting your after party at a second location, consider a favourite pub or the private event room at a restaurant. Some couples will host the party in their home, but if multiple guests are staying in a hotel, you may be able to use the event space there, too. How Should We Handle the Guest List and Invitations?
Your after party guest list should be a personal preference, but there are a few considerations to keep in mind. If you're hosting the party at your wedding venue, some guests may feel excluded if they didn't receive an invitation. Most couples extend an open invitation to everyone on the wedding guest list (with the understanding that many people will not stay).
If you're inviting everyone, you can include details as part of your wedding invitation suite. You might add a small card with the pertinent information. Sometimes the wedding DJ can make an announcement when the reception begins winding down.
Some couples invite only close family and their bridal party. They prefer a more intimate celebration with less fuss and formality. In that instance, you can keep the invitations casual, too—a text, e-vite, or verbal invitation should suffice.
As a result, sometimes an extra guest will end up at the after party, so be flexible. Tired guests will often mumble their regrets and head to bed. You never know how folks will feel on the day of the event, so it's better not to stress about a specific headcount.
All that to say, it's not an event that needs place cards!
How Long Is the Average Wedding After Party?
The length of the after party will depend on when it begins. An after party following an afternoon wedding might end when the sun goes down - a party following an evening celebration can last into the small hours!
As a rule, plan for two hours of festivities but expect to stay later. Parties tend to go longer following a destination wedding, where guests have nowhere else to be in the morning.
Ultimately, the length of the party has more to do with your guests than anything else! Are they raucous partiers who love any excuse to have a great time? You might be in for a long, wild night!
Some parties end naturally when the venue or restaurant stops serving or when the bartender announces the last call. In general, guests will begin to excuse themselves as they get tired. Most after parties have a natural conclusion and end when the final guests have run out of steam!
Are Most Wedding After Parties Expensive?
An after party doesn't need to be expensive to be fun! After all, most guests arrive well-fed after enjoying the delicious spread at the reception! Most after party guests will expect a drink, but not necessarily another meal.
If you're hosting the party at a bar, you can set the expectation that everyone is on the hook for their tabs. Alternately, you can pay for drinks for the first hour of the event and let them handle the bill after that designated period. An after party at your home or hotel can even be BYOB.
The one element that's worth the added expense is live music. Often, a live performer is enough to elevate your party from a buzzed hangout to a real celebration. It can set the tone and energy level and means the dancing doesn't have to stop!
Unique Wedding After Party Ideas
Most after party guests are content to drink, mingle, and get their groove on. Weddings can be exhausting, even if you aren't the one getting hitched! A more relaxed atmosphere is just what most guests need to let loose and celebrate the new couple!
With that said, it's sometimes helpful to have an activity in mind. It can be a way to redirect tipsy, adrenaline-fuelled energy!
Like nearly every other element of your perfect wedding after party, it's entirely up to you! If you're looking for themes, entertainment, and activities, we've included some of our favourites below! Live Band Karaoke (Or Bandeoke)
A little liquor can give anyone some extra courage! Karaoke is the sort of activity ideal for tipsy party guests who have shed their inhibitions and are ready to belt out their favourite power ballad. The only way to make drunken karaoke more fun and empowering is to perform the hits while accompanied by a live band!
This new trend is Live Band Karaoke, or "Bandeoke." It's similar to traditional video karaoke in nearly every way. Guests can sign up for a slot, choose a song from the band's catalogue, and then take to the mic!
Rather than performing with a track, the guest gets to take front and centre and sing with live musicians, who will do their best to follow their lead! It's a thrilling experience for those with or without singing talent, as it can make even the most tone-deaf partier feel like a rockstar!
The band consists of professional musicians, making it a vast improvement over the canned backing tracks of traditional video karaoke. Singers still have access to the song lyrics on a video screen, so even the sloppiest guests can't tank. Sometimes the band will even come in with backup vocals, making it impossible to get lost!
It's the perfect activity for a rollicking wedding after party!
Coffeehouse-Inspired Acoustic Kickback
Who says your after party can't have a coffeehouse vibe? After the function band and the DJ have packed their things, take the energy down a notch with an unplugged acoustic performer. It's the perfect entertainment solution for small or intimate venues.
Giving your party a coffeehouse feel is a unique way to help your friends and family sober up after a wild and crazy night. Instead of partying at the bar, rent a fancy coffee and tea cart with espresso drinks and fancy foamed milk. Your guests can kick off their uncomfortable wedding shoes, put their feet up, and sip something decadent while a musician croons nearby.
Are you hosting a musical crew? There's no reason why your after party can't include a singalong!
There's no shame in using your after party as an opportunity to come down from the endorphin-fuelled high of a high-energy reception. Use it as an opportunity to enjoy the company of your new spouse, your close friends, and your family. It also means that older relatives might feel comfortable sticking around after the main event. Party on a Boat
If you have the funds, take your after-wedding activities to the open sea! A chartered cruise or party boat is a fun way to contain your festivities in a unique location where anything goes!
You won't have to worry about drunken guests driving. Many party boats offer an onboard bar or BYOB option, so it's safe to imbibe. Guests can mingle, drink, and chat in a beautiful, open-air setting.
You can also hire a band to perform on the boat. Nothing is more memorable than a post-wedding dance party aboard an intimate cruise ship!
Charter services know how to create a celebratory atmosphere. Many offer special lighting packages for late-night cruises. You'll be able to take gorgeous photos while everyone's hair and makeup still looks incredible!
It's also a great vantage point if you arrange a fireworks show.
Picnic and a Movie
After an incredible wedding, expect to feel sleepy! If you're anticipating fatigue but know you won't want the day to end, consider planning a low-key outdoor movie night. Rent a projector and spread out on the garden lawn to enjoy a favourite film with your loved ones.
Choose a romantic movie or a movie that has special meaning to you as a couple. Provide a few movie snacks for anyone peckish after the reception. You can rent a popcorn cart and encourage guests to help themselves throughout the movie.
Make the screening a BYOB affair so guests can choose to drink or sober up as they please. Hand out sparklers for extra late-night fun and photo opportunities. A blanket on the lawn is a great place to stretch out and snuggle with your new spouse after a long, busy day! Midnight Pizza Party
For an exceptionally intimate take on the after party, try hosting a late-night junk food fest! Hold the party at your home or the home of a close friend or family member. Order a bunch of pizzas, or bring in a food truck or two so guests can enjoy their favourite local fare!
If you want a uniquely relaxed tone, set a dress code and make it a pyjama party! Everyone will be happy to kick off their shoes, unpin their hair, and get cosy in their favourite sleepwear.
All you need to do for entertainment is bust out the board games. Everyone will love chatting, snacking, drinking, and playing! If you go this route, you might have to host many of your guests overnight, as liquor and cosiness quickly lead to sleep!
How to Plan Your Wedding After Party
Now that you've fallen in love with an after party idea, it's time to start planning! You can improve any event with some forethought. Here is our step-by-step guide to ensuring you don't miss a single task as you prepare for the party-after-the-party!
1. Choose and Book the Venue
The rest of the planning comes easy once you have a space in mind! Decide if you'd like to hold the party at the reception venue, your home, or a second location such as a club, restaurant, or bar.
The distance between your reception venue and after party venue also matters. Is it within walking distance? Will tipsy guests be able to get there safely?
Some couples choose to rent a party bus to transport guests from one location to another.
Keep timing in mind when you book your venue. Find out when the location stops serving so you don't end up with a sad, sober celebration. Some areas have noise restrictions after hours, which you should keep in mind.
It's often wise to book your venue in advance, especially if you're anticipating a large crowd. Don't send out invitations or speak to vendors until you know when and where the party is taking place. Some places, such as pubs, might not take reservations, but it's still wise to call ahead and warn them that a group will be stopping in. 2. Book Your Entertainment
You should hire your band or book your acoustic artist as soon as possible. If you ensure the entertainment is in place early, you won't need to scramble last minute. You'll have a lot of wedding vendors to keep track of, so be proactive to spare yourself the stress.
3. Make a Food and Drink Plan
You will need to let guests know up-front if they need to provide alcohol or pay for their food or drinks. You can communicate more clearly if you make a plan in advance. Decide if you will be getting the bar tab or if guests are on their own.
Communicate your intentions with the venue, especially if it's a bar or restaurant. Some offer catering packages or group deals. You may be able to provide guests with a limited number of pre-paid drink tickets or pre-order some shared plates for the group.
If you're hosting, book any outside vendors. Schedule your catering, pizza delivery, food truck fleet, or popcorn machine rentals. It can be helpful to delegate the follow-up to your bridal party so you can focus on the reception.
4. Invite Your Guests
Once you have a venue, entertainment, and food plan, you can let your guests know what will be happening. You might choose to have a card with the details professionally printed. Include the cards as part of your wedding invitation suite.
If you've already sent out your official invites, it's not too late to let your guests know about your plans. You can send out an e-vite to the members of your guest list or include the details on your official wedding website.
If you aren't inviting the entire wedding guest list, consider reaching out to friends via text or social media. Something like a Facebook event is perfect. Let them know you're restricting the guest list to prevent them from spilling the beans.
If your after party will be at the same venue directly following the reception, you might be able to skip this step. Spread the news by word of mouth and announce your plans at the end of the reception. Guests will stay or go depending on their personal preference.
5. Make a Photography Plan
When you work with photography vendors, you often have use of their services for a designated period. Sometimes the minimum extends beyond the length of your reception. Tell them about your after party plans so they can continue documenting the festivities while you have them on the clock!
If you don't have photographers after the reception, designate a few guests to snap pictures on their phones. You can pass out disposable cameras and allow the guests to document the festivities from their point of view. You can even set up a selfie light for an impromptu post-wedding photo booth! 6. Enjoy Your Fabulous After Party
The bride and groom are often busy during the reception. Sometimes the couple misses their cocktail hour due to logistics! Nerves or obligations sometimes keep you from enjoying the gourmet food and cake you spend months picking out!
While the reception is for your guests, the after party is all about you! You can finally relax knowing that your nuptials were a success. If you have made it to the after party, you deserve to have a truly wonderful time!
Don't feel ashamed if your party goes late and lasts until early morning. Enjoy every moment! This night might be the last time you throw a party of this calibre, so permit yourself to have a blast!
Keep the Good Times Going With Bands For Hire
Think about all the sad brides and grooms who go home, take off their fancy wedding shoes, and stare at one another until it's time for bed. While a wedding can be exhausting, there's no reason to pause the celebration just because the next group's coming in! A great wedding after party is the perfect button on a marvellous milestone.
Nothing pumps up a group quite like live music. From live band karaoke to intimate acoustic performances, every after party is better when there's a band on hand.
Contact us today to discuss your after party ideas. We'll match you with the perfect performer for your post-wedding celebrations!