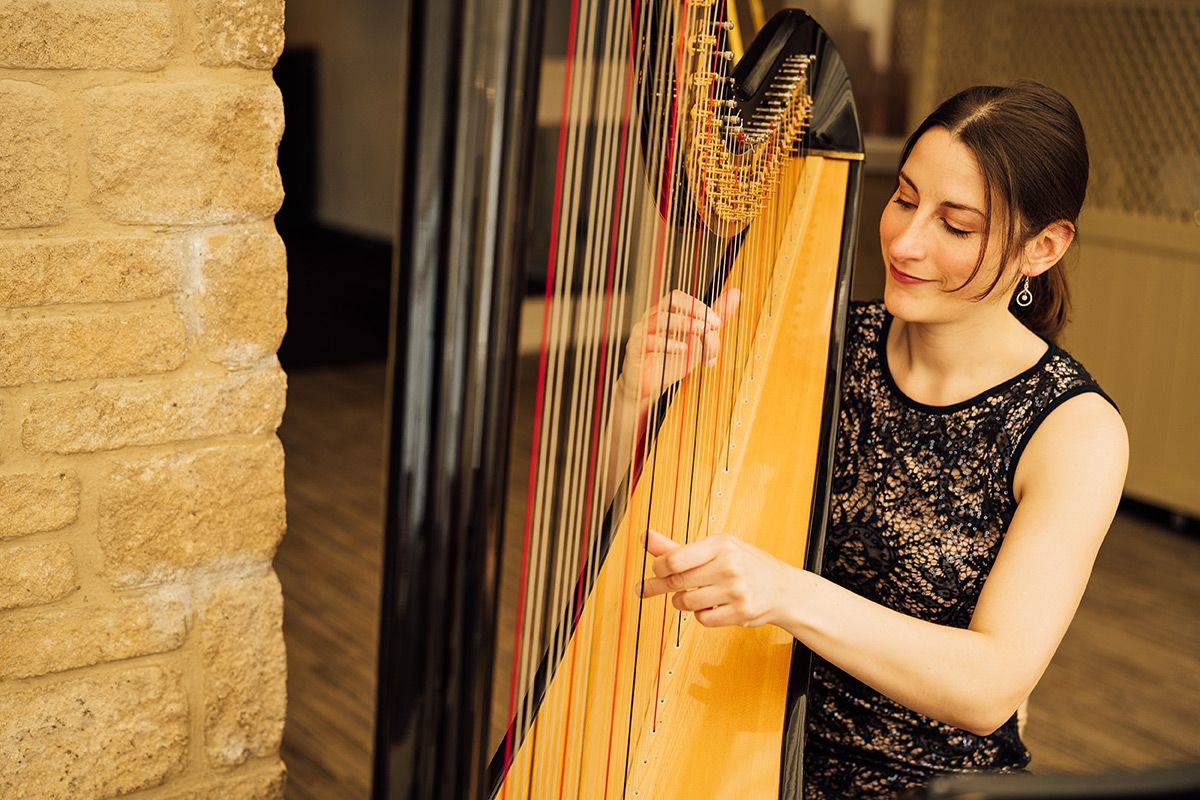 Celia - Harpist
From £310
A highly professional harpist with a wealth of experience on the British and international circuit.
Biography
Having studied at Trinity College of Music and the Royal Holloway University of London, Celia's reputation has continued to go from strength to strength. Along with countless live performances around the globe, Celia has taken part in broadcasts on BBC Radio 3 and Classic FM, as well as in several television appearances.
Celia's career regularly sees her take on contracts around the world including Europe, The Middle East, Australasia, French Polynesia and the USA. With a number of high profile solo performances, long term residencies and countless functions under her belt, you can rest assured that Celia will bring the perfect blend of professionalism and elegance to your event.
If you're looking to hire a harpist for your wedding, corporate event or party, please get in touch for a quote. Celia was fabulous from start to finish. She completely understood our needs, tailored her repertoire perfectly to our event including inserting our special requests. She is also clearly a very accomplished musician as well as a very pleasant person. I would recommend Celia to anyone looking to add a classic atmosphere to any event – large or small.
★★★★★
Paul Sainthouse - Wedding
Select Video
Promo Video
Repertoire
Scroll down the artist repertoire below to discover the range of music covered. Looking for something specific? Type in the artist or song name to search through the list.
Classical and Opera
7 Progressive Sonatas – Naderman
Adagio in G Minor - Albinoni
Adagio From Piano Concerto No.2 - Rachmaninoff
Air From Water Music – Handel
Air on the G String – J.S Bach
Album Leaf - Chopin
Allegro From Italian Concerto - Bach
Arabesque No.1 – Debussy
Arioso - Handel
Arioso – J.S Bach
Arrival of the Queen of Sheba – Handel
At Times My Thoughts Come Drifting (Wie Melodien Zieht Es Mir) - Brahms
Au Bord Du Ruisseau – Renie
Au Matin - Tournier
Au Monastere – Hasselmans
Ave Maria – Gounod
Ave Maria - Schubert
Barcarolle - Offenbach
Bella Notte - Einaudi
Berceuse From 'jocelyn' – Godard
Bilitis – Lai
Bist Du Bei Mir – Stölzel
The Blue Bird - Stanford
The Blue Danube – Strauss
Bridal Chorus From 'lohengrin' - Wagner
Canon in D - Pachelbel
Cantique De Jean Racine -faure
Carnavilito – Traditional Peruvian
Caro Mio Ben - Giordoni
Caro Nome From 'rigoletto' - Verdi
Casta Diva From 'norma' - Bellini
Chaconne – Jeremiah Clarke
Chanson De Mai - Hasselmans
Chorus of the Hebrew Slaves From 'nabucco' – Verdi
Clair De Lune - Debussy
Cradle Song / Lullaby - Brahms
Cradle Song – Schubert
Cradle Song – Mozart
Dance of the Blessed Spirits – Gluck
Danse Macabre – Saint-saëns
Deep River Interlude – Grandjany
Drinking Song From 'la Traviata' - Verdi
Duet From 'don Giovanni' - Mozart
Duet From 'the Pearl Fishers' - Bizet
Egyptian March From 'aida' - Verdi
Eine Kleine Nachtmusik – Mozart
El Condor Pasa - Milcherg
El Picaflor – Marson
Emperor Waltz – Strauss
En Bateau From 'petite Suite' – Debussy
Etude Impromptu - Tedeschi
Etude Op.10 No.3 – Chopin
Evening Prayer From 'hansel and Gretel' - Humperdinck
Fairytale – Einaudi
Fantasia No.2 in D Major - Telemann
Feuilles D'automne – Hasselmans
Finlandia – Sibelius
Flower Duet From 'lakme' – Delibes
Forgotten Dreams – Leroy Anderson
Für Elise – Beethoven
Giga – Corelli
Grand March From 'norma' – Bellini
Grazioso – Telemann
Greensleeves – Traditional
Gymnopédie No.1- Satie
Habanera From 'carmen' - Bizet
Harp Concerto in B Flat - Handel
Hornpipe From 'water Music' - Handel
How Like a Dream - Flotow
Humoresque – Dvorak
Humming Chorus From 'madame Butterfly' - Puccini
I Giorni – Einaudi
Ich Liebe Dich - Grieg
Impromptu-caprice - Pierné
Interlude From 'a Ceremony of Carols' - Britten
Intermezzo From 'cavalleria Rusticana' – Mascagni
Intermezzo Opus 118, No.2 – Brahms
In Paradisum – Fauré
I Vow to Thee, My Country (Jupiter) - Holst
Jesu, Joy of Man's Desiring – J.S Bach
Jocelyn's Lullaby - Godard
La Donna E Mobile From 'rigoletto' - Verdi
La Nascita Delle Cose Segrete – Einaudi
Land of Hope and Glory - Elgar
La Source – Hasselmans
La Source – Intermezzo – Delibes
La Volta - Byrd
Ländler – Schubert
Largo From New World Symphony – Dvorak
Largo From 'winter' - Vivaldi
Largo From 'xerxes' – Handel
L'arlessienne Entr'acte Et Carillon - Bizet
Lascia Ch'io Pianga From 'rinaldo' - Handel
The Laughing Song From 'die Fledermaus' – Strauss
Le Matin - Grieg
Lento From Sonata in B Flat Minor, 2nd Movement – Chopin
Les Saisons De La Harpe – Skaila Kanga
Liebestraum - Liszt
Love Unspoken From 'the Merry Widow' – Lehar
Mazurka From 'swan Lake' - Tchaikovsky
Meditation From 'thais' – Massenet
Meditation From 'songs Without Words Op.67, No 1' – Mendelssohn
Minuet From 'don Giovanni' – Mozart
Minuet in G - Bach
Moderato Cantabile From Fantaisie Impromptu - Chopin
Moonlight Sonata (1st and 2nd Mvts) – Beethoven
Morning From 'peer Gynt' – Grieg
Musetta's Waltz From 'la Boheme' – Puccini
Music for the Royal Fireworks – Handel
My Heart at Thy Sweet Voice From 'samson and Delilah' – Saint-saëns
Nadir's Romance From 'the Pearl Fishers' - Bizet
Nessun Dorma – Puccini Nimrod - Elgar
The Nightingale – Deborah Henson-conant
Nimrod - Elgar
Nocturne From String Quartet No.2 - Borodin
Nocturne – Glinka
Nocturne - Hasselmans
Nocturne in B Flat – John Field
Nocturne From 'a Midsummer Night's Dream' – Mendelssohn
Nottorno – Respighi
Nuvole Bianche – Einaudi
O Isis and Osiris From 'the Magic Flute' - Mozart
O Mio Babbino Caro - Puccini
O Sole Mio – Di Capua
Ode to Joy – Beethoven
On the Wings of Song – Mendelssohn
Panis Angelicus – Franck
Papageno's Aria From 'the Magic Flute' – Mozart
Password – Einaudi
Pathetique Sonata 2nd Movement - Beethoven
Pavane - Faure
Pavillon Chinois - Beaumont
Pearlfishers Duet – Bizet
Petite Valse - Hasselmans
Piano Sonata in C – Mozart
Piano Sonata in G Op.49 – Beethoven
Pie Jesu – Lloyd Webber
Pie Jesu - Faure
Plaisir D'amour – Martini
Poëm – Fibich
Polovtsian Dances From Prince Igor - Borodin
Porgi, Amor, Qualche Ristoro From 'the Marriage of Figaro' – Mozart
Prelude in a Major - Chopin
Prelude in C – J.S Bach
Primavera - Einaudi
Quatre Preludes Pour Harpe – Tournier
Raindrop Prelude – Chopin
Rhapsody on a Theme of Paganini – Rachmaninoff
Romance Opus 118, No.5 - Brahms
Romance in a Flat - Parish-alvars
Ronde De Nuit - Hasselmans
Rosina's Aria From 'the Barber of Seville' – Rossini
Salut D'amour – Elgar
Sands of Hosta – Ailie Robertson
Santa Lucia – Traditional Bel Canto Napolitan
Siciliana From 'cavalleria Rusticana' – Mascagni
Sleeping Beauty Waltz - Tchaikovsky
Sonata in a K.208 – Scarlatti
Sonata in a K.300 - Scarlatti
Sonata in D – John Parry
Song to the Moon From 'rusalka' – Dvorak
Spring From 'the Four Seasons' – Vivaldi
Spring Fancies 1 and 2 – Hamilton Harty
Suite Espagnole – Albeniz
Suite of Eight Dances - Salzedo
Swan Song - Schubert
The Swan (Le Cygne) From 'carnival of the Animals' – Saint-säens
Swan Lake Theme - Tchaikovsky
Themes From Piano Concerto No.2 - Rachmaninoff
To a Wild Rose – Macdowell
Träumerei - Schumann
Trumpet Voluntary – Purcell
Un Bel Di Vedremo From 'madame Butterfly' - Puccini
Valse From 'coppélia' - Delibes
Variations on a Theme of Mozart – Glinka
Viennese Waltzes – Eleanor Fell
Vissi D'arte From 'tosca' – Puccini
Voi, Che Sapete From 'marriage of Figaro' - Mozart
Waltz in a Minor - Chopin
Wedding March – Mendelssohn
Weinachtsgocken – Gade
Werther – Massenet
Where 'ere You Walk From 'semele' – Handel
Folk and Traditional
Ae Fond Kiss
Ah, May the Red Rose Live Alway
Arirang
All Through the Night
Amazing Grace
Arise and Get Dressed
Ar Lan Y Mor (by the Sea)
Arran Boat Song
The Ash Grove
Auld Lang Syne
Aura Lee
Bailero – Canteloube
Banks of Allan Water
Believe Me If All Those Endearing Charms
The Bells of Aberdovey (Clychau Aberdyfi)
Black Is the Colour of My True Love's Hair
Blind Mary
The Blue Bells of Scotland
Bonny at Morn
Breton Lullaby
Brian Boru's March
Bridget Cruise
Broom of the Cordenknowed
By Love, and by Beauty
Cader Idris
Catherine Martin
Carnavalito (Peruvian Tune)
Castle of Dromore
Cielito Lindo (Mexican Tune)
Cockles and Mussels
Come All Ye Fair and Tender Maidens
Dark Woman of the Mountains
Danny Boy
David of the White Rock (Dafydd Y Garreg Wen)
Do You Love an Apple?
Drink to Me Only
Dros Y Dwr I Draeth Llanstephan
Early One Morning
Eleanor Plunkett
Fair Winds
Farewell but Whenever You Welcome the Hour
Farewell to Liverpool
Fhear A'bhata
Fine Flowers of the Valley
The Flight of the Earls
Flow Gently, Sweet Afton
Foggy Dew
Forget Not the Angels
Gentle Annie
The Girl From Penderyn
The Girl I Left Behind Me
Give Me Your Hand
Greensleeves
The Humble Heart
I Gave My Love a Cherry
I Love My Love in the Morning
In an English Country Garden
I Will Arise
Jeanie With the Light Brown Hair
Kathleen Ashore
The Lark in the Clear Air
Last Rose of Summer
Little Saucepan (Sosban Fach)
Lisa Lan (Fair Lisa)
Llongau Caernarfon
Loch Lomond
Merch Megan
Mhairi's Wedding
Merrily Kiss the Quaker
The Minstrel's Adieu to His Native Land
Mon Ami
Moothall Magic
My Bonnie Lies Over the Ocean
My Darling Clementine
Myfanwy
My Heart's in the Highlands
My Love Is Like a Red, Red Rose
My Thousand Treasures
My Wild Irish Rose
The Rising of the Sun – John Thomas
The Rowan Tree
Sally Gardens
Santa Lucia (Bel Canto Napolitain)
Scarborough Fair
Scotland the Brave
She Moved Through the Fair
Shenandoah
Skye Boat Song (O'er the Sea to Skye)
Slumber My Darling
Star of County Down
Suo Gan
Thanksgiving Hymn
Tree of Liberty
Tsuki
Tuza
Umi
Una Noche
Vals
Watching the White Wheat (Bugeilio'r Gwenith Gwyn)
The Water Is Wide
Waulking O'the Fauld
When Irish Eyes Are Smiling
Women of Ireland
Wyres Megan
Y Darryn Du Sy'n Thodio'r Gwledydd
Ye Banks and Braes
Disney, Film, West End/Broadway and Gaming Music
Age of Not Believing From 'bedknobs and Broomsticks'
All I Ask of You From 'phantom of the Opera'
Ashokan Farewell From 'the Civil War'
The Audition (the Fools Who Dream) From 'la La Land'
Baby Mine From 'dumbo'
Balcony Scene From 'romeo and Juliet'
Ballard of the Goddess From 'legend of Zelda'
The Bare Necessities From 'the Jungle Book'
Beauty and the Beast
Bella Notte From 'lady and the Tramp'
Brave Themes From 'brave'
Bright Eyes From 'watership Down'
Bring Him Home From 'les Miserables'
Can You Feel the Love Tonight From 'the Lion King' – Elton John
Can't Help Lovin' Dat Man From 'showboat'
Chi Mai – Ennio Morricone
City of Stars From 'la La Land'
Circle of Life From 'the Lion King'
Colours of the Wind From 'pocahontas'
Come What May From 'moulin Rouge'
Comptine D'une Autre Ete: Apres-midi From 'amelie'
Dawn From 'pride and Prejudice'
Don't Cry for Me Argentina From 'evita'
Downton Abbey Theme
A Dream Is a Wish Your Heart Makes From 'cinderella'
Earth From 'galdiator' – Hans Zimmer
Edelweiss From 'the Sound of Music'
Feed the Birds From 'mary Poppins'
'forrest Gump' Themes
For the First Time in Forever From 'frozen'
For the Love of a Princess From 'braveheart'
From Now on From 'the Greatest Showman'
Gabriel's Oboe From 'the Mission'
Game of Thrones Theme
Glasgow Love Theme From 'love Actually'
God Help the Outcasts From 'the Hunchback of Notre Dame'
Go the Distance From 'hercules'
Great Fairy Fountain From 'legend of Zelda'
He's a Tramp From 'lady and the Tramp'
Themes From 'how to Train Your Dragon'
I Dreamed a Dream From 'les Miserables'
In Dreams From 'lord of the Rings'
I See the Light From 'tangled'
Ice Castles Theme
Into the Unknown From 'frozen 2'
I've Had the Time of My Life From 'dirty Dancing'
John Dunbar Theme From 'dances With Wolves'
Jurassic Park Theme
Kakariko Village From 'legend of Zelda'
Kiss the Girl From 'the Little Mermaid'
La La Lu From 'lady and the Tramp'
La Valse D'amelie From 'amelie'
Lane's Theme From '8 Seconds'
Let It Go From 'frozen'
Let's Go Fly a Kite From 'mary Poppins'
Love From Disney's 'robin Hood'
Love Is a Song From 'bambi'
Lullaby of Broadway From '42nd Street'
May It Be From 'lord of the Rings' – Enya
Memory From 'cats'
Merry Christmas, Mr Lawrence Theme
Mia and Sebastian's Theme From 'la La Land'
A Million Dreams From 'the Greatest Showman'
Miss Potter Themes
My Favourite Things From 'the Sound of Music'
My Heart Will Go on From 'titanic'
Never Enough From 'the Greatest Showman'
Now We Are Free From 'gladiator'
Once Upon a Dream From 'sleeping Beauty'
Only Hope From 'a Walk to Remember'
Out There From 'the Hunchback of Notre Dame'
Park on the Piano From 'finding Neverland'
Portuguese Love Theme From 'love Actually'
Pure Imagination From 'willy Wonka and the Chocolate Factory'
The Second Star to the Right From 'peter Pan'
Send in the Clowns From 'a Little Night Music'
So This Is Love From 'cinderella'
Someday From 'the Hunchback of Notre Dame'
Some Day My Prince Will Come From 'cinderella'
Some Enchanted Evening From 'south Pacific'
Somewhere in Time Theme
Somewhere Over the Rainbow From 'the Wizard of Oz'
Speak Softly Love From 'the Godfather'
Star Wars Main Theme
Star Wars the Force Theme
Star Wars Yoda Theme
Stars From 'les Miserables'
Stay Awake From 'mary Poppins'
Still Alive From 'portal'
A Summer Place Theme
Take My Breath Away From 'top Gun'
Tara's Theme From 'gone With the Wind'
Theme From 'ratattouille'
Theme From 'up'
There's Something There From 'beauty and the Beast'
Think of Me From 'phantom of the Opera'
This Is Me From 'the Greatest Showman'
This Land From 'the Lion King'
We Don't Talk About Bruno From 'encanto'
We'll Meet Again – Vera Lynn
When You Taught Me How to Dance From 'miss Potter'
When You Wish Upon a Star From 'pinocchio'
The Whirling Ways of the Stars That Pass From 'the Theory of Everything'
A Whole New World From 'Aladdin'
'Winnie the Pooh' Theme
Wishing You Were Somehow Here Again From 'the Phantom of the Opera'
You'll Never Walk Alone From 'carousel'
Your Mother and Mine From 'dumbo
You've Got a Friend in Me From 'toy Story'
50's - Modern Pop
7 Years – Lukas Graham
59th Bridge Street (Feelin' Groovy) - Simon and Garfunkle
Across the Universe – Beatles
Adventure of a Lifetime – Coldplay
Against All Odds – Phil Collins
Ain't No Sunshine – Bill Withers
All I Have to Do Is Dream - Everly Brothers
All of Me – John Legend
All My Life – K-ci & Jojo
All You Need Is Love – the Beatles
And I Love You so - Don Mclean
And so It Goes – Billy Joel
Angel – Sarah Mclachlan
Angels - Robbie Williams
At Last – Etta James
Beautiful – Christina Aguilera
Beneath Your Beautiful – Laybrinth
Best Day of My Life – American Authors
Best of You – Foo Fighters
Bittersweet Symphony – the Verve
The Book of Love – Stephin Merritt
Both Sides Now – Joni Mitchell
Bridge Over Troubled Water - Simon and Garfunkle
Brown Eyed Girl - Van Morrison
Can You Feel the Love Tonight– Elton John
Can't Buy Me Love – Beatles
Can't Help Falling in Love – Elvis Presley
Can't Take My Eyes Off of You - Frankie Valli
Champagne Supernova – Oasis
Chasing Cars – Snow Patrol
Catch a Falling Star – Perry Como
Cheerleader - Omi
Clocks – Coldplay
The Closest Thing to Crazy - Katie Melua
Close to You – Carpenters
Clown – Emile Sande
Cry to Me From 'dirty Dancing'
Dancing Queen - Abba
Daydream Believer – the Monkees
Don't Be Cruel – Elvis Presley
Dreams - the Cranberries
Elenore - the Turtles
Eight Days a Week - Beatles
Eleanor Rigby – Beatles
Endless Love - Lionel Richie
Evergreen - Barbra Streisand
Everybody Hurts – R.E.M
Every Breath You Take - the Police
Everything – Michael Buble
(Everything I Do) I Do It – Bryan Adams
Fields of Gold – Sting
Firework – Katy Perry
The First Time Ever I Saw Your Face – Maccoll
Fix You - Coldplay
Free Fallin' – Tom Petty
From This Moment on – Shania Twain
From Now on From 'the Greatest Showman'
Goodnight – Beatles
Goodnight, Sweetheart, Goodnight – the Spaniels
Greatest Day – Take That
Grow Old With Me – Tom Odell
Hallelujah – Leonard Cohen
Halo – Beyonce
Happy – Pharrell Williams
Happy Together – the Turtles
Have I Told You Lately – Van Morrison
Heartbeats – Jose Gonzales
Heaven – Sammy / Bryan Adams
Hello - Adele
Here Comes the Sun – Beatles
Hero – Enrique Iglesias
Hey Jude – Beatles
Hey There Delilah – Plain White T's
Hold Back the River – James Bay
Hold My Girl – George Ezra
Home – Michael Bublé
How Long Will I Love You – Ellie Goulding
I Don't Want to Miss a Thing – Aerosmith
I Will Always Love You – Dolly Parton
I Have a Dream – Abba
I Get to Love You - Ruelle
I Won't Give up – Jason Mraz
I'm Yours – Jason Mraz
I'm Yours – the Script
Imagine – Beatles
In My Room – Beach Boys
I Say a Little Prayer – Aretha Frankin
Isn't She Lovely – Stevie Wonder
I've Had the Time of My Life – Frankie Previte
I Say a Little Prayer for You - Aretha Franklin
Just the Two of Us – Bill Withers
Just the Way You Are – Bruno Mars
Just You and I – Tom Walker
Kids - Mgmt
Kiss From a Rose – Seal
Kissing You - Des'ree
Let Her Go - Passenger
Let It Be – Beatles
Let It Be Me - Everly Brothers
Life on Mars – David Bowie
The Long and Winding Road – Beatles
Love Me Do - Beatles
Love Me Tender – Elvis Presley
Lovin' You – Minnie Riperton
Mad World – Michel Andrew
Magic Moments – Perry Como
A Man and a Woman – Lai
Marry Me - Train
Marry You – Bruno Mars
Memories – Maroon 5
Mr Brightside – the Killers
Norwegian Wood – Beatles
Nothing Compares to You - Sinead O'connor
Nothing Else Matters – Metallica
One Day Like This - Elbow
On Top of the Word – Imagine Dragons
Out of Reach - Gabrielle
Over the Rainbow - Eva Cassidy
Paradise - Coldplay
Penny Lane - Beatles
Pelagia's Song From 'captain Corelli's Mandolin'
Perfect – Ed Sheeran
Photograph – Ed Sheeran
Pompeii – Bastille
The Promise – Tracy Chapman
The Power of Love – Gabrielle Aplin
The Promise – Tracy Chapman
Put Your Head on My Shoulder – Paul Anka
Raindrops Keep Falling on My Head – Bacharach
Read All About It – Emile Sande
The River Flows in You - Yiruma
Rocketman – Elton John
Romeo and Juliet – Dire Straits
Rule the World – Take That
Run – Snow Patrol
Runaway – the Corrs
Say You Won't Let Go – James Arthur
The Scientist – Coldplay
Secret Garden – Bruce Springsteen
She – Elvis Costello
She's Always a Woman – Billy Joel
She's the One - Robbie Williams
Silhouettes – the Rays
Sitting in the Dock of the Bay – Otis Reading
Skinny Love – Birdy
Someone Like You – Adele
Somewhere Only We Know – Keane
Songbird - Eva Cassidy
Sound of Silence - Simon and Garfunkel
Stairway to Heaven – Led Zeppelin
Stand by Me - Ben King
Stay With Me – Sam Smith
Still Falling for You – Ellie Goulding
Supermarket Flowers – Ed Sheeran
Sweet Child of Mine – Guns and Roses
Tears in Heaven – Eric Clapton
Tears on My Pillow – Little Anthony and the Imperials
Teddy Bear – Bernie Lowe
Tenerife Sea – Ed Sheeran
That's Amore – Dean Martin
Thinking Out Loud – Ed Sheeran
This Will Be an Everlasting Love – Natalie Cole
This Year's Love - David Gray
A Thousand Miles – Vanessa Carlton
A Thousand Years – Christina Perri
Time After Time - Cyndi Lauper
Time to Say Goodbye - Andrea Bocelli
To Make You Feel My Love - Bob Dylan
Trouble - Coldplay
True Colours – Cyndi Lauper
Unchained Melody – the Righteous Brothers
Use Somebody – Kings of Leon
Watermelon Sugar – Harry Styles
Way Maker – Osinachi Okoro
What a Wonderful World – Louis Armstrong
What the World Needs Now - Bacharach
When I Was Your Man – Bruno Mars
When You Say Nothing at All – Ronan Keating
A White Shade of Pale – Procol Harum
Wicked Game – Chris Isaak
Wildest Dreams – Taylor Swift
The Wind Beneath My Wings - Henley and Silbar
With or Without You - U2
Wonderful Tonight - Eric Clapton
Wonderwall – Oasis
Yellow Submarine - Beatles
Yesterday – Beatles
You and Me - Lifehouse
You Are so Beautiful to Me – Billy Preston
You're Beautiful – James Blunt
You're My Best Friend - Queen
You Raise Me up – Josh Groban
Your Song– Elton John
You've Got the Love - Florence and the Machine
Jazz Standards and Popular
Ain't Misbehavin' - Waller and Brooks
All the Things You Are – Kern
Around the Clock Suite - Pearl Chertok
As Time Goes by – Hupfeld
At Last – Etta James
Autumn Leaves – Kosmas
Beautiful Dreamer – Stephen Foster
Because - Guy D'hardelot
Bewitched – Rodgers
Bidin' My Time – Gershwin
Blue Moon - Rodgers and Hammerstein
Body and Soul – Green
Bye, Bye Blackbird – Henderson
Chances Are – Allen
Cheek to Cheek – Irving Berlin
Come Fly With Me – Sinatra
Cry Me a River – Hamilton
Days of Wine and Roses – Mancini
Domino – Louis Ferrari
Don't Get Around Much Anymore - Duke Ellington
Don't Know Why – Norah Jones
Dream – Mercer
Embraceable You – Gershwin
Everybody Loves Somebody - Lane
Fly Me to the Moon – Sinatra
A Foggy Day - Gershwin
Fools Rush in – Bloom
Here's That Rainy Day – Burke/Heusen
Indian Summer – Victor Herbert
I Got Rhythm – Gershwin
I Left My Heart in San Francisco – Tony Bennett
I Love You Truly - Carrie Jacobs Bond
I Saw a Little Prayer – Aretha Franklin
I Want to Be Happy - Youmans
In the Still of the Night – Cole Porter
It Ain't Necessarily so – Gershwin
It Had to Be You – Isham Jones
It's Been a Long, Long Time – Styne
I've Got You Under My Skin – Cole Porter
I Wish I Knew How It Would Feel to Be Free - Billy Taylor
Kiss Me Again – Victor Herbert
Lady Be Good – Gershwin
La Vie En Rose – Louiguy
The Lady Is a Tramp - Rodgers
Let There Be Love – Lionel Rand
Let's Call the Whole Thing Off – Gershwin
Long Ago and Far Away - Gerswhin
Lover, Come Back to Me! – Romberg
Lullaby of Birdland - Weiss
The Man I Love – Gershwin
Misty – Garner
Moon River – Mancini
Moondance – Van Morrison
Moonglow - Hudson/Delange/Mills
Moonlight in Vermont – Suessdorf
My Funny Valentine – Rodgers and Hart
My Way - Sinatra
Nature Boy – Ahbez
New York, New York – John Kander
Night and Day – Cole Porter
A Nightingale Sang – Sherwin
Over the Rainbow – Arlen
Over the Rainbow – Eva Cassidy
One Alone – Sigmund Romberg
O Promise Me - De Koven
Pure Imagination – Bricusse/Newley
Rhythm of the Rain - Gunmoe
Rock Me to Sleep – Benedict
The Rose - Mcbroom
Secret Love – Fain
Serenade From the Student Prince – Sigmund Romberg
Smoke Gets in Your Eyes – Kern
Softly As I Leave You – Sinatra
Softly, As in a Morning Sunrise – Romberg
Somebody Loves Me – Gershwin
Someone to Watch Over Me - Gershwin
Spring Is Here – Loesser and Mcmugh
Stranger in Paradise - Tony Bennet
Summertime – Gershwin
Take Five – Desmond
Take the "a" Train – Strayhorn
Tea for Two – Youmans
That Is Love – Felix Mcglennon
Till There Was You – Meredith Willson
Time After Time – Styne
They Can't Take That Away From Me – Gershwin
Toyland – Victor Herbert
Unforgettable – Irving Gordon
The Very Thought of You – Ray Noble
The Way You Look Tonight – Jerome Kern
When I Grow Too Old to Dream – Romberg
Will You Remember – Romberg
Younger Than Springtime - Rogers and Hammerstein
Christmas and Special Occasions
All I Want for Christmas – Mariah Carey
Anniversary Waltz
Angels and Shepherds
Angels Have We Heard on High
Auld Lang Syne
Away in a Manger (British and American Versions)
Baby It's Cold Outside
The Boar's Head Carol
Bring a Torch
The Cherry Tree Carol
The Christ Child's Lullaby
The Christmas Song
Coventry Carol
Dance of the Sugar Plum Fairy - Tchaikovsky
Deck the Halls
Ding Dong Merrily on High
Do the Know It's Christmas
The First Noel
Frosty the Snowman
Gabriel's Message
Gesu Bambino
Gloucestershire Wassail
God Rest Ye Merry Gentlemen
Good Christian Men, Rejoice
Good King Wenceslas
Happy Birthday
Hark the Herald Angels Sing
Have Yourself a Merry Little Christmas
Here We Come a Wassailing
The Holly and the Ivy
I Wonder As I Wander
I Saw Three Ships
Il Est Ne, Le Divin Enfant
In the Bleak Midwinter - Holst
Infant Holy
It Came Upon a Midnight Clear (American and British)
It's Beginning to Look a Look Like Christmas
It's the Most Wonderful Time of the Year
Jingle Bells
Jingle Bell Rock
Joy to the World
Kentucky Carol
Last Christmas - Wham
Let All Mortal Flesh Keep Silence
Let It Snow!
Lo, How a Rose E'er Blooming
Love Actually Themes
Mary's Boy Child
Mary's Lullaby
Noel Nouvelet
O Come All Ye Faithful (Adeste Fidelis)
O Come, O Come Emmanuel
O Holy Night
O Little Town of Bethlehem
On Christmas Night
O Tannenbaum (O Christmas Tree)
The Twelve Days of Christmas
Once in Royal David's City
Personent Hodie
Rockin' Around the Christmas Tree
Rudolph, the Red Nosed Reindeer
Santa Baby
Santa Claus Is Coming to Town
Silent Night
Sleigh Ride
Somewhere in My Memory From 'home Alone'
Still, Still, Still
Sussex Carol
Tomorrow Shall Be My Dancing Day
Ukrainian Bell Carol
Walking in the Air
We Three Kings of Orient Are
We Wish You a Merry Christmas
What Shall I Give
When a Child Is Born
While by My Sheep
White Christmas
Winds Through the Olive Trees
Winter Wonderland
Gallery
Click on the thumbnail to enlarge. If you're interested in hiring Celia - Harpist for your event, please fill in the contact form below and we'll come back to you with a quote.
Key Information
Learn more about what's included when booking Celia - Harpist for your event. If you have requirements that differ from the below, please let us know when making your enquiry.
Standard Package

Bespoke packages to suit your schedule
Arrival one hour prior to performance
Travel expense
Dedicated member of our team assigned to your event
Public Liability Insurance
Send Enquiry
Interested in hiring Celia - Harpist for your event? Simply fill in the form below with your event details and we'll come back to you with a quote.