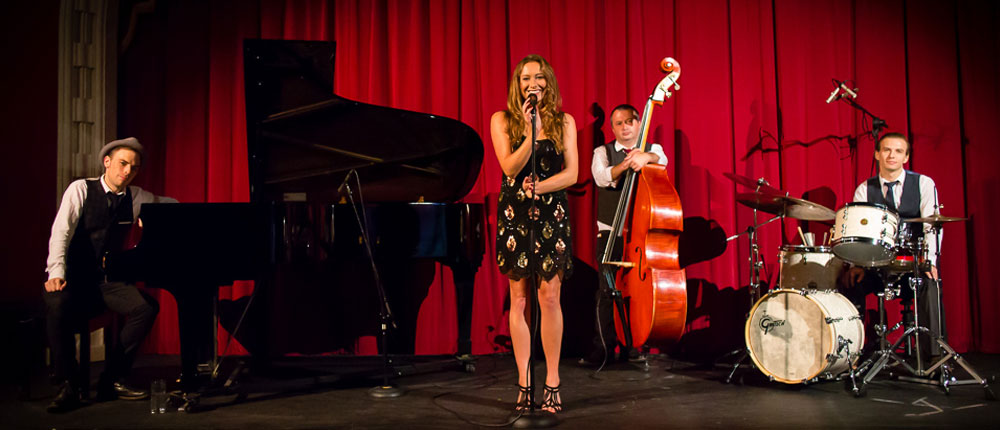 Exeter Jazz & Swing Bands
Enter the centre of the best jazz bands in Exeter – Bands for Hire, the jazziest hub on internet! We have so many fantastic Exeter jazz bands available to you at a highly competitive rate, each being composed of brilliantly able musicians with years of professional experience between them. Here and only here will you find such affordable greatness – and our booking process is as simple and stress free as can be!
Hire Jazz Singers and Swing Bands in Exeter
First things first – jazz is a vastly broad term. For those of you out there who know your bebop, cool jazz, trad jazz and gypsy jazz from your contemporary jazz, modern jazz and Dixieland jazz, you'll appreciate the breadth of jazz knowledge our Exeter jazz bands' repertoires display. For jazz newcomers, our jazz bands in Exeter will ease you into their world with some jazz-tastic renditions of the bet of Justin Timberlake, Michael Jackson, the Monkees and other popular artists.
Many classic examples of jazz's loose, expressive style are instrumental, but for the personal touch it's hard to beat the pure emotion a jazz singer pours into their performance. Our jazz bands in Exeter are lead by some of the most charismatic jazz vocalists in the area, serenading you with a superb selection of songs sung by Dionne Warwick, Dinah Washingon, Dusty Springfield, Dean Martin, Nat King Cole and Old Blue Eyes, Frank Sinatra.
Booking a Jazz Band in Exeter
Whether you're planning a family and friends get together, like a wedding reception, wedding reception, garden party, surprise birthday party, bar mitzvah or bat mitzvah, or something a bit more formal like an awards ceremony, private dinner function, store opening, work Christmas do, summer ball, charity event or corporate event, and whatever scale of event it is, we'll sort you our with a fabulous Exeter swing band that'll be just the ticket.
Our jazz bands in Exeter all follow our flexible and accommodating code of ethics – together we'll do what we can to meet your venue and budget requirements. The individual quotes we've given are for our Exeter jazz bands' regular line ups, and cover the usage of all the necessary equipment they'll need to give you a blinding performance, but these line ups can often be negotiated if the situation calls for it. Let us know if you think you'd prefer a jazz cocktail, lounge or acoustic set!