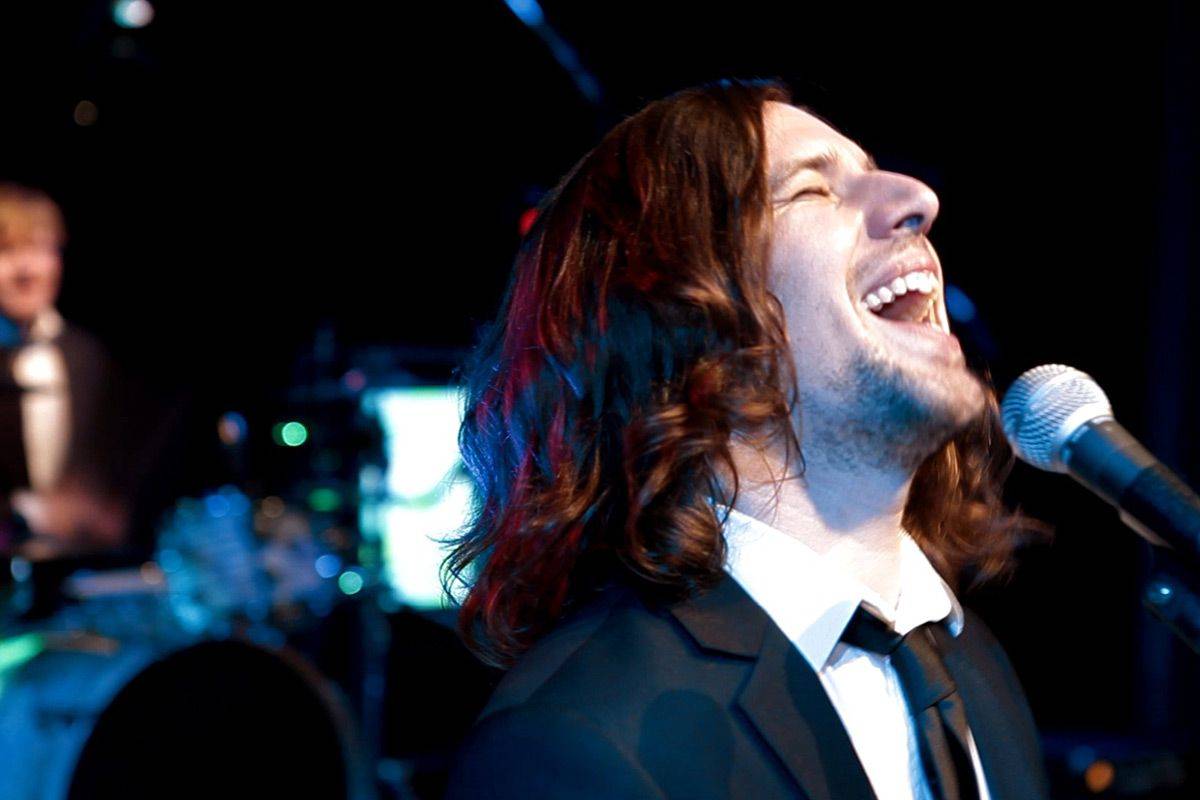 Jukebox Nation
Jukebox Nation have created a sound & stage show that continues to reckon with the best function bands in the UK.
From £1285
Biography
With a line-up made up of the finest musicians on the scene, Jukebox Nation regularly perform over 150 weddings, corporate events and parties every day of the year. The band cover the greatest hits from the 50's and 60's right through to contemporary pop classics, keeping their repertoire right up to date. The band offer top quality equipment, outstanding lead vocals and high quality musicianship.
Jukebox Nation are available to hire with a number of line ups to suit your budget and venue size. From a simple rockin' 3-piece band to 8-piece including female vocals and brass section. If you're after live wedding music for your reception, the band's most popular line-up is the 4-piece consisting of 4 lead vocalists, bass, guitar, drums and keys - but to really get that extra WOW factor why not add an extra female singer as well as Trombone, Trumpet & Saxophone!
Take a look at what the band offer!..
No two sets ever the same; each set is based on audience reaction and made to suit the individual client.
Jukebox Nation offer line-ups from a 3-piece to an 8-piece including female vocals and a brass section,
Jukebox Nation are also able to supply you with a Jazz set during your wedding breakfast or reception drinks.
Professionally pre-mixed music free of charge during breaks or add a DJ to the package to really make the night go with a swing.
Add some bandeoke into the mix and feel like a star! (Karaoke with a live band)
State of the art sound system delivering a clear sound at a level to suit you and your venue.
Jukebox Nation's intelligent moving light system creates an amazing atmosphere on stage and dance floor with additional lighting available to hire. We consider ourselves to be incredibly fortunate to have found Jukebox Nation; they were just brilliant. A great repertoire, excellent sound system and very professional approach. There wasn't a tune that we didn't know and love and we were all thoroughly entertained by them. Thank you so much for being part of our amazing day.

★★★★★

Liz Skivington - Wedding

Jukebox Nation were absolutely fantastic. They were professional from start to finish and could not have done any more to ensure that we had a brilliant evening. I am especially grateful for how helpful they were in the set up and how unfazed they were when we experienced technical difficulties! They really made our night and I could not recommend them any more! And neither could our guests!

★★★★★

Georgie Kemsley - Joint Birthday Party

10 for everything. We booked jukebox nation for our wedding and they were fantastic! Every song was excellent and they had everyone dancing. Thank you very much.

★★★★★

James & Laura - Wedding

We thought they were great fun! Let my crazy aunts and uncles have a go singing at diff points.

★★★★★

Rebecca Cook - Wedding

Amazing band, very professional and bent over backwards to please. Will highly recommend.

★★★★★

Mandi Winterton - Wedding

Jukebox Nation performed a great set at our wedding - they had everyone of all ages dancing all night. We are so grateful to the band for making our wedding party such a happy, fun and memorable evening.

★★★★★

Andrew Brittain - Wedding

Fabulous band who played to the audience. All our guest and Paul and I had a great time….lots of dancing and fun!

★★★★★

Fiona Collins - Wedding

We booked jukebox nation for our wedding and we weren't disappointed! They learnt our first dance song for us and played it so well. They read the audience well and our dance floor was always packed with such an electric atmosphere! The guys in the band were absolutely lovely. Fantastic guitar soloing! Thank you all so much!

★★★★★

Nicola Potton - Wedding

Massive thank you to Jukebox Nation for our wedding. They finished a perfect wedding day. Not only did they play some songs we requested before the wedding, they helped my wife sing a surprise song to me. They were engaging and fun with a great ability to read the room. I don't think the dance floor was empty all night. And to top it off they are genuinely lovely people. People for days after the wedding, commented on how great they are. And we're musicians!

★★★★★

Jonnie Conibeer - Wedding

I just wanted to express my sincere thanks to Jukebox Nation on what I can only say was the best day of our lives, you made our wedding so very special, you were total professionals & made sure that everything was just perfect! You are truly amazing at what you do, Thank you again. I would most certainly recommend you to everyone, I now need to find another excuse to have Jukebox Nation perform again! Thank you once again, we had the time of our lives!

★★★★★

Katie & Greg

From beginning to end you were totally professional. It was such a relief when you took the worry of the evenings schedule off my hands, and applied your experience to make the evening run so smoothly. From the moment you sang in the empty marquee as a sound check, I knew that if the caterers failed to turn up and the marquee was to fall around our ears your performance would still make it a fantastic night. Thanks again and we wish you all the best of luck in the new Year.

★★★★★

Andrea and Craig Young

A huge THANK YOU for making our Christmas Party a great success. The feedback from those that attended has been amazing, singing the praises of Jukebox Nation. Thank you once again for making the party a very memorable event. I hope to have the pleasure of being able to book Jukebox Nation again in the future.

★★★★★

Lisa Sharp

What can I say... Jukebox Nation ROCKED our wedding on Sat! they were absolutely brilliant and made the party so much fun. I hope they enjoyed it too. We had a magical day and it was such a fun wedding. So a huge thank you to you and the guys for everything. Two great friends of mine, Catherine and Dom, get married in April next year and are desperate to have the same band as they thought they were so fab.

★★★★★

Jackie Mayne

WoW!! what a band. Absolutely perfect singing throughout the evening. Our guests were mesmerised by the quality and diversity of their repertoire. We are sooooooo sooooooooooo pleased we made the right choice to have Jukebox Nation play at our wedding. So much so our guests cannot stop talking about them, they kept the venue rocking!! Thank you for all your hard work and for making our wedding day complete and special.

★★★★★

Caroline & Michael

Sorry for the slight delay, but got back from the honeymoon and work has gone nuts don't know which way to turn!!! But I just wanted to take 5 mins and say thank you so much, you were all amazing. We have had so many people commenting on how amazing the whole wedding was especially the band, still annoyed you lot took the limelight away from my dress lol!!! But honestly you all were fantastic, even the venue said that they knew when the band was playing as the bar was empty!!!! We had the best day ever. We were both on such a downer the next day, even my bridesmaids were miserable!! I Told jay we are going to get divorced next month so i can plan it all over again!!!! His reply was "there is an easier way - we can just have a party next summer!!!" Wahoo!!! So i will be in contact again soon to book you guys up. Take care and thank you thank you thank you!!!!

★★★★★

Kay - Wedding Reception

Just a quick note to say thank you for all your help. Jukebox Nation were amazing, a huge thank you to them. They made the evening. Thank you

★★★★★

Damian and Lorna - Wedding Reception

Just wanted to drop you a note to say thank you so much! Jukebox Nation were absolutely fantastic at our wedding! Everyone commented on how good they were and how much they enjoyed the evening do - there were people up on the dancefloor all night! They were very professional and it was noted by everyone. Wish we could have another party then we can get you guys up here again!!

★★★★★

Ali & Steve - Wedding Reception

I just wanted to say a massive thank you. The band were amazing and everybody loved them!! Really made our wedding and really can't thank you all enough.

★★★★★

Nichola Traverse-Healy - Wedding

Just a quick note following our wedding event of 4th December at the Priory Barn with Jukebox Nation to say how absolutely pleased we were (once again) with the band. The Priory Barn rocked and everyone had a fantastic time and pretty well all our guests have commented on how great they were (despite the noise limitations). Many thanks indeed and please convey this to the band also. We will be back to you again at some stage in the future.

★★★★★

Michael Boardman - Wedding

Just wanted to drop a note to say how great the band were on saturday evening. The boys were very accomdating working around the food being served that evening. Thier sets were a great mix which just what i wanted and the last hour everyone were on thier feet.The evening could have gone on much longer!! Please pass my thanks to the band for making the evening extra special. All good wishes

★★★★★

John Sperni - 40th Birthday Party

We would like to thank jukebox nation for being great entertainment and lovely friendly guys! All our guests had a great time!

★★★★★

Guy Farmer - Wedding

We had originally booked a band we had previously seen for our wedding but were let down by them when the cancelled. We were worried that we were too late to book a decent band to play and then found Jukeboxx Nation on Bands for Hire and thought they sounded really good on their profile. On the Wedding evening itself we were very impressed by the band and their ability to work well with our guests. They provided good, popular songs and interacted well with our (drunken) guests. We were extremely please that we had booked them.

★★★★★

Sarah Hill - Wedding

Jukebox nation were amazing. They were fun and professional. They adapted their set to respond to the audience. Everybody was commenting on how great the band were and they had the whole party dancing. Thank you!

★★★★★

Alison McGrath - Private Party

In short they were great, and we have had lots of good feedback about them! The dancefloor was never less than full from the first notes of the first song! I'd recommend them to anyone, and I'd love to book them again! We had an excellent band at our party last year, and as a result, Jukebox Nation had a lot to live up to - they more than did this! Thank you so much!!

★★★★★

Kathryn Wilkes - Corporate Event

The band were all very good and played a good mix of music to keep the dance floor busy, all our guests had very positive things to say about the band, nothing negative to say apart from we couldn't listen to them all night due to mixing with other guest . Will definitely recommend to other people who are planning a party/wedding Thanks again guys, and good luck with the chickens!! Lol

★★★★★

Stephen Sheppard - Wedding

We had the best party ever. Jukebox nation were terrific, music aligned perfectly with the crowd, quality was high. Great effort from Band to fit in with schedule. Artists were all of the highest quality. top marks all around.

★★★★★

John Bell - Private Party

This band are so much fun and our guests are still saying how brilliant they were. Such an excellent evening and made it so memorable. Would definitely recommend!!

★★★★★

Clare Auger - Wedding

We were delighted with Jukebox nation. Everyone loved the band, they got everyone up and dancing and were pitch perfect! We also want to thank them for belting out a few Disney jungle book classics which we appreciate they probably weren't expecting to do! We would 100% recommend them!

★★★★★

Candice Clarke - Wedding

In the meantime we'd just like to say thanks for your help in booking the band and how great the band were on the night. They arrived early, set up no problem and discussed set times with us that worked perfectly on the night. The all important thing, the performance, was fantastic. We couldn't have booked a better band for the night and have received no end of comments from guests since the party as to how good they were and how they made the night!!

★★★★★

Paul Evans - Wedding Party

The band were outstanding, they kept the party going for the duration. The quality of their music and their musicality are second to none - true professionals. I would not hesitate to recommend to anyone looking for a band. Nothing was too much trouble and, they were slick, they sounded fantastic, they were accommodating and new exactly how to judge the guests and the music they were enjoying. Thanks a million it was a party to remember.

★★★★★

Donna Martindale - 50th Birthday Party

What an Epic day.....it went quickly! also seemed to us to be without a hitch which is fab. We have had loads of great feedback from all of the guests and we both spent most of the night on the dance floor so you guys must have done a great job. We both meant to chat with you more but it just seemed to all happen without needing to which I suppose is ideal. I hope you felt looked after and appreciated Top Job! Thank you very much

★★★★★

Oliver Outram - Wedding

Jukebox Nation were brilliant. We were a bit worried about hiring a band we knew nothing about for our wedding, but they were so good. The song choices were great and every time the band came back on for a set the dance floor immediately filled up. We couldn't fault them, very talented and professional. Thank you for making it a great night with lots of dancing!

★★★★★

Emma Labrum - Wedding

We booked the band for our wedding reception and were very pleased with Jukebox Nation's performance and professionalism. Our guests gave positive feedback as well.

★★★★★

Pippa Worthington - Wedding

Thank you! A brilliant band that tailored an amazing set to the mood of the evening and kept everyone dancing throughout. The dance floor was never empty!

★★★★★

Daniel Meyer - Wedding
Select Video
Promo Video
Audio & Repertoire
Scroll down the artist repertoire below and listen to the audio samples to hear more. If you're interested in hiring Jukebox Nation for your event, please fill in the contact form below and we'll come back to you with a quote.
Repertoire
10's
24K Magic – Bruno Mars
All Of Me – John Legend


All About That Bass – Meghan Trainor

Bang Bang – Jessie J
Bad Guy - Billie Eilish

Born This Way – Lady Ga Ga

Blurred Lines – Robin Thicke

Can't Stop The Feeling – Justin Timberlake
Castle on the Hill – Ed Sheeran

Cake By The Ocean – DNCE

Can't Feel My Face – The Weekend
Chandelier - Sia
Changing - Sigma
Counting Stars - One Republic

Don't Stop The Party – Pitbull
•Don't You Worry Child – Swedish House Mafia
Feel So Close – Calvin Harris

Get Lucky – Pharrell Williams
Flowers - Sweet Female Attitude

Happy – Pharrell Williams

Hold Back The River – James Bay

Hold My Hand – Jess Glynne
I Don't Care - Justin Bieber & Ed Sheeran

I Will Wait – Mumford & Sons
Forget You – Cee Lo Green
Just The Way You Are – Bruno Mars
Just Won't Do - Tim Deluxe
Love Yourself - Justin Bieber

Lush Life – Zara Larrson
Mr Saxobeat - Alexandra Stan

Moves like Jagger – Maroon 5 & Christina Aquilera
Party Rock – LMFAO

Perfect - Ed Sheeran

Please Don't Stop The Music – Rhianna

Rude Boy – Rhianna

Sax – Fleur East
See You Again - Whiz Khalifa

Sexy & I Know It – LMFAO
Sing It Back – Moloko

Shut Up & Dance – Walk The Moon

Shake it Off – Taylor Swift
Shallow - Bradley Cooper & Lady Ga Ga

Sing – Ed Sheeran
Somebody That I used to know – Goyte

Sometimes I Get a Good Feeling – Flo-Rida
Sorry – Justin Bieber
Someone You Loved - Lewis Capaldi

Thinking Out Loud – Ed Sheeran

This is Me - The Greatest Showman

Treasure – Bruno Mars

Uptown Funk – Mark Ronson & Bruno Mars
Wake Me Up – Avicii
Waiting All Night - Rudimental
We Found Love - Rhianna
We Are Young - Fun


00's
American Idiot – Green Day

Beat It – Micheal Jackson / Fall Out Boy
Beggin – Madcon

Better Together - Jack Johnson

Chasing Cars – Snow Patrol
•Chelsea Dagger – The Fratellis

Crazy - Gnarls Barkley

Dancing In The Moonlight – Toploader

Don't Stop Believing – Glee
•Dynamite – Taio Cruz

Everybody Dance Now – Bob Sinclair

Falling – Alicia Keys

Hey Ya – Outkast

Hey Soul Sister – Train

Hysteria – Muse

I Believe In A Thing Called Love – The Darkness
I Need a Dollar - Aloe Blac

I Predict A Riot – The Kaiser Chiefs

I Gotta Feelin' – Black Eyed Peas
Sunday Morning - Maroon 5

Sweet Rock Dance – Lady Ga Ga / Eurythmics
Last Nite – The Strokes

Let's Get it Started – Black Eyed Peas

Mercy – Duffy

Mr Brightside – The Killers

Pump It – Black Eyed Peas

Red Alert – Basement Jaxx

Rock DJ – Robbie Williams

Rule The World – Take That
Somebody Told Me – The Killers

Sex On Fire – Kings of Leon

Take Me Out – Franz Ferdinand

Take Your Mama Out – Scissor Sisters
Teenage Dirtbag – Wheatus
This Love – Maroon Five

Use Somebody – Kings of Leon
Valerie – Amy Winehouse


90's
All Night Long – Lionel Richie

A Little Less Conversation – Elvis Presley
A Little Respect – Wheatus

Angels – Robbie Williams

All the Small Things – Blink 182

Are You Gonna Go My Way – Lenny Kravitz

Buck Rogers – Feeder

Basket Case – Green Day

Boom Shake the Room – Jazzy Jeff & the Fresh Prince
Can't Get You Outta My Head – Kylie Minoque

Creep – Radiohead
•Cosmic Girl – Jamiroquai

Dance The Night Away – The Mavericks
Don't Call Me Baby - Madison Avenue
Don't Look Back In Anger – Oasis
Dreamer - Livin Joy

Finally - Cece Peniston

Groove is in the Heart – Deelite

Have I Told You Lately – Van Morrison

Hit Me Baby One More Time – Britney Spears
Jump Around – House Of Pain

Let Me Entertain You – Robbie Williams
Like I Love You – Justin Timberlake
Mr Vain - Culture Beat
More Than Words – Extreme
Moving On Up - M People

Place Your Hands – Reef
Rhythm Of The Night - Corona
Show Me Love - Robin S

Smells Like Teen Spirit – Nirvana
Turn Around - Phats And Small
Two Can Play That Game - Bobby Brown
Wannabe - Spice Girls
Wonderwall – Oasis


80's
9-5 – Dolly Parton
A Little Respect

Addicted to Love – Robert Palmer

Ain't Nobody – Chaka Khan

Beat It – Micheal Jackson / Fall Out Boy

Billie Jean – Michael Jackson
Call Me Al – Paul Simon

Come Up & See Me – Steve Harley & Cockney Rebel
Dancing On The Ceiling – Lionel Richie
Don't Stop Believing – Journey
Don't You Want Me – Human League
Easy – The Commodores
Eye Of The Tiger – Survivor

Every Breath You Take – The Police

Footloose – Kenny Loggins
Gold – Spandau Ballet

I Love Rock & Roll – Joan Jett
Jump – Van Halen

Kiss – Tom Jones/Prince

Lets Stick Together – Roxy Music

Lets Dance – David Bowie

Leave Your Hat On – Tom Jones
Livin On A Prayer – Bon Jovi
Message in a Bottle – The Police
My Sharona – The Knack
Never Gonna Give You Up – Rick Astley

One Step Beyond – Madness
One Vision – Queen
Power Of Love – Huey Lewis

Rocking All Over the World – Status Quo
Simply The Best – Tina Turner

Should I Stay or Should I Go - The Clash
Sledgehammer – Peter Gabriel
Street Life – Randy Crawford

Stuck In The Middle With You – Steelers Wheel
Summer of 69 – Bryan Adams

Sweet Home Alabama – Lynard Skynard
Sweet Dreams – Eurythmics

Sweet Child Of Mine – Guns & Roses
Tainted Love – Soft Cell
Take On Me – A-Ha
Wake Me Up Before You Go – Wham
Walking in Memphis – Marc Cohn

Walking on Sunshine – Katrina & The Waves
Walk This Way – Aerosmith
Weather With You – Crowded House
With Or Without You – U2
Wonderful Tonight – Eric Clapton


70's
20th Century Boy – T-Rex

Another Brick in the Wall - Pink Floyd
Blame it on the Boogie – Michael Jackson
Bohemium Rhapsody – Queen

Car Wash – Rose Royce

Celebration – Kool & The Gang

Crazy Little Thing Called Love – Queen
Disco Inferno – The Trammps

Does Your Mother Know – Abba

Don't Stop Believing – Journey
Don't Stop Til You Get Enough - Michael Jackson

Don't Stop Me Now – Queen

Fat Bottomed Girls – Queen

Highway to Hell – ACDC

Go Your Own Way - Fleetwood Mac
Good Times – Chic

I Feel Love - Donna Summer
I Wish – Stevie Wonder

Ladies Night – Kool & The Gang

Lady Marmalade – Patti La Belle

Le Freak – Le Chic

Live & Let Die – Paul McCartney
Mamma Mia – Abba

One Way or Another - Blondie
Play That Funky Music – Wild Cherry
Proud Mary – Tina Turner
Shake Your body - The Jacksons

Stand By Me – Ben E King
Superstition – Stevie Wonder
We are the Champions – Queen
We Are Family - Sister Sledge
We Will Rock You - Queen
Your Song – Elton John


50's & 60's
Brown Eyed Girl – Van Morrison

Brown Sugar – The Rolling Stones

Burning Love – Elvis Presley

Can't Buy Me Love – The Beatles

Can't Take My Eyes – Andy Williams

Come Together – The Beatles

Everybody Needs Somebody To Love – The Blues Brothers
Gimme Some Lovin – The Blues Brothers
Hey Jude – The Beatles

Hotel California – The Eagles

Hey Joe – Jimi Hendrix
I Feel Good – James Brown
I'm A Believer – The Monkees
Jailhouse Rock – Elvis Presley
Johnny B Goode – Chuck Berry
La Bamba – Los Lobos
Lovely Day – Bill Withers
Layla – Derek & The Dominos
Midnight Hour – The Commitments
Mustang Sally – The Commitments
My Generation – The Who
Purple Haze – Jimi Hendrix

Rock Around The Clock – Bill Haley

Saw Her Standing There – The Beatles

Stand By Me – Ben E King

Sunshine of Your Love – Cream

Satisfaction – The Rolling Stones

Suspicous Minds – Elvis Presley

Twist & Shout – The Beatles

Weather With You – Crowded House

Why Do You Build Me Up Buttercup – The Foundations
Wild Thing – The Troggs

Won't Get Fooled Again – The Who

Whole Lotta Love - Led Zeppelin
You Really Got Me – The Kinks


Jewish Medley
Hora Medley including...
Siman Tov
Moshiach

Hevenu Shalom Alecheim
Mazel Tov
Dodi Li
Hava Nagila

Erev Shel Shoshanim
Oseh Shalom


Christmas
All I Want For Christmas – Maria Carey
I Wish It Could Be Christmas Everyday
Merry Christmas Everybody – Slade


Jazz & Swing
A Night In Tunisia
All Blues

All By Myself

All Of Me
All The Things You Are
Anthropology
April In Paris
Autumn Leaves
Beyond the Sea
Blue Bossa
Blue In Green
Blue Monk
Call Me Irresponsible
Come Fly With Me
Dancing On The Ceiling
Dolphin Dance
Don't Get Around Much Anymore
Dream A Little Dream Of Me
Freddie Freeloader

Fly Me To the Moon
God Bless' The Child

Have You Met Miss Jones?

Here's That Rainy Day

How High The Moon

I Love You

I Wish I Knew How It Would Feel To Be Free
In A Sentimental Mood

Or Is You Ain't (Ma' Baby)
It Don't Mean A Thing (If It Ain't Got That Swing)
Limehouse Blues

Lullaby Of Birdland

Mack The Knife
Maiden Voyage
Misty

Mood Indigo
Mr Bojangles
Mr. P.C.
My Funny Valentine
My Way

Night Train

Oleo
One Note Samba (Samba De Uma Nota So)
Ornithology
Out Of Nowhere

Quiet Nights Of Quiet Stars (Corcovado)

Satin Doll
Sidewinder

So What

Song For My Father
Stella By Starlight
Straight No Chaser
Take Five

Take The 'A' Train

That's Amore

The Girl From Ipanema (Garota De Ipanema)
Well You Needn't (It's Over Now)

When I Fall In Love

You Are The Sunshine Of My Life


Send Enquiry
Interested in hiring Jukebox Nation for your event? Simply fill in the form below with your event details and we'll come back to you with a quote.