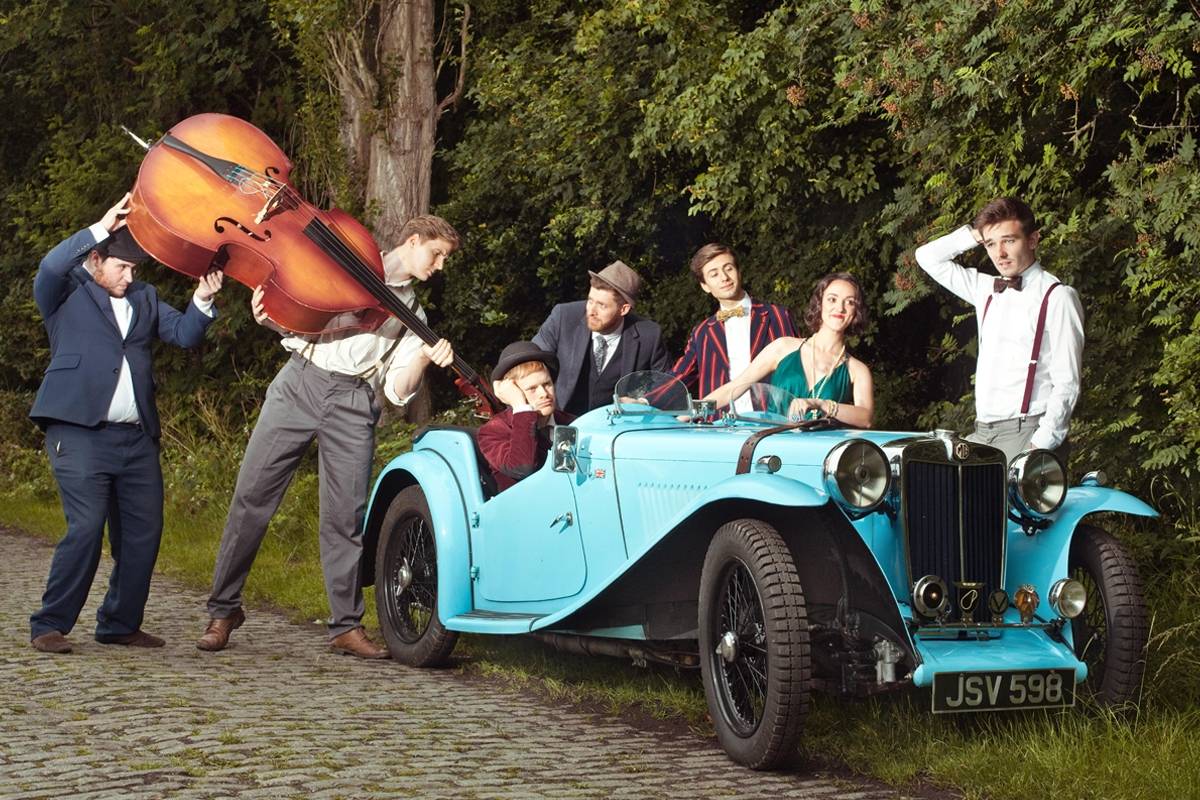 Hot House Jazz
From £715
A truly authentic 1920s, prohibition-style swing band that'll leave guests tapping away into the night!
Biography
Based in the North West, this 1920s jazz and swing band bring the prohibition era to life with their accurate interpretations of well-known swing and jazz numbers, mixed with a variety of contemporary songs à la Postmodern Jukebox.
With plenty of style and panache in hand, the band are professionals in bringing the atmosphere to life, making them ideal for Gatsby style events.
Hot House Jazz have built up a solid reputation thanks to their excellent musicianship, quality in performance and professional work ethic. Their extensive experience comes from having played at such well know events as Brecon and Marsden Jazz Festivals, Buxton Festival, Manchester Day and Spinfest.
The band come fully self-contained with their own PA and sound equipment to get the party swinging. If you're looking to get your guests jumping and jiving on the dance floor, look no further than Hot House Jazz! We couldn't have wished for a better evening, the band were perfect. Very entertaining and excellent vocals. I would 100% recommend both bands for hire and Hot House Jazz to all my friends and family. Good work!
★★★★★
James Stallard - 40th Birthday Party
Select Video
Promo (2022)

Just A Gigolo (Sextet)

Bourbon Street Parade (Quintet)

Ain't He Sweet (Quartet)

Mean To Me (Trio)

Georgia On My Mind (Duo)

I Want A Big Butter & Egg Man

Bei Mir Bist Du Schoen

Santa Baby

Duo
Repertoire
Scroll down the artist repertoire below to discover the range of music covered. Looking for something specific? Type in the artist or song name to search through the list.
Ain't He Sweet - Milton Ager and Jack Yellen
Ain't Misbehavin' – Fats Waller
All Of Me - Gerald Marks and Seymour Simons
Am I Blue - Harry Akst and Grant Clarke
April In Paris – Vernon Duke
Autumn Leaves - Joseph Kosma and Jacques Prévert
Baby Won't You Please Come Home ( Bessie) – Clarence
Williams & Charles Warfield
Back Home Again In Indiana - Ballard MacDonald and James F.
Hanley
Basin Street Blues - Spencer Williams
Bei Mir Bist Du Schein - Jacob Jacobs and Sholom Secunda
Big Butter & Egg Man - Percy Venable
Black Coffee - Sonny Burke
Blue Drag - Django Reinhardt
Blue Skies – Irving Berlin
Bourbon Street Parade – Paul Barbarin
Can't Help Lovin Dat Man - Kern & Hammerstein
C'est Si Bon – Henri Betti
Dinah - Harry Akst
Don't Wait Too Long - Madeleine Peyroux
Drop Me Off In Harlem (Duke Ellington)
Everybody Loves My Baby - Spencer Williams
Fascinating Rhythm - George Gershwin
Five Foot Two - Ray Henderson, Sam M. Lewis & Joseph Widow
Young
Fly Me To The Moon - Bart Howard
Georgia - Hoagy Carmichael
Goodmorning, Heartache - Irene Higginbotham, Ervin Drake, and
Dan Fisher
Hallelujah I Just Love Him So - Ray Charles
Happy Feet - Milton Ager & Jack Yellen
Hard Hearted Hannah – J. Yellen, B. Bigelow, C. Bates & M. Ager
Hit That Jive Jack - Johnnie Alston
Honeysuckle Rose - Fats Waller
I Double Dare You - Jimmy Eaton
I Like Pie - The Four Clefs
In The Court Of King Oliver – Wynton Marsalis
It Don't Mean A Thing - Duke Ellington
Jack, I'm Mellow - Trixie Smith
Juba And A O'Brown Squaw – Wynton Marsalis
Just A Gigolo / (Louis Prima version) – Leonello Casucci
Just You, Just Me - Jesse Greer & Raymond Klages
King Of The Swingers - Robert and Richard Sherman
Let's Do It (Let's Fall In Love) - Cole Porter
Let's Misbehave! - Cole Porter
L-O-V-E – Gabler-Kaempfert
Lullaby of Birdland - George Shearing
Lulu's Back In Town - Fats Waller
Mean to Me - Fred E. Ahlert
Minor Swing - Django Reinhardt & Stéphane Grappelli
Minnie The Moocher - Cab Calloway
Moten's Swing - Bennie Moten
My Blue Heaven - Walter Donaldson
My Funny Valentine - Richard Rodgers and Lorenz Hart
Never Swat A Fly - Henderson/Brown/DeSylva
Oh But On The Third Day – Wynton Marsalis
Oh When The Saints - Trad.
One Scotch, One Bourbon, One Beer - Rudy Toombs
Potato Chips – Slim Gaillard
Shout Sister Shout – Rosetta Sharpe
Silly Goose - Dani Sicari (The Easy Rollers)
Somebody Loves Me - George Gershwin
Some Of These Days ( #)- Shelton Brooks
Steak, Brownie & Wine - Dani Sicari (The Easy Rollers)
Straighten Up & Fly Right - Nat King Cole & Irving Mills
Summertime - George Gershwin
Sunny Side Of The Street - Jimmy McHugh & Dorothy Fields . S'Wonderful - George & Ira Gershwin
Take the A-Train - Duke Ellington
Ten Cents A Dance - Rogers & Hart
Ten Feet Tall – Dan Abrahams
The Bare Necessities - Terry Gilkyson
The Charleston - Cecil Mack & James P. Johnson
The Flat Foot Foogie - Slim Gaillard, Slam Stewart & Bud Green . The New Second Line – Joseph Avery
The Sweet Life - Alex Hill (The Easy Rollers)
They Can't Take That Away From Me - George & Ira Gershwin . Tickle Toe - Lester Young
Twelfth Street Rag - Euday L. Bowman
Unemployed Sweetheart - James V. Monaco
Yes Sir That's My Baby - Gus Kahn & Walter Donaldson
You Made Me Love You - James V. Monaco
Zaz Zuh Zaz - Cab Calloway
Gallery
Click on the thumbnail to enlarge. If you're interested in hiring Hot House Jazz for your event, please fill in the contact form below and we'll come back to you with a quote.
Key Information
Learn more about what's included when booking Hot House Jazz for your event. If you have requirements that differ from the below, please let us know when making your enquiry.
Standard Package

2 x 45 minute sets over a maximum 3 hour period
Professional PA System
Arrival one hour prior to performance
Travel expense
Dedicated member of our team assigned to your event
PAT certified equipment and Public Liability Insurance
Line-ups & Extras

4-piece

Female Vocals, Piano, Double Bass, Drums

5-piece

Female Vocals, Piano, Double Bass, Drums, Guitar

6-piece

Female Vocals, Piano, Double Bass, Drums, Guitar, Clarinet

7-piece

Female Vocals, Piano, Double Bass, Drums, Guitar, Clarinet, Trumpet
Send Enquiry
Interested in hiring Hot House Jazz for your event? Simply fill in the form below with your event details and we'll come back to you with a quote.