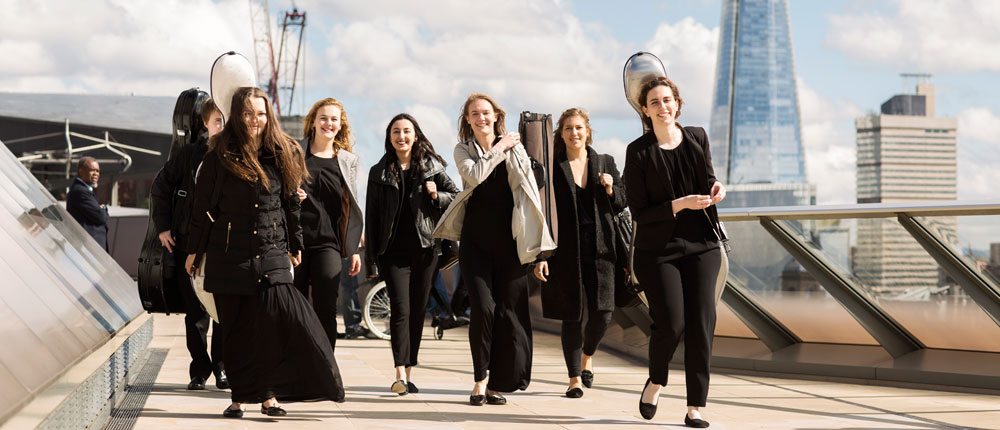 London String Quartets
Our Bands for Hire database is an ever-expanding sea of talent, and this is rarely exemplified better than by our selection of London string quartets. A time-tested formula with all the inherited finesse of Haydn, Beethoven, Schubert and Mozart, our London string quartets put the class in classical music and are guaranteed to raise the sophistication bar at your event. Always a favourite for weddings, the sheer elegance and style of their performance will make each of your guests feel like royalty.
Hire a London String Ensemble
Apart from wedding processions and wedding receptions, a string quartet in London is also a recommended choice for graduations, awards ceremonies, drinks receptions, garden parties and charity and corporate events. If you wish to convey the magnitude of your milestone to your guests, then scoring it with a classical soundtrack is a good place to start.
Bands for Hire's reach covers most of London, and we can get a London string ensemble to Barking and Dagenham, Barnet, Bexley, Brent, Bromley, Camden, Croydon, Ealing, Enfield, Greenwich, Hackney, Hammersmith and Fulham, Haringey, Harrow, Havering, Hillingdon, Hounslow, Islington, Lambeth, Lewisham, Merton, Newham, Redbridge, Richmond upon Thames, Southwark, Sutton, Tower Hamlets, Waltham Forest, Wandsworth, Kensington and Chelsea, Kingston upon Thames and Westminster to name but a few areas.
Book local London String Quartets
Our genre-spanning London string ensembles are naturally familiar with the conventional pieces written specifically for their arrangement, but also like to bring things up to date to cater for as broad an audience as possible. For example, Vivaldi's Spring (the Four Seasons) is just as likely to occur as the Imperial March from Star Wars, each piece approached with the same level of expertise. You can look forward to hearing classical and romantic pieces composed by Saint-Saens, Tchaikovsky, Edvard Grieg and Bach, pop and rock hits made famous by the Rolling Stones, the Beatles, Fleetwood Mac, Queen and the Darkness and numerous TV, film and musical themes from Cats, the Pink Panther, Fawlty Towers and numerous James Bond opening tracks.
Usually, two violinists, a violist and a cellist will compose your string quartet, able between them to reach the requisite high and low ends of the classical key system most western music works in. However, if this formation doesn't suit your venue or budgetary requirements, our string ensembles can by prior arrangement appear as London string duos and London string trios. For more details, please don't hesitate to contact us, and we'll be happy to answer any queries.
If you're looking to explore other live music options for your wedding or event you may also be interested in our London acoustic bands and London Harpists for hire.