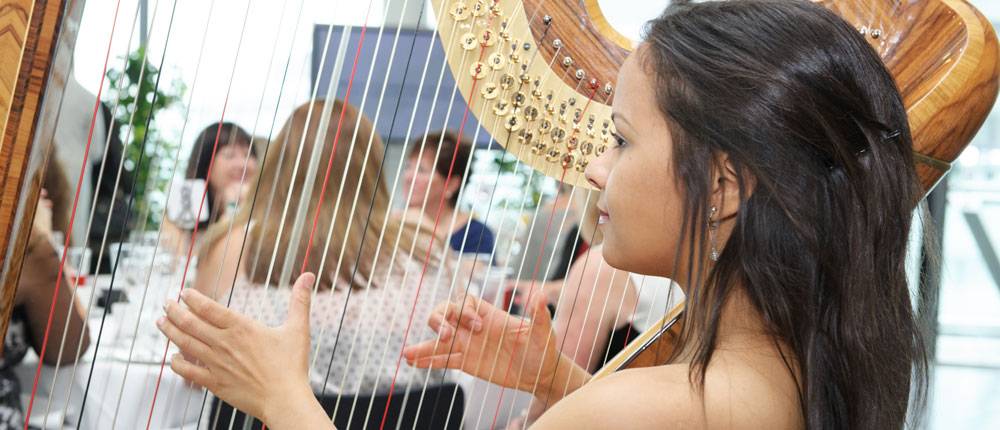 Birmingham Harpists
Sophistication, beauty and tranquillity are all words that spring to mind when considering one of Bands for Hire's amazingly gifted Birmingham harpists. The heavenly sounds produced by many of our talented local harpists in Birmingham have resounded round the sacred walls of St Paul's Cathedral and Westminster Cathedral, and ranking among their most prestigious audience members are Prince William and Prince Charles. Available at a highly competitive rate, you too can treat your guests to these star quality musicians.
Hire a Birmingham Wedding Harpist
The celestial plucking of a Birmingham harpist weaves an idyllic soundtrack for any wedding breakfast or wedding reception – it's not hard to imagine angelic figures smiling down on you and granting you their blessing. But the harmonious air of a harp is more than an instrument of love – its immensely pleasing tonal quality will lighten the atmosphere of any social gathering, be it a garden party, private dinner function, charity or corporate event or drinks reception. If you want an ecstatic balance of peace and pleasure at your event, then the music of a Birmingham harpist is the best place to begin.
Local Harpists in Birmingham
The extent of a harp's range is not to underestimated. There are many occasions when hiring a full band isn't the most practical option, and a Birmingham harpist certainly takes up a lot less room. However, more impressive still is the fact that our local harpists in Birmingham can perform many of the same songs as our bands. Neither Metallica, Foo Fighters, Aerosmith nor Oasis are beyond our fabulous Birmingham harpists, who go on to perform theme music from the Lord of the Rings, Disney's the Little Mermaid, Spiderman, the Phantom of the Opera and the Notebook, the jazz standards of Gershwin, Porter and Armstrong, and many international and world music compositions by Enya, Ravi Shankar and Yiruma, as well as traditional Polish, Ukrainian, Norwegian, Asian, Celtic and Jewish numbers.
The towns of Aston, Bournville, Castle Bromwich, Coleshill, Curdworth, Edgbaston, Great Barr, Hall Green, Hamstead, Harborne, Hurley, King's Heath, King's Norton, Marston Green, Moseley, Northfield, Olton, Over Whitacre, Packington, Perry Beeches, Quinton, Selly Oak, Sheldon, Shirley, Shustoke, Solihull, Stechford, Stockland Green, Sutton Coldfield, Walmley, Water Orton, Wednesbury, Wylde Green and Yardley are all within Bands for Hire's jurisdiction and are therefore eligible for the services of our Birmingham harpists. For further information on each harpist, explore the below pages, and please don't hesitate to contact us with any queries you may have.
If you're looking for some more chilled out and relaxing music then you might also be interested in our Birmingham pianists or acoustic bands in Birmingham.