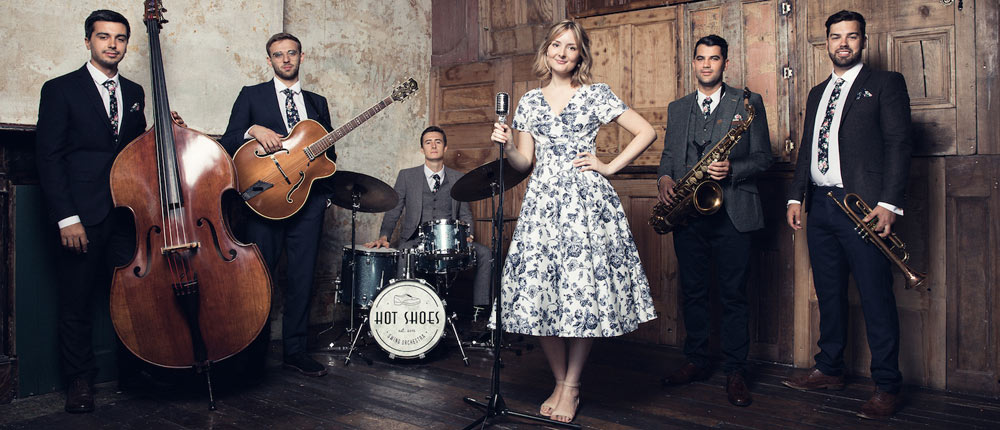 Cheshire Swing Bands
Check out the Cheshire swing bands that Bands for Hire have to offer for all your prohibition era party needs! You are your guests are in for the full speakeasy experience – we've carefully tracked down the most professional and talented local swing bands in Cheshire that the area has to offer. When you book a Cheshire swing band with us, all that's left to complete your roaring twenties party arrangements is to don you Great Gatsby-inspired garb and shake up some martinis!
Swing Bands in Cheshire
You don't need a fancy ballroom to enjoy our Cheshire swing bands – just enough room to swing a cat (or your dance partner, if you prefer). Our flexible and accommodating swing bands for hire in Cheshire are available with different line ups to suit different budget and venue requirements, starting with swing duos, swing trios and swing quartets for more low key events, and going up to 8 or 9 piece swing ensembles and big bands with horn sections for bigger events. You can book a Cheshire swing band with us for anything from a birthday, garden party, bar mitzvah, bat mitzvah, graduation or private dinner function to a corporate event, wedding, awards ceremony or charity event, and they'll adapt to meet your needs. And, if you're planning a party towards the end of the year, our swing bands for hire in Cheshire will play such yuletide favourites as 'White Christmas', 'Jingle Bells' and 'Santa Claus is Coming to Town', whether you guests have been naughty or nice!
Each of our swing bands in Cheshire knows a great many songs from across the swing board, from 1920s swing, 1930s swing and gypsy swing songs to rat pack classics like Frank Sinatra's 'Come Fly With Me' and Dean Martin's 'That's Amore'. They'll also, in the same vein as Postmodern Jukebox, perform a number of popular songs in a swing style – so get ready to see Dolly Parton's '9 to 5', Daft Punk's 'Get Lucky', Oasis's 'Wonderwall' and Beyonce's 'Crazy in Love' in an entirely new way!
Book a Cheshire Swing Band
In a few clicks time, your booking will have been secured! Click on one of our Cheshire swing bands below and you can view their photos, videos and set lists. One satisfied, simply fill in your contact information on the form provided, then click 'Send Enquiry', and your band is booked! We'll aim to get back to you within 48 hours.