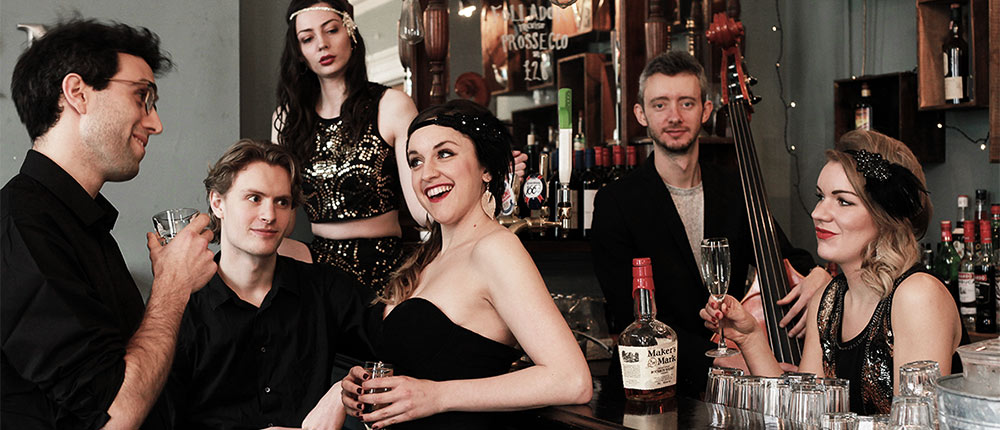 Lancashire Swing Bands
Serve up the dry martinis and clear the dance floor – Bands for Hire's very own swing bands in Lancashire are here to bring you and your guests the ultimate roaring twenties speakeasy experience! We've searched high and low for the most talented, professional and authentic prohibition era local swing bands in Lancashire, and are delighted to offer you a vintage themed evening of music and dancing on their behalf for a highly competitive rate!
Book a Lancashire Swing Band
For larger events like awards ceremonies, wedding receptions, charity events and corporate events, you might like to consider our swing ensembles and big band style Lancashire swing bands, complete with full horn section to fill out the sound. However, our flexible and accommodating local swing bands in Lancashire don't need a huge ballroom to give your guests the night of their lives, and offer several alternative line ups, such as swing duos, swing trios and swing quartets, to meet a range of budget and venue requirements. You might like consider these options for such events as bar mitzvahs, bat mitzvahs, birthdays, garden parties, graduations, private dinner functions and office dos.
Click on one of our fantastic swing bands in Lancashire below and take a look at their photos, videos, set lists and other media. Once you're happy with your choice, all you've got to do to secure your booking is fill in your contact information in the boxes provided, and click 'Send Inquiry'. We'll aim to respond within 48 hours.
Swing Bands in Lancashire
Book a swing band in Lancashire with us and you and your guests will be treated to an array of 1930s swing, 1940s swing, gypsy swing and popular music played in a swing style. This latter genre is a great way of introducing the more casual music fans among your guests to the golden era of swing – if Benny Goodman, Glenn Miller, Ella Fitzgerald and usual rat pack suspects Dean Martin and Frank Sinatra weren't already enough, our Lancashire swing bands also perform, in the spirit of Postmodern Jukebox, such pop hits as 'Stacy's Mom' by Fountains of Wayne, 'Kung Fu Fighting' by Carl Douglas, '9 to 5' by Dolly Parton and 'Seven Nation Army' by the White Stripes. Furthermore, if you book a Lancashire swing band with us during the festive period, listen out for swingin' renditions of 'Frosty the Snowman', 'Jingle Bells', 'White Christmas' and other Christmas crackers!