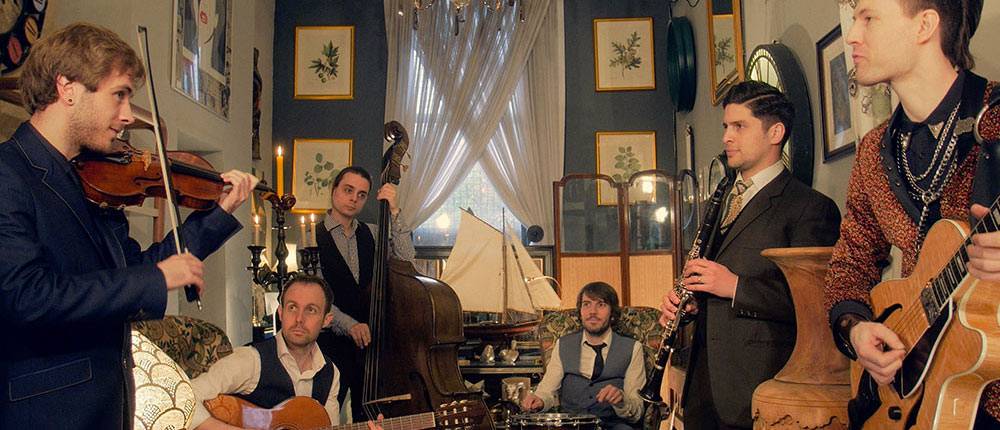 London Swing Bands
We at Bands for Hire are delighted to offer you some of the best local swing bands in London, ready to turn your event into a roaring twenties speakeasy! We only hire out the most professional, talented and experienced musicians here, and our London swing bands are no exception, having performed at a variety of events for a variety of audiences nationwide. Now it's your turn to get your glad rags on, fill your highball glasses and dance the night away to our swing bands in London!
Swing Bands For Hire in London
It doesn't matter if you haven't booked a huge hall to be filled with dancing couples – our flexible and accommodating London swing bands for hire can adapt to any budget and venue requirements you may have. Bar mitzvahs, bat mitzvahs, birthday parties, garden parties, office dos and other more intimate events might benefit from a smaller London swing band – we have swing duos, swing trios, and smaller swing trios with 4 or 5 members for this very purpose. Larger scale events like weddings, awards ceremonies, charity events and corporate events, however, may benefit from a more filled-out sound, in which case out London swing bands for hire would add horn sections and other additional musicians.
"It Don't Mean a Thing, If it Ain't Got That Swing", Benny Goodman once told us, and our authentic 1930s and 1940s swing bands in London certainly took that advice to heart! As well as the gypsy swing, modern swing and Ratpack standards such as 'That's Amore', 'Come Fly With Me' and 'Summertime', we also have Postmodern Jukebox-style swing bands in London who perform popular music in a swing style. Listen out for the Beatles' 'Twist and Shout', the theme tune from 'the Flintstones' and Daft Punk's 'Get Lucky' played as you've never heard them before, as well as 'Jingle Bells', 'Rudolph the Red Nosed Reindeer', 'White Christmas' and other seasonal swing numbers for winter events.
Book a London Swing Band
Each of our London swing bands has a repertoire, videos, pictures and more for you to view on their profiles – just click on one below to find out. Once you've made your decision, simply fill your contact details in on the online form, then click 'Send Inquiry'. Within 48 hours of receipt, we'll aim to get back to you with your perfect swing band in London package.