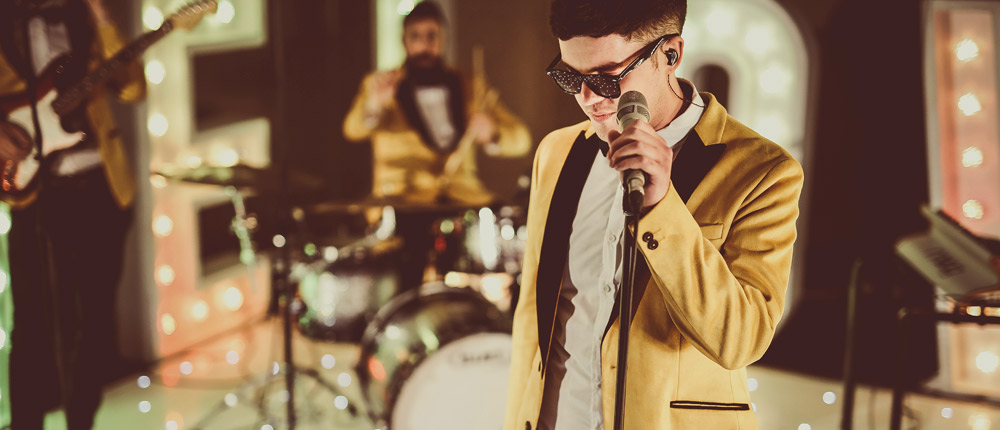 Newport Bands for Hire
We realise how much planning is necessary in order to pull off a successful event, which is why we've made it more straightforward than ever for you to hire the best local function bands in Newport. We've hand picked these musicians based on a very specific set of criteria, the most important of which being musical ability and professionalism, so you know you'll always be given a good performance when you go with us. Our Newport covers bands have a great deal of live experience between them, from festival slots to TV and radio spots, as well as numerous private and corporate gigs all over the UK – and they're available now at an astoundingly competitive rate!
Function Bands for Hire in Newport
If you feel like your event requires a little something more than what we offer in our basic package (which covers travel costs, use of a PA system and lighting rig, and a bespoke playlist for in between sets), you'll be pleased to know that many of our Newport covers bands offer optional extras, such as live DJs, more speakers, and a more spectacular light show. At the other end of the spectrum, our flexible and accommodating covers bands in Newport can reduce their line ups to better meet your budget and venue requirements. Let us know in your inquiry if you'd prefer a jazz cocktail, lounge or acoustic set.
There's never been an inappropriate setting for our Newport covers bands in all our years of experience – we have such a variety of acts, we can find something to suit any occasion. We have wedding and function bands in Newport ideal for playing bar mitzvahs, bat mitzvahs, surprise birthdays, summer balls, store openings, corporate events, private dinner functions, wedding breakfasts, drinks receptions, wedding receptions, work Christmas dos – all you need to do is supply the crowd, and watch their faces light up as the music washes over them.
And what music! We have several South Wales wedding bands that cover several differing musical genres: soul, funk, pop, punk, rock, R&B, classical, hip-hop, Celtic and traditional folk, Bollywood and Jewish wedding music all make an appearance. We also have several specialist bands, for those of you planning themed events (or just being particular fans), such as 50s rock 'n' roll tribute bands, jazz trios, string quartets, 90s Britpop tributes and big bands who play swing music from the 1920s and 1930s.
Party Bands for Hire in Newport
If there ever was a band you could imagine surprising you by bursting from a giant cake, it would definitely be one of our exuberant Newport Party Bands. Everyone's invited to this kind of shindig – the stage is overrun with beaming horn sections, backing singers, extra percussionists and backing dancers, breathing lungfuls of new life into your favourite floor fillers. When there's this much fun happening onstage, imagine how much your guests will enjoy themselves!