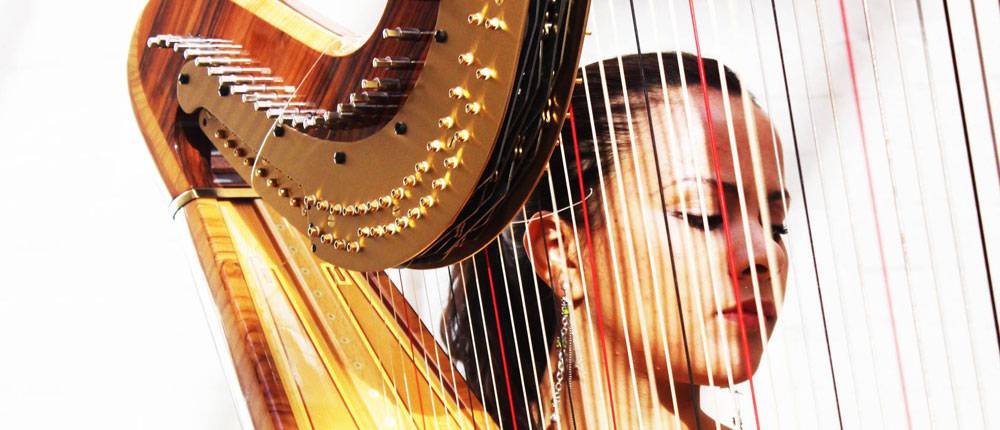 Suffolk Harpists
We at Bands for Hire feel your upcoming event deserves the services of the most excellent musicians this country has to offer – namely, our unbelievably talented harpists in Suffolk. We've hand picked our Suffolk harpists from Britain's elite – classically trained professionals who have performed onstage at the Royal Albert Hall, in the National Gallery, as part of the London Sound Ensemble and for the Prince of Wales – and they can be hired today at a highly competitive rate.
Hire a Suffolk Wedding Harpist
Any processional music performed on a harp - whether it be by Mozart, Mendelssohn or Wagner – is given an ethereal, dreamlike quality, like a moment frozen in time. This is quite breathtaking in the context of a wedding procession, and our Suffolk harpists can sustain this throughout the wedding breakfasts and wedding receptions either side of that magical moment. This particular brand of music also suits any other kind of event that requires a calm atmosphere and an entertainment that won't take up half the space of the venue or drown out your conversations, such as private dinner functions, certain birthday parties, corporate events and charity events.
Bands for Hire is able to supply Acton, Aldham, Alpheton, Beccles, Bungay, Bury St. Edmunds, Felixstowe, Haverhill, Ipswich, Lowestoft, Mildenhall, Newmarket, Stowmarket, Sudbury and Woodbridge, among other areas in the region, with Suffolk harpists for hire. Let us know precisely where your event is to take place, and we'll furnish you with the celestial sounds of a recommended harpists in Suffolk.
Your guests will be astounded at how diverse the repertoires of our harpists in Suffolk have become. After mastering the suites and sonatas designed specifically for their instrument by Handel, Bach and Mozart, and adapting work by similar composers written for the trumpet, flute and violin, our Suffolk harpists turned their attention to the 20th century and beyond. There'll be jazz – a host of beloved, dreamy-eyed standards placed between the pages of the Great American Songbook by George Gershwin, Cole Porter and Irving Berlin. There'll be rock and pop smash hits by radio juggernauts the Beatles, Elton John, Christina Aguilera, Coldplay and Florence + the Machine. And there'll be plenty of theme tunes from your favourites films, television shows and musicals, from the Bodyguard, Winnie the Pooh and Les Miserables to Spiderman, the Flintstones and Jesus Christ Superstar. Whatever your guests' musical leanings may be, they'll doubtlessly be enchanted by the Suffolk harpist spell. Please explore our musicians' profile pages, and feel free to send us any queries.
If you're searching for more daytime music options you may also be interested in our Suffolk string quartets or jazz bands in Suffolk.