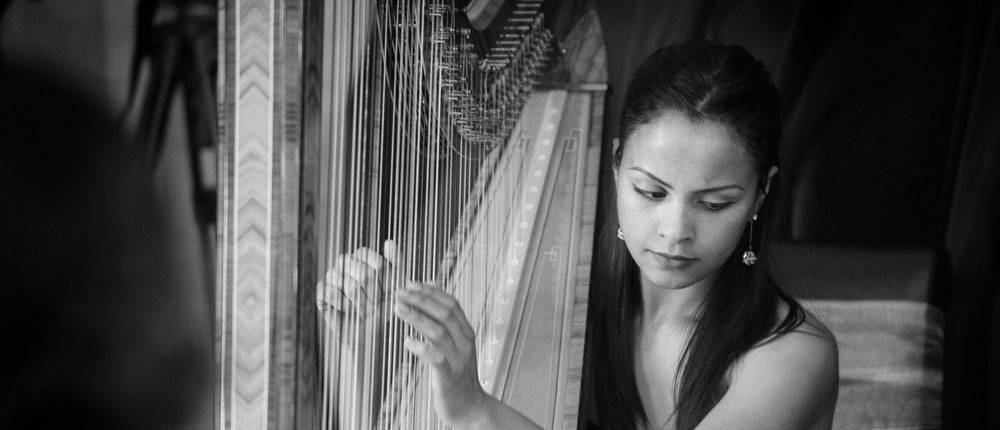 Worcestershire Harpists
Bands for Hire are delighted to be able to offer you the opportunity to amaze your guests with the best harpists in Worcestershire. Many of these accomplished musicians are graduates of the Royal College of Music, and have performed extensively up, down and beyond the country, from Buckingham Palace to the Royal Albert Hall to the French festival Opera de Bauge held in the gardens of Les Capucins. Like all our musicians, our professional Worcestershire harpists are flexible and accommodating, and are available for hire at a very competitive rate.
Hire a Worcestershire Wedding Harpist
If a live band wouldn't suit your audience, venue or budget, and you want to lull your guests into a sense of tranquil happiness, then a Worcestershire harpist is your spatially conservative solution. The subtle and sweet melodies fit snugly into the background of garden parties, birthdays, private dinner functions, drinks receptions, charity and corporate events. There's a definite romantic edge to the sound of a harp, so naturally our Worcestershire harpists go down a treat at wedding breakfasts and wedding receptions. You might also be interested in our Worcestershire string quartets, if you're searching for something with the classic touch.
As you may have guessed already, our harpists in Worcestershire do have a propensity for classical, traditional and folk music, but they don't stop there – the surprisingly full sound a harp can achieve is put to full and proper use across several unlikely genres. The range of music that sounds fantastic when played upon the harp stretches from the pop and rock of Daft Punk, Stevie Wonder and Simon and Garfunkel to the jazz standards of George Gershwin and Cole Porter from the leaves of the Great American Songbook to and the theme music of Les Miserables, Breakfast at Tiffany's, Winnie the Pooh, Mary Poppins, Shrek, Harry Potter and many other films, TV shows and musicals. They can also turn their hand to Bollywood, Celtic and Jewish Wedding music, and will also take into consideration suitable requests, so everyone in attendance will get to hear a tune they love.
Book a Local Solo Harpist in Worcestershire
You can book a Worcestershire harpist from Bands for Hire for your upcoming event in Bewdley, Broadway, Bromsgrove, Droitwich Spa, Evesham, Kidderminster, Pershore, Redditch, Stourport-on-Severn, Tenbury Wells, The Malvern's, Upton upon Severn, Worcester and other areas throughout the county. Please don't hesitate to make contact with us – we're always happy to handle any of your queries.
For more background music options in the region please feel free to take a look at our local Worcestershire pianists and string quartets in Worcestershire.