21st Birthday Party Ideas for an Unforgettable Celebration
Details

Category: blog
Updated: 16th February 2023
Are you ready to be showered with love and attention on your big day? Over 62% of people agree that their birthday is the perfect time to be the centre of attention, and when it comes to your 21st birthday, we're definitely on board!
Celebrating this milestone is an exciting time, so why not make it truly unforgettable with some creative 21st birthday party ideas, decorations, and activities that will have everyone talking for months (or years!)?
From glow-in-the-dark parties to celebrating with a luxurious day cruise, we have all the ideas you'll need to ensure your twenty-first birthday goes down in history. Let's get started on helping you plan an unforgettable birthday bash.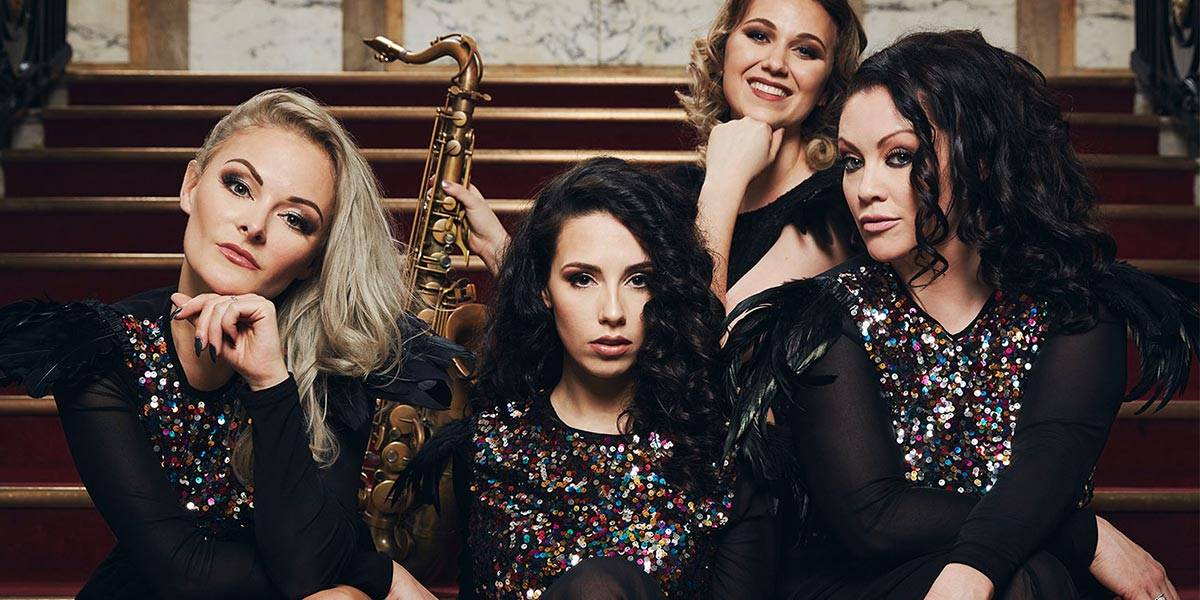 Party Entertainment
Take your event to the next level with one of our live party bands, musicians or DJs
21st Birthday Party Ideas
First things first, you can't throw a 21st birthday party without a great theme. The party idea you choose will affect everything else on your big night, from the decorations to the live entertainment. So, be sure to take some time to pick a great theme for turning 21. Here are a few birthday themes and ideas to get you started!
The Roaring 20s
What could be more fun than a roaring 20s-themed 21st birthday party? It's the perfect way to celebrate your big day in a classic, elegant style. You and your guests can dress up in flapper dresses and fedoras, and dance the night away to swing music. There's nothing like a little 1920s nostalgia to get everyone in the mood.
No 21st birthday party would be complete without plenty of food and drink, so stock up on some libations and appetisers that fit the theme. Prohibition-era drinks, anyone?
Vegas
The options with a Vegas-themed birthday party are endless, from setting up poker tables to hiring musical entertainment to playing Elvis hits non-stop. Plus, this is a versatile theme that you can adapt to suit any budget, from simple decoration and food ideas to full-on casino nights with professional entertainers.
Finally, this is a theme that's guaranteed to create lasting memories. After all, who doesn't love a good story about their wild night in Vegas? Make your 21st birthday that kind of memory for you and your friends.
Costume Party
Even if your birthday isn't around Halloween, it's always a great time for a costume party. For example, if you have a summer birthday, ask guests to dress up as their favourite tropical-themed character. Or, forget the holidays and seasons and ask your friends to dress up as their favourite colour or alcoholic drink.
All in all, a costume party is a great way to add a little extra fun to any birthday bash. Whatever theme you choose, send out your invitations well in advance to give guests time to search for their costumes. For a little added excitement, host a contest and make the best-dressed guest take shots for your birthday. Tropical
Nothing says turning 21 more than a piña colada in hand and the sound of waves lapping at your feet. Even if you can't get to the beach, there are several options for planning a tropical-themed 21st birthday bash.
First, you'll need to decide on a location. A beach or poolside setting would be ideal, but if that is not possible, any outdoor space with some greenery works just as well. Indoor locations work well, too, you just need to be mindful of decorations.
Palm trees, Hawaiian leis, and tiki torches are all great options for setting the scene. And of course, no tropical party would be complete without some colourful flowers. Think hibiscus or frangipani.
Of course, no party is complete without food and drink, so be sure to plan accordingly. A BBQ would be perfect for this type of party, or you could hire a catering company specialising in tropical cuisine. As for drinks, cocktails are always a good choice.
Alcohol-Themed
Build a boozy birthday cake, set up beer pong tables, and ask guests to bring an alcohol-themed snack or drink. An Alcohol themed party presents an endless supply of ideas you can take in any direction.
For example, you can set up a booth to enter the party and "charge" guests a shot to get in (they're not paying for the shot; they just have to take one before they're allowed to enter). 21st Birthday Ideas for Activities
Now that you have a theme in mind, it's time to consider what kind of activities you'll do on your birthday. This might not be tied to the party itself (or it could be in some cases). However, since it's your big day, you'll want to plan activities and festivities for the entire day.
While these activities are great any day of the year, they're especially great as a way to kick off turning 21.
Day Cruise
If you're looking for a fun and unique way to celebrate your 21st birthday, why not consider a day cruise? This is a great option if you want to enjoy your birthday without having to worry about staying out late or drinking too much.
All in all, a day cruise allows you to enjoy the company of your friends and family while also taking in the sights and sounds of your chosen destination. Plus, a day cruise is a great way to relax and escape the stresses of everyday life. If you're looking for an activity that'll help you relax before your party, then a day cruise might be just the thing. Bartending Class
While you can legally drink in the UK from the age of 18, celebrating your 21st birthday is still a big milestone in some countries. Plus, it's a mark of maturity in most cultures. If you're interested in a classy activity that'll teach you a skill you can show off at your birthday party, consider taking a bartending or mixology class.
Not only is it a fun way to indulge in some tasty drinks on your birthday but a professional mixology class is a great way to learn how to make proper drinks (no more vodka and tonic water drinks for you or your friends). Enjoy the class, learn a few things, and then show off your cocktail-making skills later that night.
Spa Day
If you're planning on going all out at your birthday party, you'll want to indulge in some self-care beforehand. Get some rest, hydrate your body, and pamper yourself at a spa day. You can go alone or bring friends along, it doesn't matter; you're going to feel relaxed regardless.
As a bonus, if you need any beauty treatments before your big party, booking a spa day is a great way to ensure your nails and lashes are fresh for the evening. Birthday Brunch
Not into spa days but still want to enjoy some quality time with friends amid a few mimosas? Plan a birthday brunch. This is a great way to see friends during the day who can't make it to your party in the evening. It's also a great option for those interested in celebrating with their family before heading out to party with friends in the evening.
One word of advice? Pace yourself at brunch! We know you'll want to go all out and celebrate with your friends, but trust us - if you go too hard, you could end up missing your own party.
Why Live Entertainment Matters
There's something special about live entertainment that just can't be replicated by a Spotify playlist. When you have live entertainment at a birthday party, it makes the event feel like a celebration.
But how do you choose the right kind of live entertainment? It all depends on the vibe you're going for. If you want a high-energy party, then a live band or DJ is the way to go. If you're looking for something more low-key and relaxed, then hiring a musician or smaller band might be more suitable.
Whatever you decide, make sure it fits with the overall theme and tone of your party. With live entertainment, you can add excitement, create unforgettable memories, and leave your guests in awe.
21st Birthday Party Entertainment Options
Not sure what your live entertainment options are? You've got quite a few, but here are three great options to consider. Whatever route you choose, make sure you book something that you know your guests will love. After all, a 21st birthday party is all about celebrating another year of your precious life, so make sure the entertainment reflects that.
Club DJs
A club DJ will bring energy to your event with the latest and greatest party tunes mixed to your specifications. Whether you're looking for a hip-hop vibe or a modern house playlist, a live DJ can tailor their set to your specific needs.
Some club DJs can also customise the lighting and effects to match the music, creating a truly unique and immersive experience. Hiring a talented event DJ guarantees your friends will be up and dancing all night long. So why settle for a pre-recorded playlist when you can have an actual professional spinning the tunes?
DJ With Live Musicians
Ready to take your party to the next level? Hire a DJ with live musicians. A combination of the two ensures that the music will be varied, exciting and interactive. Together, they can provide a unique twist on classic songs while still playing your guest's favourite tunes.
A live musician can also add an element of surprise to the evening. For example, the sax player could improvise a tune on the spot, only to be joined by the DJ when the track is about to drop - it's the perfect way to get everybody moving and make them feel like they're part of the show.
A DJ and live musician combination also allow for a greater variety in the music selection. The DJ can spin some of the latest hits while the live musician can add some classic tunes to the mix. This combination is sure to create a thumping atmosphere that will make your event the party of the decade (or at least the year).
Party Bands
Finally, if you're looking for something more unique, we highly recommend hiring a party band. Nothing brings people together like good music, and a live band will take your party to the next level. Plus, a live band adds an air of sophistication to your event that a DJ simply can't match.
Professional musicians know how to set the perfect tone for your special event, ensuring a night that you and your guests will never forget.
Book Live Entertainment for Your Party
It doesn't matter which of the 21st birthday party ideas you choose. One thing's for sure: you're going to want to include live entertainment. From party bands to club DJs, live music can take your 21st birthday bash from cool to unforgettable.
Click here to browse through our party entertainment ideas and get in touch for some advice.