Hiring a Band Abroad: Costs & Logistics for International Bookings
Details

Category: blog
Updated: 02nd May 2023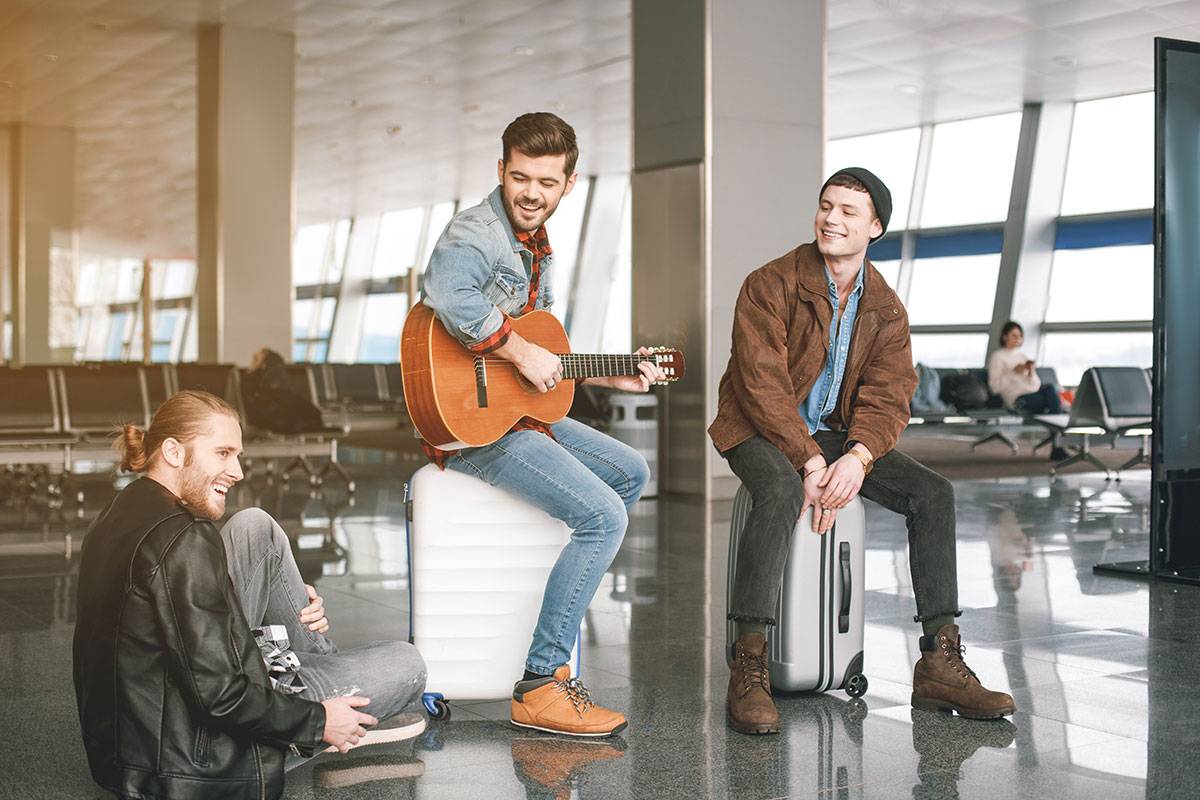 If you're looking to hire a band for a wedding, corporate event, or hotel abroad, there are a number of things to consider, including costs, logistics and legal requirements.
Our musicians regularly perform at international locations across Europe and beyond, so our team has a great deal of experience when booking live music abroad. Some of the most popular destinations include France, Belgium, Spain, Italy, Germany, Switzerland, Dubai, and Abu Dhabi.
Cost to Hire a Wedding Band Abroad
Depending on your event location, the price of hiring an international band for a wedding abroad will vary enormously, so it's a good idea to factor in the various costs before making your enquiries. Below is a breakdown of the type of expenses you'll need to take into account when working out your budget for hiring a band overseas:
1. Performance Fee
Every band has a set fee for their musicians, which forms the band's local starting rate. It's important to remember that advertised starting rates do vary, and factors such as the time of year, day of the week, and of course, the amount of time, organisation, and travel will affect the price. 2. Return Flights from the UK
You'll be required to cover all transport costs, including return flights from the UK. Your bandleader or booking agent will liaise with you before booking to ensure that the musicians are travelling from their local airport, and that all additional baggage, such as instruments, have been included.
We recommend that clients make accommodation and travel arrangements so that they are in complete control of their expenditures.
3. Equipment Hire Costs
In most cases, your band will need to fly for an event abroad, and so they'll need all equipment, such as a sound system, to be supplied at the venue. The fees involved in transporting large items of equipment such as speakers are so high that it's rarely an option to provide their own gear. Musicians will usually carry only small instruments such as guitars and saxophones on the flight, meaning drum kit, amplifiers, keyboards, PA system and lighting will need to be hired locally.
Every band will have different PA and backline requirements and so will provide a technical specification for you to pass on to a local PA hire company if required. It can be beneficial to work with a local event planner who has experience with local suppliers and can organise equipment hire on your behalf. If your event is taking place at a hotel, they will more than likely have contacts they can recommend and liaise with on your behalf.
In most cases, you'll need to work with a PA hire company that will also supply a sound engineer to set up the equipment and soundcheck the band on the day. 4. UK Travel Expense
As with UK-based bookings, your band will need to ensure all travel costs are covered, and this can include train tickets, fuel (in the UK) and occasionally airport parking. We usually expect bands to include these expenses in their quote.
5. Accommodation for Band Members
You'll need to supply suitable accommodation for each member of the band. To make things easier for everyone involved, we recommend this is at the same hotel as your event; however, if this isn't an option, they'll be happy to stay at a nearby hotel with a minimum three-star rating. Bear in mind, that this will directly increase other costs, such as travel between hotels.
When Does the Band Arrive?
When hiring a band for an international event, you'll also need to consider when the musicians arrive, either on the day of the event or the day before.
As a precaution, you might like your suppliers to arrive the day before the event in case of unforeseen flight cancellations or delays. However, this can come at a cost. Not only does this require two nights' accommodation instead of one, but your musicians will also need to book out the evening before the event as well. You are essentially hiring the musicians for two nights, and their fee may increase to account for the loss of other work.
6. Transfers / Taxi
Your musicians will need all travel expenses covered, including transfers between the airport and the venue, and between venues if your musicians stay at a different hotel.
7. Meals and Per Diems
You can either agree a set fee to cover meals and drinks per day, or your musicians can keep all receipts for expenses incurred on their trip. To make things easy, we recommend arranging a meal for your musicians at the venue and including breakfast with their accommodation.
8. Visa and Work Permit Costs (if applicable)
Depending on the destination and the nationality of the band members, there may be visa and work permit requirements that need to be fulfilled. It's crucial to research and understand the visa and work permit requirements of the country where the event is taking place and ensure that the band members have the necessary documentation in order to perform legally.
In many EU countries such as France and Germany, weddings are classed as cultural events and so musicians won't usually need to apply if working there for just one day. To find out more about visas and work permits for a particular country, visit ISM.
9. PCR/Covid tests (if applicable)
While less common in 2023, some countries still require a valid PCR test for all incoming passengers. If applicable, these fees will also need to be covered.
How to Save Costs When Hiring a Band Abroad
On the face of it, hiring a band for a destination wedding or event can appear costly, but there are ways to reduce the overall cost.
1. Driving Abroad
If you're putting on an event in Ireland, Northern France, Belgium or The Netherlands, it's worth asking your band if they would be happy to drive to reduce the overall costs.
By driving, your band can travel with all their equipment, just as they would for a UK event. This means they'll be no need to hire any equipment or book flights.
Although this will work out cheaper overall, this will increase other costs such as the base fee; due to the amount of time on the road, fuel costs and tolls.
2. Hire Musicians Keen to Travel
You may find that some wedding bands are excited at the possibility of travelling and performing abroad and will therefore offer a good deal.
Younger musicians, in particular, are often keen to travel and venture out of the UK, unlike musicians with young families who may prefer to perform closer to home.
3. Hire a Smaller Band
The number of musicians in a wedding band is perhaps the biggest price factor, made all the more significant when adding flights, accommodation, meals and more into the equation. By booking a lively duo or trio, you can reduce your overall costs.
4. Hire a Roaming Acoustic Band
One way to cut costs is to hire a band that doesn't require amplification, negating the need for expensive PA hire and equipment.
A Roaming band offers exactly this service, performing intimate sets to small groups as they move around your venue. This is perfect for afternoon or early evening sets, leaving the evening duties to a professional wedding DJ.
5. Choose an Off-Peak Event Date
Booking musicians for peak summer Saturday dates is always more expensive than mid-week or out-of-season dates. By having your wedding during the week, your band may be willing to offer you a better price as it won't impact their weekend bookings. They may also be willing to arrive a day early at no extra cost to make use of the pool and enjoy some time in the sun!
6. Hire a DJ with Live Musicians
You don't have to book a full band to enjoy live music at your event. Our roster includes a range of professional DJs that work alongside live musicians, such as singers and sax players, often working out far cheaper than hiring a band.
How Do I Book a Band for an International Event?
It can be quite daunting booking a band abroad for the first time, but rest assured that it's a fairly straightforward process that doesn't need to be stressful. Here's a breakdown to get you started:
Browse our UK function bands and enquire about your favourite acts. Use advertised prices purely as a guide.
Receive quotes that cover performance fees, and UK travel only. All additional costs mentioned above will be on top.
When you find a band you like, confirm how many people will be travelling and request the band's technical specification (tech spec).
Pass the tech spec on to your wedding planner to find out prices for hiring equipment locally. If you aren't working with a local wedding planner or venue, you'll need to research local PA hire companies in the area.
Research accommodation and flight costs and decide whether you need the band to arrive on the day of the event or the day before. Discuss which options the band are open to and if there are additional costs to arrive the day before.
Check additional costs such as visas, extra luggage, meals, transfers etc.
Once you've confirmed all costs and are ready to proceed, ask your band or agent to book you in and send over the contract.
Once the contract is signed, you'll need passports from all band members to book flights and accommodation. Remember that flight costs can change daily.
International Band Bookings across the Globe
Many of our bands regularly perform in countries further afield, such as United Arab Emirates and Qatar. With hotels in places such as Dubai and Abu Dhabi attracting a high number of UK tourists, there is often the need to book British bands for events on New Years Eve or perhaps for longer contracts that span over a three month period.
At Bands For Hire, we have a wide roster of bands on our books, often taking bookings over a year in advance. If you're keen to secure an international contract, we recommend getting in touch with our team as soon as possible.
Ready to Book?
Hiring a band abroad for your event requires careful consideration of various factors, including costs, logistics, and suitability. It's important to communicate clearly with the band, booking agent and any local suppliers, understand the legal and logistical requirements of the destination country, and plan for all necessary expenses and arrangements. By taking these factors into account, you can ensure a successful and memorable live music experience for your event.