101 Unique Party Ideas to Entertain Your Guests
Details

Category: blog
Updated: 06th March 2023
If you count incidental celebrations like National Doodle Day and World Wetlands Day, there are 236 special days and festivals in the UK each year.
While you might not throw a party for National Zoo Awareness Day, you probably have a few birthdays, anniversaries, holidays, and seasonal gatherings in the pipeline. With so many distinct events on the horizon, how will you ensure each celebration is unique?
A year full of parties demands plenty of engaging and original party ideas!
We've created a list of 101 fun things to do at parties to help propel you from New Year's Day to Christmas Eve. We've broken our list down into categories to help you discover the activity that will set your bash apart.
Read on to start planning your next spectacular soiree, whether it's a corporate celebration, a summer kickback, or a quinceanera!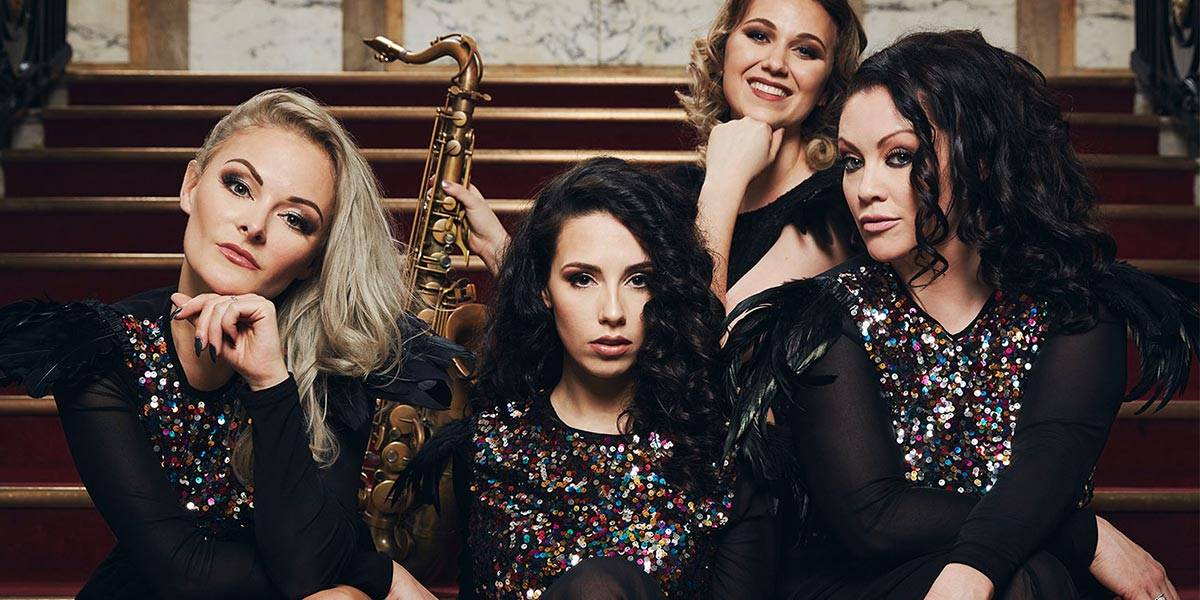 Party Entertainment
Take your event to the next level with one of our live party bands, musicians or DJs
Musical Party Ideas
You might not think a birthday party and a 70th-anniversary celebration might have anything in common. In fact, music is a universal language that gets guests of all ages moving and growing. The following ideas incorporate music, dancing, singing, and the sensational magic of sound.
1. Live Band Karaoke
Everyone's a rockstar during bandeoke! Your guests will sign up for slots and sing their hearts out, accompanied by a live, professional bandeoke band.
2. Mariachi Magic
A roving, energetic mariachi ensemble will travel from table to table with instruments unique to Mexican culture. Their traditional dress will add flair and panache as they serenade guests in Spanish.
3. Dance Lessons
When you hire a dance teacher, every guest will confidently take to the dance floor. Make a group lesson the highlight of your night. Be sure to hire a videographer to capture the final performance!
4. Singing Waiter Surprise
Waiting for a meal often means downtime. Instead, hire a sneaky troupe of singing waiters to surprise your guests with song.
5. Decade-Themed Party
Hire a high-octane cover band to play the hits from the decade of your choice! Guests can dress up and return to their prime, whether that means bringing in a 50s rock act or a 90s pop sensation.
6. Postmodern Performers
You love top-charting music but still want your party to have a unique soundtrack. Hire a postmodern jazz band to play the hits in a unique jazzy style that will keep guests dancing the night away.
7. Festive Crooners
A holiday celebration calls for a jolly playlist! Bring in a group of Christmas crooners, a festive jazz band, or a carolling acapella group to add some extra cheer to the coldest, darkest season.
8. Music To-Go
Even if your guests spread out, a roving band or ensemble will fill your outdoor garden gathering with sound. These groups have no qualms about hoofing it to give small groups a private performance.
9. Hire a DJ
DJs know all the tricks to get guests on the dance floor and keep them there. For something truly unique, bring in a sax DJ, or book a DJ and live band combo.
10. Musical Chairs
Musical chairs isn't only for kids! Adult musical chairs can get competitive, especially if there are prizes on the line!
11. Silent Disco
Some venues have rules about playing music after hours. At a silent disco, each guest wears headphones, so everyone dances to the same jams without disturbing a soul.
12. String Quartet
Nothing adds class to an elegant affair like a string quartet. Stick with the classics or arrange for a Bridgerton-inspired set list filled with pop hits in the classical style.
13. Dance Contest
Gather everyone on the dance floor, circle up, and see who comes out on top! A little competition keeps guests engaged and adds some playful stakes to any event. 15. Campfire Singalong
Hire an acoustic guitar player to lead your guests in a singalong around the firepit. You'll enjoy crooning familiar tunes in the outdoor ambience under the stars.
14. Bell Choir
The only thing more fun than listening to music is making your own! Hire a set of handbells, offer a tutorial, and then play some tunes as a team-building or holiday party activity.
Edible Party Ideas
With proper planning, food can be its own party activity. The ideas below allow hosts to harness the appeal of all things edible to keep their guests entertained.
16. Fantastic Fondue
We all love permission to play with our food! Fondue is a delicacy and an activity in one. Offer cheese fondue for a meal or chocolate fondue for dessert. 17. Wine and Cheese
Wine tasting is a classy activity for wine lovers and dilettantes alike. Pair each wine with a fancy cheese to provide plenty of culinary enrichment for the tastebuds.
18. Sweet Creations
When you set up a "create your own treat bag" station, your guests will feel like kids in a candy store. Provide sweets on a theme and allow each guest to fill a bag with a unique mix.
19. Carnival Carts
Hire a few carts and welcome your guests to help themselves to their favourite carnival sweets. Consider a candy floss station or a fresh popcorn machine.
20. Food Trucks
Throwing a long party? When guests begin getting peckish, invite them to order what they'd like from a fleet of local food trucks. 21. Woodfired Pizza Oven
Hire a portable pizza oven and offer your guests authentic Italian pizza. This is perfect for a cocktail hour or late-night snack.
22. S'mores Station
If you'll have an outdoor fire pit, offer the ingredients for s'mores. Guests adore roasting their own marshmallows.
23. Viennese Table
Instead of a cake, amaze guests with a table full of tasty puddings and desserts. A Viennese table is a thematically cohesive smorgasbord that doubles as decor.
24. Signature Drinks Menu
Work with a bartender to create a signature drink related to your party's theme. Guests will love asking for these unique cocktails by name.
25. Tea Service
Everyone loves a traditional tea service. Consider offering a classic tiered array of sweets and sandwiches at your next garden party. 26. Ice Cream Sundae Bar
We all scream for ice cream! Set up a sundae bar and allow attendees to create their own bespoke ice cream treat.
27. Chocolate Fountain
A chocolate fountain is decor, activity, and treat all in one. Guests will love dipping fruit and other goodies in chocolate and devouring them.
28. Hibachi Magic
Instead of a sit-down dinner, why not host a hibachi feast? Japanese chefs will prepare a delicious, hot meal right in front of you. 29. Custom Crepes
Set up a crepe station at your venue. Guests can choose their fillings and toppings and enjoy hot, fresh crepes made to order.
30. Potato Bar
Offer delicious, homemade mashed potatoes in martini glasses. Guests can top their potatoes with delicious fixings for an unconventional, indulgent treat.
Playful Party Ideas
Most guests arrive at a party expecting one thing: Fun! A playful theme, party activity, or entertainment option will ensure every guest feels like a kid.
31. Festive Fairgrounds
Guests will bask in the nostalgia when you set up a miniature fairground at your venue, complete with carnival games. Keep it simple with homemade games, or hire real attractions.
32. Photobooth
Offer props and allow guests to dress up and pose for the camera! Don't forget to create an event hashtag so everyone can share their best shots. 33. Giant Lawn Games
Supersizing classic games is the only thing that makes them more fun! Offer giant Jenga, chess, and other big board games to keep guests busy at an outdoor venue.
34. Pinata
Put on the blindfold, spin around, and take your best shot! The pinata is a classic Mexican party game that guests of all ages will love. There's no limit to what you can put inside, so get creative.
35. Limbo Contest
How low can your guests go? Put on a song with a beat and hold up a limbo stick. Guests must try to shimmy below the pole as it gets lower with every lap.
36. Giveaways
Before guests arrive, put a ticket beneath a few dinner plates or chairs. Have the emcee encourage guests to look at a given time. Anyone with a ticket gets a prize! 37. Drinking Games
Give your favourite drinking games a bit of pomp and circumstance by offering them as party entertainment. Beer pong is just as fun when you play it with plastic drink flutes.
38. Table Topics
Make it easy for guests to break the ice. Set each table with a few compelling table topic cards to get the conversation started.
39. Pub Quiz
Seeking a dose of lighthearted competition? Organise a pub quiz. Choose a topic related to the party's theme, even if it's an entire trivia challenge about the guest of honour.
40. Gaming Truck
Hire a gaming truck, complete with comfortable gaming chairs, dynamic lighting, and all your favourite consoles. Organise a tournament or allow guests to beat their own high score.
41. Bingo
Hire a bingo set, hand out cards, and watch your guests get competitive! Be sure to offer prizes that keep everyone on the edge of their seats. 42. Awards Ceremony
An awards ceremony is the perfect playful addition to an office party or corporate event. Assign every guest a superlative, or get cheeky and turn it into a roast.
43. Murder Mystery
A murder mystery troupe can transform any party into an immersive, interactive game. All your guests will work together to solve a fictional crime by the end of the night.
44. Balloon Twisters
You're never too old for a professional balloon artist! These sculptors will take requests, providing party attendees with delightful inflatable favours, from balloon hats to animal sculptures.
45. Jugglers
A juggler can add a touch of playful spectacle to any affair. These professionals can juggle anything from classic rings to flaming torches.
Artsy Party Ideas
Planning a party is a massive creative undertaking. What if you left the creativity to the guests? Each artsy party idea below allows guests to leave with something beautiful. 46. Paint and Sip
A painting instructor will instruct your guests as they paint their own masterpieces on canvas. Meanwhile, they'll all enjoy music and a drink. Everyone leaves with an original painting.
47. Thumbprint Guestbook
Interactive guestbooks are all the rage at large gatherings. Consider inviting each guest to add a thumbprint to a tree branch. You'll have a stunning, bespoke art piece to help you remember the event.
48. Live Painter
Hire a professional painter to create a rendering of your stunning venue. Many live painters allow guests to contribute to the masterpiece. It's an interactive, entertaining way to end the night with a lovely memento.
49. Ceramics
Guests love to take a break from the action and craft a lovely ceramic favour. This is a perfect activity for afternoon tea.
50. Succulent Gardens
Succulents are low-maintenance plants. Instruct guests as they create their own simple terrariums with rocks, statues, and seashells.
51. Paper Flowers
A springtime soiree calls for some extra special decor! A paper flower station is a beautiful addition to a garden party, baby shower, hen party, afternoon tea, or springtime birthday party. 52. Ornament Station
What could be more festive than an ornament-making station at your Christmas party? Encourage guests to get crafty and festive as they create something lovely and unique to hang from their tree.
53. Rock Painting
Set up a simple rock painting station at your outdoor event. Guests can stop by, paint a message on a stone, and leave it behind to decorate the garden.
54. Floral Arrangements
Some hosts order floral arrangements for their parties. Crafty hosts have guests make their own! Bring in an instructor and watch as guests craft their own living favours.
55. Table Origami
Anticipating a long wait before the evening feast? Offer origami paper and instructions and watch guests try their hand at Japanese paper folding. 56. Caricaturist
Your guests will adore posing for a clever caricaturist! These artists work quickly, providing attendees with custom portraits they can take home and treasure.
Magical Party Ideas
Some party entertainment options defy categorization. The magical ideas below contain a touch of whimsy or excitement your guests are unlikely to find anywhere else.
57. Magician
What's more magical than a magician? A live magic act will captivate your guests.
58. Fireworks Display
Every attendee will "ooh" and "ahh" when you set up a fireworks display at your party. This is a perfect addition to a summertime gathering.
59. Sparklers
A warm night calls for a stunning delight! Hand out sparklers and watch as your guests enjoy the simple magic.
60. Circus Performers
Hire a circus performer to create an unforgettable memory at your event. Aerial artists, acrobats, and contortionists add personality to any party.
61. Escape Room
An escape room is the perfect team-building activity for a corporate party. Guests work together to explore the environment, find clues, and break out before time runs out.
62. Fortune Teller
Is there good news in your future? A fortune teller can offer palm or tarot readings, perfect for a Halloween celebration. 63. Fire Show
Let there be light! Fire artists will create a show complete with music, magic, and colourful flames.
64. Standup Comic
Nothing is more magical than hearing the entire room laughing as one. A standup comic will keep every guest giggling.
65. Outdoor Cinema
Invite guests to bring along a blanket and set up a projector outdoors. Show a film (or a few), offer cinema snacks, and enjoy the show.
66. Mechanical Bull
How long can you last on the back of a bucking bronco? Hire a mechanical bull and find out!
67. Burlesque
Seeking something a bit cheeky for your next soiree? A burlesque performer provides plenty of risque entertainment for the right crowd. 68. Ice Skating
Did you know you can hire an ice skating rink that won't melt? This magical activity is perfect for indoor or outdoor events in any season.
69. Casino Night
Try your luck by setting up casino games! These are perfect for fundraising nights or Monte Carlo-themed parties.
70. Confetti Cannon
A confetti explosion is an incredible alternative to a fireworks show. Get your camera ready because the photos come out phenomenal!
71. Portable Planetarium
Keep your eye on the sky when you hire a planetarium projector and set up an indoor show. It's both educational and romantic, perfect for an anniversary.
Relaxing Party Ideas
Sometimes, the best party activities allow you to kick back and relax without a care. The following ideas are novel and serene, making them an excellent choice for stressed-out party guests. 72. Hammock Garden
Your guests will fall in love with a hammock garden. Set up a few hammocks in a shady spot and watch as everyone congregates for their turn among the trees.
73. Hookah Lounge
Set up a hookah lounge at your next event. Bold guests can try smoking flavoured tobacco out of hookah pipes.
74. Oxygen Bar
If hookah isn't your thing, consider swapping tobacco for purified, flavoured oxygen. This novel activity is harmless fun and leads to hilarious photos.
75. Spa Treatments
Turn your venue into a spa! Hire a few spa professionals to offer pampering treatments for your guests.
76. Massage
You can hire a massage therapist to set up a table or two at your venue. Invite guests to enjoy a brief, relaxing table massage before hitting the dance floor. 77. VIP Lounge
Set up a quiet VIP lounge full of cosy couches and ambient lighting. Guests will feel like celebrities as they take a break from the excitement.
78. Evening Swim
Will there be a pool at your venue? A swim under the stars is a relaxing and romantic party activity.
79. Hire a Swing
Nothing is more relaxing than a leisurely go on the swings. Hire a swingset or a giant outdoor tree swing to give guests a place to get away from the festivities.
80. Professional Storyteller
Storytellers are compelling performers who know how to capture the attention of a room. This is a unique, low-key entertainment option for any party.
81. Manicurist
Everybody loves a little pampering. Bring in a manicurist to offer manicures to all interested guests. 82. Glamping
"Glamping" is camping with extra luxury. Set up a few stunning tents and enjoy an evening under the stars.
83. Outdoor Furniture
Create a relaxed vibe by setting up outdoor furniture. This is perfect for a bohemian-themed bash.
84. Paper Lanterns
There is nothing more stunning than a sky filled with paper lanterns. Arrange a lantern launch and watch your guests witness the beauty for themselves.
85. Video Slideshow
Slideshows are perfect for milestone birthdays and anniversaries. Press play, then watch guests bask in reminiscence.
86. Firepit
A cosy firepit is a perfect place for guests to gather. Offer singalongs, s'more ingredients, or leave guests to chat under the starry sky.
Active Party Ideas
Not every party needs assigned seating—or any seating! The following active ideas will get guests on their feet and keep them there 87. Pub Games
Foosball and pool tables are staples in many pubs. Set up an area filled with pub games for your tipsy guests to play.
88. Scavenger Hunt
Scavenger hunts are perfect for historical or outdoor party venues. Send guests off with a list of photos to capture. Make sure to offer prizes!
89. Inflatable Sumo
Guests will adore suiting up in a massive, inflatable sumo suit. Have your camera handy because the photo opportunities are priceless!
90. Bouncy Castle
You're never too old to have a bounce! A bouncy castle is a hit with spry guests of all ages. 91. Mini Golf
Set up a miniature golf course and hand out the putters. Guests will get competitive as they compete for the lowest score.
92. Hire a Trampoline
Trampoline parks are becoming more popular with adult crowds. Bring the trampoline to you when you hire one for your next shindig.
93. Velcro Wall
A flypaper wall (or velcro wall) is a unique, full-body experience. You'll put on a velcro suit and launch yourself at a wall. Don't worry—the attendant will help you down!
94. Indoor Skydiving
Hire an indoor skydiving rig and give guests a once-in-a-lifetime experience! You can experience an invigorating freefall without danger.
95. Carriage Rides
Arrange for rides in a horse-drawn carriage. This is a unique addition to a romantic or holiday-themed event. 96. Schoolyard Races
Return to your youth by organising schoolyard races at your party! A sack race or egg and spoon relay is clean, nostalgic fun.
97. Indoor Ball Pit
An indoor ball pit is the perfect activity or photo opportunity. Fill a paddling pool (or a room) with colourful balls and let guests loose!
98. Twister
Left-hand red! A twister tournament is a silly way to get guests moving during your band or DJ's break.
99. Obstacle Course
Everyone secretly wants to be a ninja warrior. Set up an outdoor obstacle course and watch guests compete for the fastest time.
100. Charades
Charades is a classic party game for a reason! Provide prompts on a theme, sit back, and wait for the laughs to roll in!
101. Balloon Drop
End your spectacular event with a balloon drop! As colourful balloons fall from the ceiling, guests will have a blast playing "keep it up" until it's time to go.
Cool Party Ideas For Any Celebration
It's not enough to gather your guests in one place and hope that magic happens. A great celebration demands engaging, unique party entertainment that will keep every attendee busy. Any of the party ideas above can become a starting point for your next creative party-hosting endeavour.
We know a massive list like this can be overwhelming, so why not begin with the soundtrack? When you hire a band from Bands For Hire, you'll be adding experienced, professional party musicians to the VIP list. Enquire today to ensure your next bash has a vibrant soundtrack you can be proud of.