The Complete String Quartet Booking Guide for 2023: Tips, Costs and FAQs
Details

Category: blog
Updated: 19th January 2023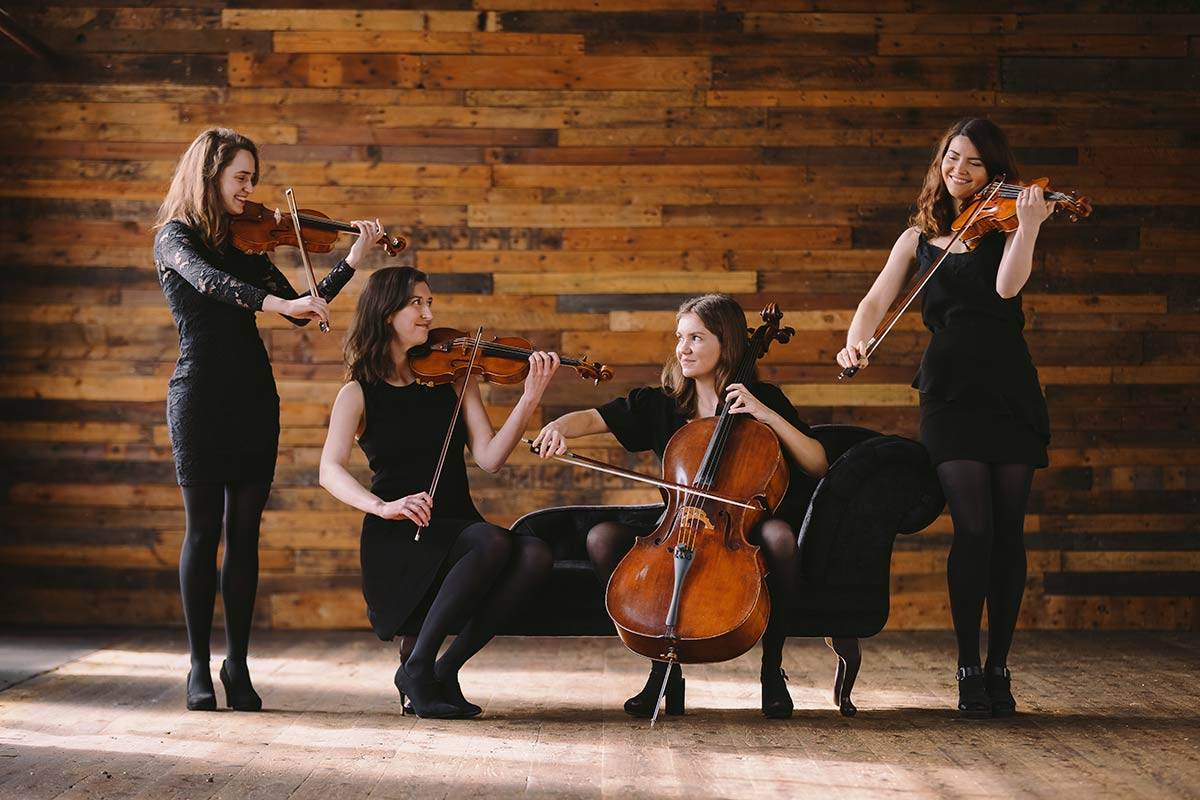 There's something so captivating and timeless about the sound of a string quartet that's ensured they've remained a staple part of the traditional wedding soundtrack for over a century. If you're looking to hire a string quartet for your big day but aren't quite sure where to start, then you've come to the right place.
In our booking guide we'll look at every aspect of string ensembles including average string quartet costs, typical line-ups, on-the-day requirements, popular wedding ceremony songs & playlists as well as the hiring process.
If you've already made up your mind and are ready to start browsing through your options, then head on over to our string quartets page where you'll find a range of professional ensembles in your region.
Which instruments make up a String Quartet?
A traditional string quartet features four string players to include two violin players, a viola player and a cellist. The violinists take on the main melodies with mid-range and bass parts taken on by the viola player and cellist respectively.
Together the instruments create a full and rich sound loud enough to cater for most weddings without the need for additional amplification.
Can I book a String Duo or String Trio instead?
Yes, most string quartets offer smaller line-ups such as a string duo or string trio to allow for smaller budgets and indeed smaller venues.
Duo line-ups can vary but offerings may typically include a violin and cello, two violins or a violin and viola. For a trio you'll find the most common line-up will include violin, cello and viola for a full and rounded sound. Pros of hiring a String Duo or String Trio
Price: As with all groups, the price of a string ensemble is dependent on the number of musicians hired, and so a duo or trio is a great alternative to a quartet, creating the same atmosphere at a fraction of the cost.
Venue space: If you're hiring a small venue for 30 guests then a quartet might be considered over-bearing. A duo on the other hand would be ideal.
Cons of hiring a String Duo or String Trio
Volume: If you're having a fairly large wedding and are hoping for the music to be heard by everyone, then a duo may not cut through in a busy setting.
Repertoire: Traditional classical pieces and popular modern songs are most frequently arranged for a quartet and so you may find the repertoire of a trio and certainly a duo to be less extensive. When should the String Quartet Play?
String quartets can be hired to cover either the ceremony, drinks reception, wedding breakfast or a combination of the three. We find the most popular option is the wedding ceremony – nothing quite beats the resonating sound of a string quartet in a church or large venue.
A ceremony will typically consist of the following:
Prelude: 15-25 minutes performance prior to the ceremony as guests arrive
Processional & Bridal Entrance song: The all-important song as the bridesmaids and bride enters
Interlude / Signing of the Registers: Two or three songs during the signing of the registers
Recessional: A final piece of music as the bride and groom exit followed by the wedding party and their guests
String quartets are the ideal choice for a champagne reception (drinks reception or cocktail hour) and the wedding breakfast as they are non-intrusive and yet loud enough to create a sophisticated ambience for you and your guests.
When will the String Quartet arrive?
String quartets will usually arrive about an hour before they're due to start performing. This gives them ample time to settle in, tune up and change if required.
How Do String Quartets Quote?
Some string quartets quote package prices to cover various sections of the day. However, the most common way for quartets to quote will be to offer an hourly rate. This will be based on the total time they spend at the venue rather than the amount of performance time.
How much will it cost to hire a String Quartet?
As with all musicians, costs can vary from one string quartet to the next depending on their level of experience, background and proximity to the venue. The average price of a string quartet for a wedding is between £650 and £1000.
How Far in Advance Should I Book a String Quartet
String quartets are extremely popular in the peak summer months from May to September, so if your wedding falls on a Saturday during that period we recommend booking around 12 months in advance.
Looking to Hire a String Quartet? Click Here to Start Your Search
The closer the date becomes, the less availability you'll find there is and this could increase overall costs. However, if booking at the very last minute you may even bag yourself a bargain if a quartet is keen to fill a free date.
Can a String Quartet Play Outside?
With summer weddings being the overwhelming choice for most couples, it's no surprise that many ceremonies are held outdoors – even with the looming prospect of our typical British weather!
With this in mind you'll no doubt have alternative arrangements in place, however, it's worth noting that string quartets will still need a gazebo or shade if playing outside in hot weather. The reason for this is that their instruments are incredibly fragile (and often very expensive) and any prolonged exposure to heat can cause severe damage.
Performing in Cold Weather
It goes without saying that rain is something to avoid, but if you're having an out-of-season wedding you'll also need to remember that musicians aren't able to play in extremely low temperatures as their fingers may simply stop working! If in doubt, speak to your agency or band leader and they will advise on the appropriate measures to take.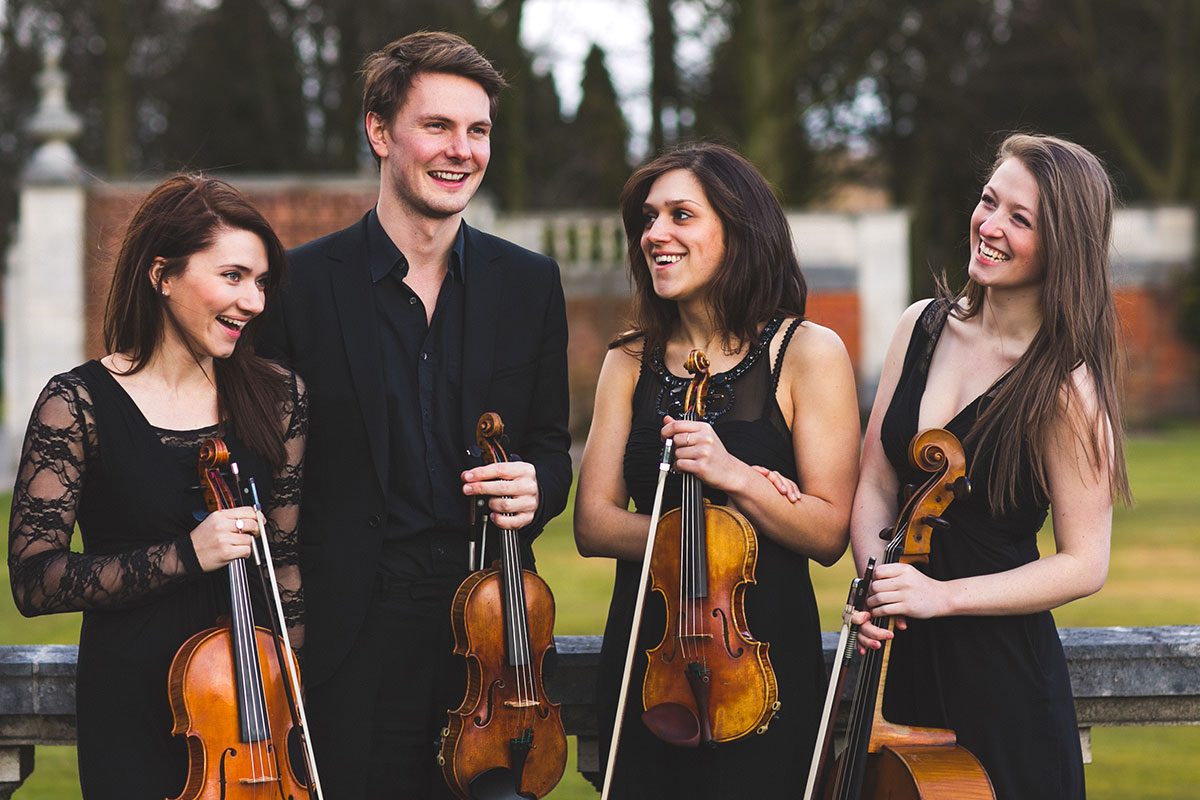 How Much Space does a String Quartet require?
We recommend a minimum area of 3 x 2 meters for a string quartet - this will allow enough room to arrange their chairs in a semi-circle with music stands in front of them.
What Equipment Do I need to Provide for the String Quartet?
As well as a gazebo your string quartet may also request armless chairs from the venue. The musicians will always provide their own music stands.
The great thing about a string quartet is that they perform completely unplugged and so there's no need for a PA system unless hiring a specialist electric string quartet.
What are the most popular wedding songs for a String Quartet
Most classical and modern pop arrangements are specifically written for a quartet and so you'll find groups offer a wide and varied repertoire to choose from. This will usually include a large selection from well known composers such as Mozart, Bach, Wagner, Beethoven and Vivaldi alongside arrangements of everything from musicals, TV & Film to contemporary chart songs.
Below are some of the top wedding songs to get you started, but you don't have to stick to the tried and tested favourites; just take a look at some of our string quartets set lists for more ideas.
Popular Classical Ceremony Songs
Canon in D - Pachelbel
Bridal Chorus - Wagner
A Thousand Years - Christina Perri
Somewhere Over The Rainbow, Israel Kamakawiwo'Ole
Arrival of the Queen of Sheba, Handel
Air on a G string – Bach
Eine Kleine Nachtmusik – Mozart
Wedding March – Mendelssohn
Popular Contemporary Ceremony Songs
Songbird – Eva Cassidy
Chasing Cars – Snowpatrol
Yesterday – The Beatles
Perfect – Ed Sheeran
Eva Cassidy - Fields of Gold
Thinking Out Loud – Ed Sheeran
How Deep is Your Love – Bee Gees
Elbow - One Day Like This
All You Need Is Love – The Beatles
Wonderwall – Oasis
Make You Feel My Love - Adele
Hoppipolla – Sigur Ros
Can I Request Songs not already in the Repertoire?
Absolutely, even if a song isn't already in the quartet's repertoire, it's usually possible to either acquire the sheet music online for a small fee or put together a brand new arrangement. Song arrangements do take time and so this would incur a small charge to cover the band leader's time. What will the String Quartet Wear?
It's common for string musicians to wear all black unless otherwise specified or hinted at in their promotional photos. String quartets are usually more than happy to change their dress code to accommodate your wedding theme, whether that be bright summer colours or traditional Asian or Jewish dress. If you have a specific theme in mind, we always recommend speaking to your agent or band leader prior to making a booking.
How do I book a string quartet?
Use our Quick Search feature at the top of the page to browse through string quartets in your region, from here you can listen to mp3s, watch sample live videos and view the quartets repertoire.
Once you've found something you like the look of simply drop us an enquiry using the enquiry form and we'll come back to you with price and availability.