How Long Does a Wedding Band Play For?
Details

Category: blog
Updated: 16th February 2023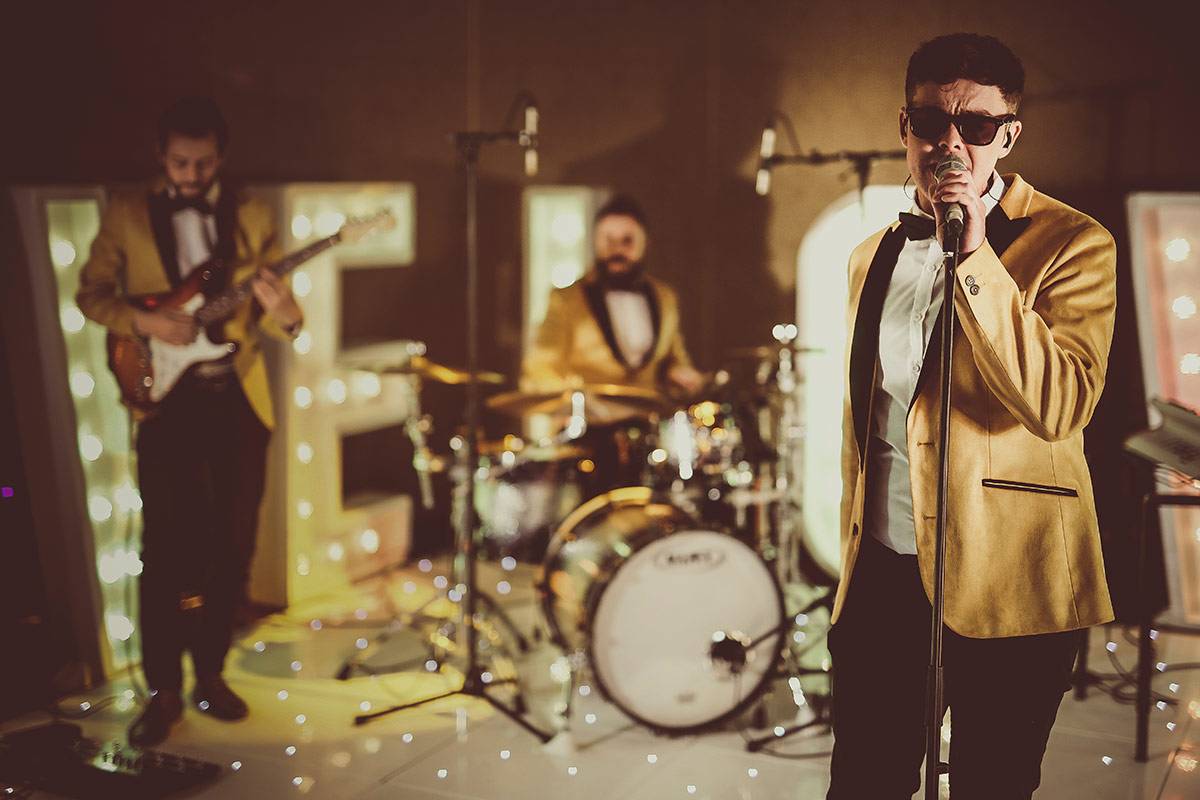 You're bound to have a number of questions about the logistics of your wedding night, especially when it comes to the wedding entertainment. How long does the band play for? When will they set up? When does the band start? These are all familiar questions and unless you're working with a reliable wedding planner, you may be looking for some advice.
Arrival Time
Your wedding band will typically arrive at around 5:30-6:00pm, ready to set up their equipment as soon as the meal and speeches are over. You may find it a good idea to usher guests into the bar area whilst the function room is turned around for the evening and the band set up. Band sound checks can be noisy!
Need help with your Wedding Entertainment Budget? Find out more...
Of course, we realise each venue layout and set up is unique and you may find yourself having the wedding breakfast and reception in the same room/space. If this is the case, then we advise speaking to your band about arriving earlier in the day to make sure everything is set up before the breakfast.
Bands will typically charge for an earlier arrival (per musician / per hour prior to 5/6pm), but it's worth asking whether the whole band needs to turn up or if just one or two members can arrive earlier to set up the bulk of the equipment. This tends to be a more cost effective solution with the rest of the band members turning up later for a quick soundcheck prior to the performance.
TIP We strongly advise finding out how long your band takes to load in, set up and soundcheck prior to booking. The majority of wedding party bands take roughly an hour, but others can take longer depending on how many members are in the band as well as how sophisticated their sound / lighting set up is.
What Time Should The Band Start?
Even with the most meticulous of planning, weddings inevitably run later than planned, speeches can run over amongst all kinds of other unexpected hiccups. That's nothing to be worried about as there's still plenty of time to get the party going. Although you may be eager to get the band up as soon as possible, we find it's good to start at around 8/9pm, depending on how long your band is booked to play for.
After many years of experience, we often observe that guests head to the bar or outside for some fresh air after the wedding breakfast. After sitting down for 2-3 hours having eaten a lot of food, coupled with a smorgasbord of drinks, it makes sense that guests won't be making a beeline for the dance floor.
Of course, everyone will gather for the first dance song, but it's a similar story once this has concluded so the later the better has always been our motto. However, every wedding day is different and our dedicated agents are here to help you organise the perfect schedule for your reception so you get the most out of your band. How long does a wedding play for?
We find 2 sets usually works the best, often 2 x 45 minutes or 2 x 60 minutes depending on what packages the band offers. You may even find you prefer to split your sets up into 3 x 40 minutes to spread it out over the evening. However, some bands will offer additional sets for an extra fee and this can either be another live set (3 x 60 minutes or 3 x 45 minutes) or an acoustic warm up set. An acoustic set can consist of the whole band performing or a trio / duo depending on their acoustic repertoire.
Wedding bands typically offer 2 x 45 minute sets or 2 x 60 minute sets (the latter being split into 3 x 40 minute sets if preferred).
If your venue has the option of staying open until 1am, then you may find that an additional set is really worth investing in. Staying later often incurs an additional cost and may even result in the band requiring accommodation depending on the location of your wedding.
However, most bands offer a DJ service or an add on DJ which would be a more cost effective way of keeping the party soaring into the late hours. Every wedding is different so, whatever your plans, the band will do their absolute best to work around you and your guests.
Get more tips for your evening wedding schedule here.
How many songs fit into a set?
A question that is frequently asked by our clients is 'how many songs can be played in a set?'. Although there is no definitive answer to this, we have been able to work out a rough number in order to help our clients pick enough favourites for the band to include on the night. If a song is roughly 3-4 minutes long, then you'd be looking at 15-20 songs per hourly set. If your band is performing 2 x 45 minute sets, then it would be roughly 10-15 songs per set.
Of course, if your wedding is really shaking the walls and the band are in the zone, then you may find they perform for slightly longer with extended solos for each member for the band on certain songs. If your guests keep the dance floor full and the drinks flowing then anything could happen - you may even get an encore if you're lucky! How long do other musicians play for?
We represent a variety of popular wedding musicians on our website for hire and they all offer slightly different packages, so we do advise getting in touch directly to discuss in further detail if you're interested in a particular act.
However, below is a rough guideline on how long acoustic acts, pianists, harpists and string ensembles perform for and the most popular wedding packages they offer.
How long do wedding musicians perform for during the drinks reception?
Acoustic guitarists, duos, trios and beyond tend to offer 2 x 45 or 2 x 60 minute sets (with the option of splitting the latter up into 3 x 40 minute sets). They typically arrive an hour prior to performance, as they don't take as long to set up (roughly 20-30 minutes), and will perform their live sets over a set time period i.e. 2 x 45 minute sets over a 2 hour time period or 3 x 40 minute sets over a 3 hour time period.
However, if you're wanting them to perform a set during the drinks reception and then a set after the wedding breakfast, you may find that the price increases. This is because they will be on site for longer and will need to increase this time period in order to accommodate your schedule i.e. 2 x 45 minute sets over a 5 hour time period. Pianists, Harpists & other Solo Musicians
Our wedding soloists offer similar packages to both our acoustic acts and our string ensembles. Harpists and pianists are ideal for wedding ceremonies and will often put forward packages that include some, if not all, of the following; Pre-Ceremony performance (20-30 minutes), Ceremony (roughly an hour) and Drinks Reception or Wedding Breakfast (2 x 45 minute sets over a 2 hour time period).
Also, you'll also find that some musicians will even offer a full day package to cover the entire wedding. This would consist of the following; Pre-Ceremony performance, Ceremony performance, Drinks Reception, Wedding Breakfast, Evening Reception + DJ service until midnight. We highly recommend enquiring about Spenser by clicking here if you're interested further in receiving a quote for an all day wedding package.
String Ensembles
Bands For Hire has a superb selection of wedding string quartets and string musicians for hire. Our string ensembles and musicians tend to offer their time per hour, so you'll find that most quotes include pricing for a 1 hour, 2 hour and 3 hour booking as standard. To clarify, this does not include arrival time and set up and we ask all musicians to arrive an hour prior to performance.
For a 1-2 hour booking, most musicians will typically play straight through, but for longer periods of time they will require rest breaks (10-15 minutes at most). For bookings much longer than 3 hours, musicians will require a lunch break (30-40 minutes), so please do discuss this further prior to booking to understand their requirements.
TIPIf the musician that's been hired is to move location (whether this be from the church to the wedding venue or from one room to another at your chosen venue), then please do discuss this further with them to make sure they are agreeable. You may also find additional costs are involved if further travel is required.
For further Tips and Advice on Booking a String Quartet please click here.