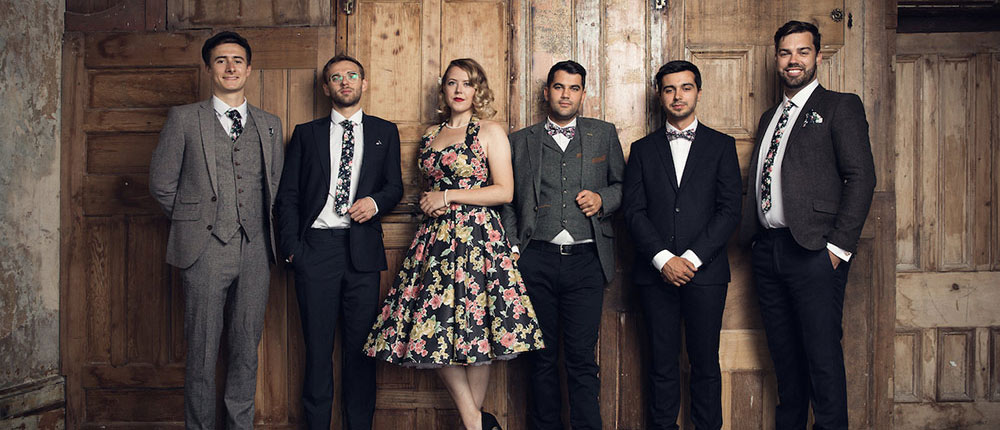 County Durham Swing Bands
For an authentic swinging speakeasy style party, book a County Durham swing band with Bands for Hire! Our strict selection process has lead us to the most professional and talented local swing bands in County Durham, and they're available to you today at a highly competitive rate. As long as you've plied your guests with enough highball whiskies and provided enough room, all you need to do is book a swing band in County Durham with us for a proper prohibition era party!
Swing Bands in County Durham
The golden era of swing gave birth to many classic pieces of music still enjoyed today. Duke Ellington, Glenn Miller, Benny Goodman and, of course, rat pack members such as Frank Sinatra and Dean Martin still make people go misty-eyed with songs like 'In the Mood', 'Fly Me to the Moon' and 'That's Amore', as well as all the other 1930s swing, gypsy swing and 1940s swing. And if that wasn't enough, when you book a swing band in County Durham with us, you'll also be treated to an array of popular songs played in a swing style, much like Postmodern Jukebox. Even the most casual listeners won't be believe their ears when our County Durham swing bands leap head first into Beyonce's 'Crazy in Love', Carl Douglas's 'Kung Fu Fighting' nd the theme tune from 'the Flintstones'. And for events scheduled for the most wonderful time of the year, our swing bands in County Durham like to spread a little Christmas cheer with swing versions of 'Jingle Bells', 'Rudolph the Red Nosed Reindeer' and 'Frosty the Snowman'.
Our flexible and accommodating swing bands for hire in County Durham don't need a vast ballroom to give your guests a night they'll never forget - there's more than one way to get those cats swinging. For smaller scale events like garden parties, bat mitzvahs, works dos, bar mitzvahs and birthdays, we offer alternative line-ups such as swing quartets, swing trios and swing duos. For larger scale events like wedding receptions, corporate events, awards ceremonies and charity events, we can offer a County Durham swing band featuring as many as 8 or 9 members - including a full horn section - adding up to a big band or swing ensemble.
Book a County Durham Swing Band
Your County Durham swing band booking could be complete in just a few simple steps! Scroll down and click on on of our artists to view their photos, videos, set lists and other media, and, once satisfied, type your contact details into the box provided, click 'Send Enquiry', and we'll aim to respond within 48 hours.