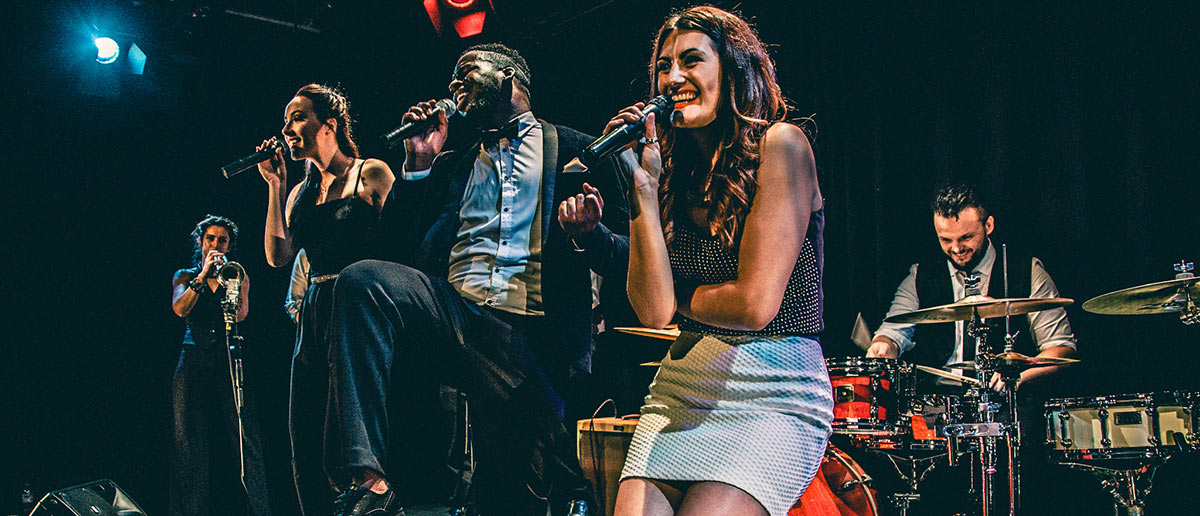 Exeter Wedding Bands
Bands for Hire's superb local wedding bands in Exeter really take the cake! Make your wedding unforgettable with one of our many professional Exeter wedding bands, each of which having tallied up years of experience bringing that extra spark of magic to champagne receptions, traditional white weddings, alternative ceremonies, vintage weddings and more! From the bride's procession down the aisle to the happy couple's first dance, our Exeter wedding bands will be there to serenade you every step of the way.
Exeter Wedding Band Packages
To make things simpler for you in the run up to your wedding (we know better than most how hectic this can get!), we make our Exeter wedding band packages as straightforward and inclusive as we are able. Your wedding band in Exeter will be providing all their own instruments, PA system, lighting rig and a customised iPod playlist of related music to play during breaks. We usually base our quotes on a midnight finish, so if your venue allows music to be played later than this and you want to keep your band for longer, we'll recalculate the quote for you.
Specialist Wedding Bands in Exeter
Your typical wedding band will have put together a well-rehearsed set list of songs spanning many decades, and our Exeter bands for hire are no exception. This way, it's fun for all the family – 50s rock 'n' roll for you grandad, 80s pop anthems for your auntie, and the latest chart hits for your nieces and nephews!
We do, however, have many specialist wedding bands in Exeter to stick to one preferred genre or another. To name but a few, you'll find 1920s and 30s swing bands, jazz trios and jazz quartets, 70s disco bands and funk bands, Motown tribute bands, indie and Britpop bands plus a whole host of string quartets, classical pianists and harpists. Each of our Exeter wedding musicians takes the same flexible and accommodating approach to their craft, and will be more than happy to take your suggestions into account. In their efforts to please as many wedding guests as they can, our specialist Exeter wedding bands have been known to stray a little into other genres – you could well come across a jazz band playing the Kaiser Chiefs, or a string quartet playing Michael Jackson!
Book a Wedding Band in Exeter
Our widely recommended hiring services are kept at highly competitive rates, bringing professional quality live music to you at affordable prices. When you book with Bands for Hire, you'll be well looked after from the moment you make contact – we promise to make the booking process as stress-free and enjoyable as possible, and will make all information regarding prices, performers and logistics readily available to you. Please feel free to contact us should you require any further information.