100+ Bridal Entrance Songs to Walk Down The Aisle to
Details

Category: wedding songs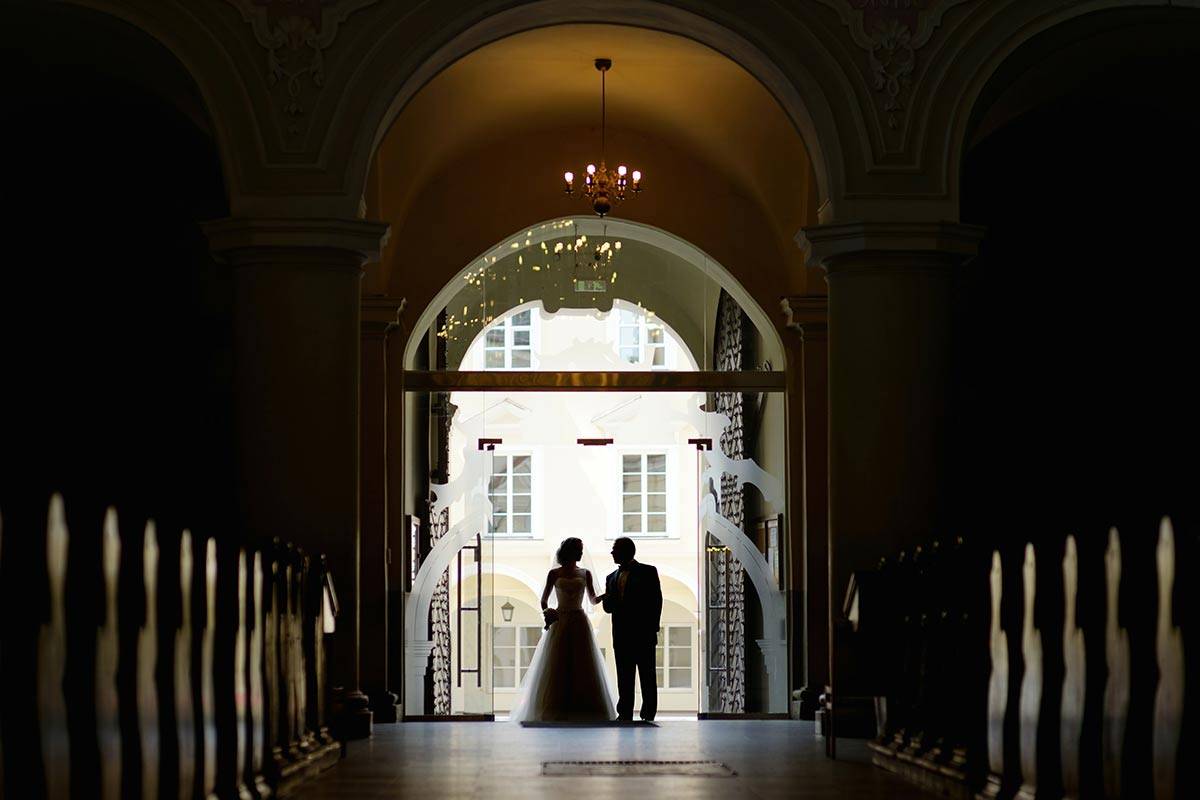 Here comes the bride! One of the most memorable parts of your big day will be the moment the bride enters the room - it's the first time the groom and the wedding guests will see the bride, so it's essential to give that moment the impact it deserves!
To make a grand entrance, you're going to need to pick a suitably grand entrance song to walk down the aisle to. Your choice of processional song will help set the tone for the rest of your wedding ceremony, and you can continue your chosen musical theme for other important moments, such as your first dance song.
You might be a traditional couple who'd prefer a more classic processional song, or you might want to put a more personal twist on your wedding ceremony and choose a more modern song - the choice is yours!
To help you narrow down your search for the perfect wedding entrance song, we've listed by genre the most popular tunes that couples are walking down the aisle to today. Our lists cover everything from dance songs to rock anthems to movie soundtracks - nothing is off the table when it comes to choosing the best wedding music for you. Top 10 Most Popular Entrance Songs
The easiest way to choose your bridal entrance music is to look at what everyone else is doing - these entrance songs must be this popular for a reason! Here are 10 of the most frequently chosen wedding songs to walk down the aisle to - modern, classics, modern classics and more:
Canon in D - Pachelbel

Play

At Last - Etta James

Play

Songbird - Fleetwood Mac

Play

Here Comes The Sun - The Beatles

Play

A Thousand Years - Christina Perri

Play

Somwhere Over The Rainbow - Israel Kamakawiwo'Ole

Play

Make You Feel My Love - Adele

Play

Isn't She Lovely - Stevie Wonder

Play

Your Song - Elton John

Play

I'm Yours - Jason Mraz

Play
Classical songs to walk down the aisle to
These masterpieces never get old. Whether it's the rich harmonies of the string quartet or the intricate dynamics of the piano, classical music is a must if you're planning the dream traditional wedding ceremony:
Claire de Lune - Debussy

Play

Water Music Suite: Air - Handel

Play

Bridal Chorus - Wagner

Play

Cello Suite No.1 - Bach

Play

The Swan (Le Cygne) - Saint Saens

Play

Ave Verum Corpus - Mozart

Play

Jesu, Joy Of Man's Desiring - Bach

Play

Una Furtiva Lagrima - Gaetano Donizetti

Play

Wedding March - Felix Mendelssohn

Play

Ave Maria - Bach/Gounod (Callas)

Play
Romantic wedding songs
What could be more fitting on your wedding day than the ultimate love song? Turn the romance up to 11 with our top romantic songs for your wedding entrance:
She - Elvis Costello

Play

I'm Kissing You - Des'ree

Play

Can't Help Falling In Love - Elvis Presley

Play

What A Wonderful World - Louis Armstrong

Play

How Sweet It Is - James Taylor

Play

When A Man Loves A Woman - Percy Sledge

Play

First Day Of My Life - Bright Eyes

Play

Perfect - Ed Sheeran

Play

Stand By Me - Ben E. King

Play

Kiss From A Rose - Seal

Play
Unique Wedding Songs
Not everything has to fit into a genre - if you don't want to be pigeonholed and prefer to do your own thing, here are some unique wedding songs which are equally hard to categorise to set you apart from other couples:
Hoppipolla - Sigur Ros

Play

A Whiter Shade Of Pale - Procol Harum

Play

Friday I'm In Love - The Cure

Play

Bittersweet Symphony - The Verve

Play

Sea Of Love - Cat Power

Play

Our House - Crosby, Stills & Nash

Play

Wild Rose - Will Stratton

Play

Carry You - Novo Amor

Play

Never In My Wildest Dreams - Dan Auerbach

Play

My Favourite Story - Jack In Water

Play
T.V & Film Soundtracks
Maybe you're both TV and film buffs and want to share your love of the small and silver screens with your weddings guests! Here are some of the most universally beloved theme songs and instrumental pieces for a wedding straight out of the movies:
Forrest Gump Theme - Alan Silvestri

Play

Can You Feel The Love Tonight - Elton John (Lion King)

Play

You've Got A Friend In Me - Randy Newman (Toy Story)

Play

Tale As Old As Time - Beauty & The Beast

Play

Game Of Thrones Theme - Ramin Djawadi

Play

Young & Beautiful - Lana Del Ray (The Great Gatsby)

Play

)

Don't Wanna Miss A Thing - Aerosmith (Armageddon)

Play

Iris - Goo Goo Dolls (City Of Angels)

Play

Kiss Me - Six Pence None The Richer (She's All That)

Play

You Make My Dreams Come True - Hall & Oates (500 Days Of Summer)

Play
Acoustic Wedding Songs
There's something wonderfully intimate about acoustic instruments. Here are some songs to bring you closer together whilst you're walking down the aisle:
Guiding Light - Mumford & Sons

Play

Can't Help Falling In Love - Elvis Presley

Play

Thinking Out Loud - Ed Sheeran

Play

All Of Me - John Legend

Play

Better Together - Jack Johnson

Play

Here, There & Everywhere - The Beatles

Play

Somewhere Only We Know - Keane

Play

Mirroball - Elbow

Play

Latch - Sam Smith

Play

Halo - Beyonce

Play
Read More: Acoustic Wedding Songs
Indie Wedding Songs
Fun, quirky and sweet - do these words describe you as a couple? Because they certainly describe the indie wedding songs on this list:
Angels - The XX

Play

The Wedding Song - Yeah Yeah Yeahs

Play

Sweet Disposition - Temper Trap

Play

To Be Alone With You - Surfjan Stevens

Play

She Moves In Her Own Way - The Kooks

Play

Two Doors Down - The Mystery Jets

Play

Home - Edward Sharpe & The Magnetic Zeros

Play

You've Got The Love - Florence & The Machine

Play

Toothpaste Kisses - The Maccabees

Play

I Wanna Be Yours - Arctic Monkeys

Play
Read More: Indie Wedding Songs
Rock entrance songs
Whoever said rock doesn't have its softer side has clearly never heard these iconic love songs from some of the heaviest artists to ever walk the globe. You'll be walking down the aisle with your fists raised and your heads banging to our top rock wedding tunes:
The Only Exception - Paramore

Play

Nothing Else Matters - Metallica

Play

Good Riddance (Time Of Your Life) - Greenday

Play

Crazy Love - Van Morrison

Play

Sweet Child O'Mine - Guns & Roses

Play

I Belong To You - Muse

Play

Wild Horses - The Rolling Stones

Play

XO - John Mayer

Play

Thank You - Led Zepplin

Play

White Wedding - Billy Idol

Play
Folk songs
If you're both fans of acoustic music, folk is definitely the right direction for you. Folk music also fits in well with rustic themed weddings - here are the best songs for you to walk down the aisle to in your converted barn:
I Will Wait - Mumford & Sons

Play

Riptide - Vance Joy

Play

Ho Hey - The Lumineers

Play

Skinny Love - Bon Ivor

Play

Higher Love - James Vincent McMorrow

Play

5 Years Time - Noah & The Whale

Play

Northern Sky - Nick Drake

Play

And I Love Her - Passenger

Play

If Only You Could See Yourself Like I See You - Foy Vance

Play

We Found Each Other In The Dark - City & Colour

Play
Funny Songs
Nothing breaks the tension like a good sense of humour - if you're nervous about your big day, or just fancy a laugh before you marry the love of your life, lighten the mood with one of our best novelty songs:
These Boots Are Made For Walkin' - Nancy Sinatra

Play

Single Ladies - Beyonce

Play

Linger - The Cranberries

Play

Bad Guy - Billie Eilish

Play

thank u, next - Ariana Grande

Play

Bad Touch - Bloodhound Gang

Play

I Want To Break Free - Queen

Play

Let's Get It On - Marvin Gaye

Play

I Still Haven't Found What I'm Looking For - U2

Play

Don't You Want Me Baby - The Human League

Play
Country & Western entrance songs
If you want to walk down the aisle with a spring in your step whilst listening to love songs with truly heartfelt lyrics, listen to our top Country & Western picks:
Wildest Dreams - Taylor Swift

Play

I Love The Way You Love Me - John Michael Montgomery

Play

Hurricane - Luke Comb

Play

My Best Friend - Tim McGraw

Play

God Gave Me You - Blake Shelton

Play

I Just Wanna Love You - Blake Shelton

Play

The Bones - Maren Morris

Play

To Know Love - Little Big Town

Play

When You Say Nothing At All - Alison Krauss

Play

Friendship - Chris Stapleton

Play
Golden Oldies
Are you a retro couple whose heads are firmly facing backwards? These oldies are golden for a reason - give your wedding guests a trip down memory lane as you walk down the aisle towards your happy future:
God Only Knows - The Beach Boys

Play

Marry Me - Train

Play

All You Need Is Love - The Beatles

Play

Waterloo Sunset - The Kinks

Play

I Can't Help Myself - The Four Tops

Play

Suddenly - Billy Ocean

Play

You're My Best Friend - Queen

Play

The Luckiest - Ben Folds

Play

There She Goes - The La's

Play

It Must Be Love - Madness

Play