50th Birthday Party Ideas to Guarantee a Good Time
Details

Category: blog
Updated: 25th May 2022
Five decades. Half a century. Fifty trips around the sun.
However you measure the years, reaching your 50th birthday is a massive accomplishment! It's a mighty and marvellous milestone that deserves an unforgettable blowout celebration! After all, it'll be another ten years before you hit the next big milestone - do you really want to wait that long?
Planning a truly fabulous fête for the big five-oh requires a lot of forethought and a few unique 50th birthday party ideas to get the ball rolling!
It can be tricky to plan a memorable event, even with fifty years of party-going experience under your belt! Luckily, we've created this guide to help kickstart the planning process, so you aren't left with an uninspired celebration that was already stale in the 70s!
Keep reading to learn about our best ideas for a 50th birthday party.
50th Birthday Party Themes
Not every 50th birthday party needs a theme, but a great one can set the mood and the tone of the celebration... and make things much easier on the intrepid party planner! While any theme the guest of honour loves is fine, it can also be fun to play into the milestone a bit! Here are a few ways to keep those fifty fantastic years at the forefront when choosing a thrilling theme!
Dancing Through the Decades Party
Most guests arrive at a party expecting to dance, so why not throw a dance party for (and about) the ages? Choose a venue with a generous dance floor and a raised stage for performers.
Encourage guests to come in clothing they can dance in, or provide a fun pair of socks for each guest so they can kick off their shoes and get down! The dancing socks also make brilliant fiftieth birthday party favours!
The key to a successful "dancing through the decades" party is a versatile function band that can play fifty years of hits in a single evening! Barring that, bring in a few groups or performers who specialize in the sound of a particular decade. Start the night off with the song that topped the charts on the guest of honour's first birthday and boogie through fifty years of hits!
It doesn't get more nostalgic than a musical stroll down memory lane. Plus, the range of genres means the night will never get stale! You might want to include a photo slideshow between each decade, featuring photos of your guest of honour during that period!
Fifty Years Of Film Party
Is your guest of honour a film buff? Why not embrace fifty years of their favourite films with a movie-themed party?
If you plan to have a formal meal, theme each one after a different favourite film. Include a centrepiece inspired by details of the movie, and match the other decor to the movie poster. Decorate the room with the film posters and include plenty of Hollywood-inspired uplighting.
Setting up a red carpet and "step and repeat" for guests can be fun as they arrive. Have a photographer ready to snap photos of the guest of honour with each arriving guest. You can re-use the backdrop later as part of a DIY photo booth with plenty of glamorous photo props.
Make sure to include some movie trivia as an activity during the party. If your guest of honour can take a joke, you can also host an "awards show." Have your guests present the guest of honour with a few silly "lifetime achievement awards" to poke some fun!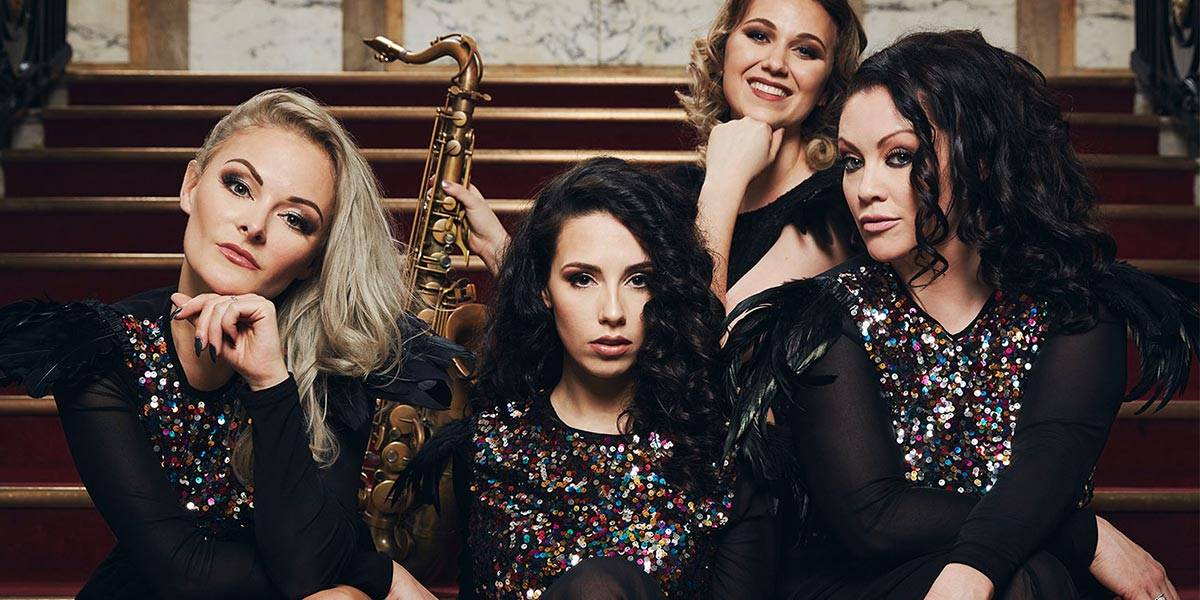 Party Entertainment
Take your event to the next level with one of our live party bands, musicians or DJs
A Golden Gala
The 50th birthday is "the golden milestone," so why not plan a gilded event with a high-end aesthetic? Fill the space with golden 50th birthday party decorations such as mylar balloons and confetti. You can even ask the guests to come dressed in black so the guest of honour can deck themselves out in gold and stand out in your photos!
While 50 is still a touch young to listen to "the golden oldies," you might embrace a more ornate age and bring in a postmodern jazz band to add some timeless flair to the occasion! The right band will get the guests moving with a combination of decadent jazz-age favourites and contemporary hits. Their stunning costumes will add an extra touch of golden pizzaz to the affair!
You can also add a touch of gold to the menu! Many contemporary chefs can cook gourmet dishes using edible gold. After fifty years on earth, your guest deserves a taste of the finer and more frivolous things in life! Barring that, golden dinnerware is classy and luxurious and will make any dish feel like a Michelin star meal!
Unique Ways to Celebrate
Not every 50th birthday party needs to be a sit-down dinner at an event hall! If you're honouring a quirky guest of honour, throw a party that is as vibrant and unique as they are! Here are a few less traditional (but equally exhilarating) ways to celebrate! A "Vintage" Wine Tasting
Toast to a new vintage with a classy wine tasting!
If possible, host the event at a local vineyard. About 250 vineyards across England and Wales are open to the public and can help you arrange the tasting of your dreams. The gorgeous landscape means you won't need to do much decorating!
Barring that, you can throw a beautiful wine tasting right in your garden. Hang some lovely lanterns, set out some beautiful table cloths, and you'll have a classy and intimate space to try some fabulous wines.
You'll be at the forefront of the latest trends when you buy or create a charcuterie board to go along with the wines. These classy creations are artworks in their own right, and include everything from meat and cheese to chocolate! You can even build a dessert board to go along with some tasty sparkling dessert wine later in the evening!
Add to the ambiance by hiring a string quartet to play during the tasting and mingling portion of your party. Once the guests are a touch tipsy from wining and dining, you can bring in a more upbeat ensemble to kick off some dancing!
A Destination Celebration
Why not let the world become your party venue? If you have a guest of honour who loves to travel (or who has always wanted to travel but hasn't had a good enough excuse), try a destination celebration! Rather than hosting a traditional party, go on a holiday with friends and pull out all the stops!
This is the time to dine out for every meal, sign up for that couple's massage, or spend every waking moment on the beach! See that piece of artwork you've always admired or visit that landmark you dream about. If you don't do it by the time you're fifty, are you ever going to go? A Gorgeous Garden Festival
If the guest of honour has a green thumb, make the plants the star of the show! In warmer months, hosting a party at a local historical or botanical garden is a beautiful way to celebrate. Give guests free rein to mingle among the growing things, with tables spaced out across the beautiful landscape.
A large outdoor party calls for roving entertainment. While you might hire a band for dancing in the evening, a roaming band creates a perfect underscore for mingling among the posies with cocktails in hand.
If it pleases, you might even include an area for making floral crafts. Guests can build wreaths or try their hand at arranging cut flowers.
Ask the chef or caterers to garnish each dish with edible flowers. You can even choose a botanical theme for your cocktails!
A 50th birthday holiday is a wonderful way to create brilliant memories that will last you until the next milestone birthday. If you think you'll miss celebrating with friends and family, hold a smaller gathering so everyone you love can see you off!
Mastering the 50th Birthday Dinner Party
A holiday in the Maldives or a trip to Florence isn't for everybody. For the rest of us, there are traditional dinner parties! A stunning sit-down dinner is a classic way to show love and appreciation for your celebrant with food, music, and lots of laughter!
Here are a few variations on the dinner party to help ensure that your celebration is unique and memorable.
A Luxurious Meal at Home
If your guest of honour is a homebody, you can still throw a fabulous, gourmet dinner party in comfort! Consider bringing in a private chef to prepare an elevated menu right in your home kitchen. They can customize the menu to suit the taste of the attendees, and the food will be as hot and fresh as a meal from a restaurant!
You'll have full control of the environment and can decorate as much or as little as you please. Invite a few guests, or pack your house to the rafters! You can add some ambience and atmosphere by hiring a solo guitarist to keep guests occupied in between courses!
A Restaurant Dinner Party
If you lack the kitchen space, rent out a restaurant (or a restaurant's function room) for a culinary celebration! Many offer prix fixe or party packages that can help make things more organized and affordable. You'll have enough space for all the speeches and slideshows you'd like, but you won't be responsible for the cleanup!
When you don't need to focus on the menu, you can shift your focus to the entertainment. You can hire a DJ, or rent a karaoke machine and let the guests do the work! Depending on the size of the restaurant, you can even plan a small scavenger hunt or play a quiz game.
Choosing a restaurant as a venue is a great way to split the difference between a casual party and a stiffer catered affair. It can create a wonderful atmosphere to kick back and reminisce about the past fifty years!
DIY Dining
What do you do when it's the guest of honour who's the gourmet? If your celebrant truly loves to cook and doesn't want to take the day off, host a DIY dinner soiree! Again, you may need to host this celebration in your home, but the freedom it affords you is worthwhile!
Have the guest of honour help you create the menu, then buy top-quality ingredients. Give each guest a task and work together to cook a multi-course meal from scratch! You might be able to bring in a teacher from a local culinary school to help inexperienced guests with knife skills or advanced techniques!
This option takes a lot of the pressure off, as the cooking and eating are the entertainment! Even so, you might want to bring in a bit of dinner music for when you finally sit down to feast. A low-key acoustic duo can add the perfect ambience to an in-home affair! Fabulous 50th Birthday Party Ideas
A person can only turn 50 once, and a 51st birthday bash doesn't quite have the same level of gravitas! That means you only have one shot to get this milestone birthday celebration perfect! When you start your planning with one of our 50th birthday party ideas, you're sure to create memories that will last you another 50 years... or longer!
One thing that all party-goers talk about is an energetic and dynamic live performance! Your guests may be over the hill, but a lively musical act can add some extra pep to any party. Reach out today so a representative from Bands For Hire can help connect you with the perfect band or DJ, no matter what party theme you choose!