14 Fun & Unique Birthday Party Ideas
Details

Category: blog
Updated: 16th February 2023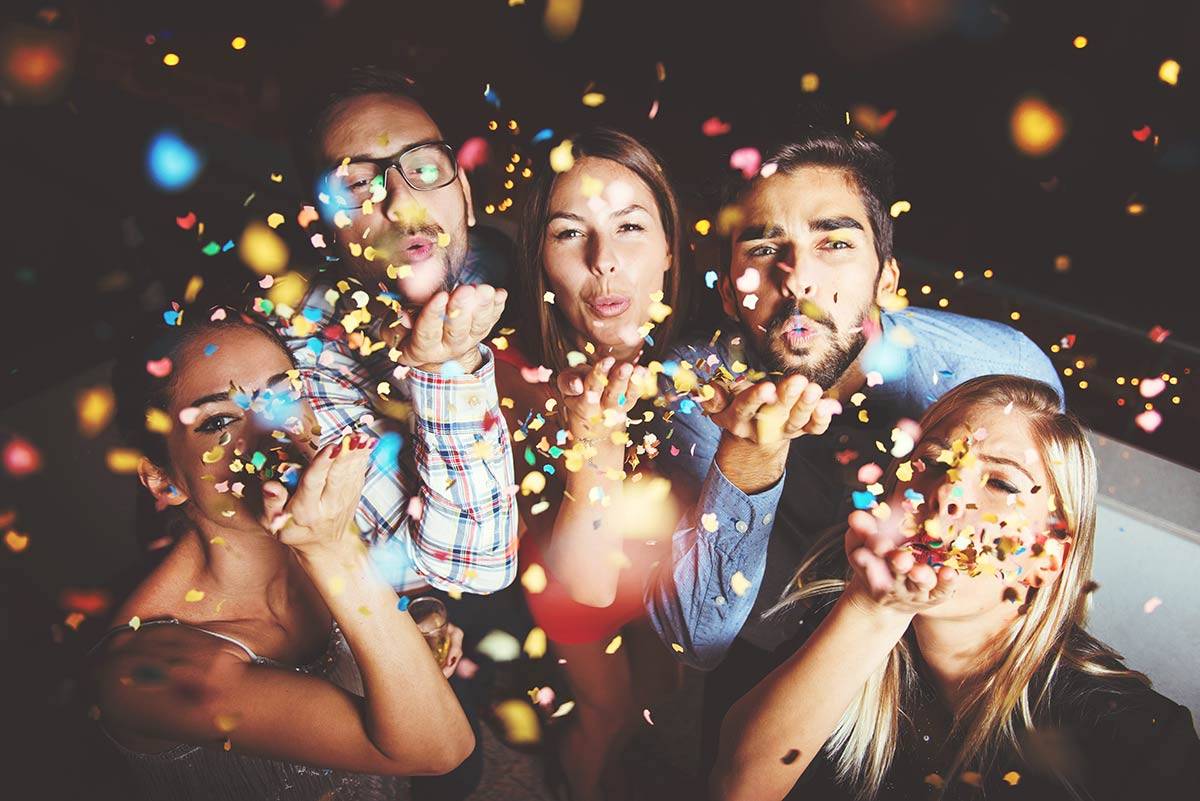 Almost everyone experienced a lockdown birthday party in 2020. A lucky few slipped through the cracks, but most of us were unable to celebrate the way we wanted and with those we love.
Times are slowly changing, and the world is reopening, so the opportunity to plan a grand birthday bash is back on the cards.
If your big day is fast approaching and you're struggling to come up with some spectacular ideas for your adult birthday party, fear not - we're here to help.
Keep reading for some inspiring birthday celebration ideas that will make your special day epic!
Birthday Celebration Ideas For Adults Casino Royale
Who doesn't secretly want to be a spy? A James Bond-themed adult birthday party gives you the opportunity to be chic and stylish and embrace your inner covert operative.
Guests should embrace the glamour and take the opportunity to wear their very best threads. Think black tie, ballgowns or slinky evening dresses to distract and beguile.
Make sure your venue is suitably elegant, with sparkling chandeliers and a private casino for guests to spin the night away. Hire a few games tables and croupiers to set the scene with blackjack, roulette, and poker. You'll need a well-stocked cocktail bar as well to serve some high-class drinks.
Music is key to making the night go with a swing, and if you want to evoke the Monte Carlo high life, you'll need a live band. A jazz band would be a perfect fit here to set off that 60s relaxed vibe or even a string quartet if you want a more decadent affair.
90s Concert
Those of us who can remember the greatest hits of the 90s are likely to have a significant birthday on the horizon. What better way to ring in your forties than letting your hair loose to all the best dance-pop trends and alt-rock classics?
Guests should dress casually in their best 90s drip, so it's an excellent opportunity to break out the flared jeans, chokers and crop tops from the wardrobe. Let there be no shame in headbands, high ponytails or shaggy, unkempt hairstyles either.
For the decor, you'll need to choose your favourite genre from the decade. If you were all about the clubs, lean into neon LED lighting and glowsticks and give the venue some pre-2000s glamour. For the indie rockers, don't forget the Union Jacks, dingy lighting and smoke machines to recreate the grubby essence of the Madchester scene.
The cake should be something that evokes the best memories of the era. A boombox cake or a cake shaped like a pair of brightly coloured Doc Martin's would be a great fit.
Live music is a must for a concert, so you'll need a 90s band that knows all the classics. From Oasis to Steps, the 90s was a diverse decade musically, so you have a huge back catalogue from which to choose your tunes. Have A Bake-Off
The Great British Bake Off has been a roaring success in Britain and now globally. It's also become an unexpected inspiration for a fantastic adult party theme, especially for those of us who can't resist adding a little bit of competition to the proceedings.
Take the garden party and turn it on its head by embracing the countryside kitsch and glamour of the eternally popular baking competition. The event works best outside in a marquee to evoke the setting of the TV show.
Decorate the venue with white tablecloths and floral centrepieces. You could use baking tools as part of the decor in flower displays or for your guests to play with as they eat.
Competing guests should bring their cakes from home, as cooking onsite would prove a challenge. Within the competition, you could have categories and brackets, all leading down to one overall winner.
The birthday star needs to be the judge for the event and decide which is the best and winning cake. All of the cakes should become part of the buffet so that the guests get the whole experience as well. Finger sandwiches and tiered cake trays will fit the mood perfectly.
The theme tune from GBBO has a lot of pizzicato strings and cheerful cellos, so a string quartet would be the best choice for live music. They can even play some dramatic music to set the scene when the judge makes their final decision. A Movie Night
A night under the stars watching your favourite movie is a great way to celebrate a birthday. Spend time with your favourite people, on-screen and off, and generally chill out for the evening.
You'll need a venue with a large comfortable lawn and somewhere when you can string up a temporary screen. You could even hire a specialist company to set up a mobile cinema to give you the best audio-visual experience.
Guests can bring their own blankets and cushions to get comfy on the ground, or you could provide deck chairs to relax in with mini-picnic baskets for everyone. String lights are essential decor to give the evening a magical feeling.
As guests arrive to set up their picnic areas, provide a bar area where they can chat and relax before taking their seats. A little bit of background music would go well here to set the atmosphere. Perhaps a pianist playing some movie classics while your guests converse and wait for the movie to start. A Classic Meal With A Twist
Possibly one of the favourite birthday events is the visit to a restaurant with close friends and good food. Speak to the restaurant to make a reservation and ask if you can add little extras to make the night special.
Some restaurants will have a private room that you can hire exclusively for your party. They will let you decorate the room for the birthday event with balloons, table sprinkles and party hats to set the mood.
You can make sure that the restaurant has the birthday cake on standby in the kitchen, ready to dim the lights and bring it to the table, candles aflame.
Provide some background music in the form of a pianist or solo guitarist to keep guests entertained while they dine. You could even hire singing waiters to surprise the guest of honour with a song. Hidden amongst the usual wait staff, they could suddenly break into their favourite song on queue for a spectacular musical surprise.
It's sure to make some unforgettable memories. Hold A Village Fete
If you want to evoke the feeling of being back in the countryside in your youth for a birthday celebration, then why not host a village fete?
You'll need a rural venue with some space for a marquee, stalls, and games. Guests will be free to wander about the venue playing games, winning prizes, and entering competitions in the marquee.
Don't forget to hold the biggest courgette or best fruit cake contest which the birthday guest of honour can judge and award prizes to the guests. Games should be village fete classics such as tug of war, quoits, hoopla, and a coconut shy.
Go with a big barbeque buffet for food at the event. Set up an outside seating area under the trees and string lights with mismatched wooden seats and tables and classic teatime crockery.
Once the games and competitions are complete, clear away the tables in the marquee and set up for a good old-fashioned square dance. Guests will not be able to resist a jig once the band strikes up a tune. Hire a band with an abundance of barn dance hits, and everyone will be up on their feet until dawn, having a grand old time.
A Spanish Birthday Fiesta
The Spanish certainly know how to throw a party with great food, music and dancing. We can learn a lot from our European cousins and steal a little bit of their party pizzaz along with a fun adult birthday theme.
Decor needs to be bright and vibrant with lots of vibrant yellows and passionate reds, the colours of the Spanish flag. Fans make a nice addition as a table decoration as they are a historic symbol within the country.
Your party entertainment might include a traditional flamenco dancer or duo to impress and astound the crowds with their lightning-quick steps and aggressive passion. A solo Spanish guitarist is the perfect musical accompaniment for both the dancing and keeping the guests entertained during a meal.
There are a plethora of food choices from Spain as each region has its own special dish. Paella is an obvious pick and can come in various flavours and styles to suit your guest's tastes.
You could also offer 'tapas' at the tables with drinks or 'pinchos', a variety of snacks on sticks severed on small plates to share. Don't forget to serve an excellent cava and keep the sangria flowing all night long. A Hawaiian Luau
A popular lavish theme for a birthday party is the Hawaiian Luau, making for the perfect beach party. If you can get a venue on or near a beach, this theme is ideal, but if travel is a little restricted, you could always bring the beach to you.
Think warm tropical evenings under the palms, soft golden sand underfoot and gentle ukelele music drifting in on the breeze. Decorations should be bright and colourful, reflecting the sultry vibes of a night in Hawaii. Pineapples and coconuts make great table dressings and can even be used as drinking vessels.
Buy lots of straws and umbrellas for the juicy cocktails to give your guests. Make sure they each receive a 'lei' or flower necklace when they arrive. Ladies can wear hibiscus flowers, the national symbol of Hawaii, in their hair.
Lighting should be soft candle lanterns and tiki torches to set the scene. When the party goes later into the evening, you will also need to break out the limbo bar and see how low people can go.
Hawaiian music comprises ukelele guitars and rhythmic beats, so be sure to hire a band that can fill the night air with traditional music. Mardi Gras
Heading further south, you can style a party on the biggest fiesta of all, the Mardi Gras. Going to a carnival in New Orleans means partying like it is the end of the world. The celebration brings life, death, music, and food together into a melting pot of culture and good times.
The masquerade ball is a central feature of the Mardi Gras, so get your guests to dress up and wear a spectacular mask for the evening. Feather boas, bead necklaces, and pockets full of doubloons should also be part of the attire. Add them as table decorations for guests to play with as they get into the good vibes.
You can't do a night in the Big Easy without some infamous Dixieland jazz, so you will need to hire a swinging band to keep the tunes flowing along with the rum cocktails.
You can never go too big with a Mardi Gras birthday party, so let your hair down and be transported to the steamy nights in the bayou with fantastic music and drinks till dawn. Bandeoke
Have you ever fancied being the star for the night? Have you ever wanted to sing with a live band but never really found the courage? Then 'bandeoke' could be the perfect birthday party to bring out your hidden wild child. It's your party, so rock out if you want to.
The bandeoke trend is enormous fun if you love Karaoke and singing in front of a crowd. Hire a band for your birthday party and get them to play all the classics. However, instead of listening to the frontman, you take their place and sing the lead.
It's a great party idea that works at most party events and in any venue. You just need a stage and some tables set up as you would find in a nightclub. Lay on a bar to loosen the vocal cords, and you're good to go.
The band will be talented enough to keep you on time and back you up as you belt out the hits. It makes for an incredibly memorable evening, a fantastic birthday surprise, and possibly a few sore throats the following day.
Speakeasy Night
Take everyone back to the original 20s with a fantastic birthday party in your own speakeasy. With swinging jazz, gin cocktails and champagne on tap, it's time to celebrate your birthday as Gatsby would.
Find a venue with a classic 1920s vibe by looking for a bar with cosy booths, a dancefloor and lots of crystal and chandeliers. Keep the theme colours very simple with black and white decoration and splashes of colour in the form of gold and silver.
If you want to mimic the decor of a dim and smoky speakeasy, you'll need martini glasses, peacock feathers, strings of pearls and candles scattered throughout the venue. Keep the lighting low and encourage groups to gather around table lighting in the booths and tables.
Entertainment requires a swinging 1920s live band that guests can dance to after a few martinis. Charleston, jazz should undoubtedly be on the menu, but you could even bring the music up to date with a bit of electro swing. Get the band to cover some hits by The Cherry Popping Daddies and Caro Emerald for a more modern yet theme-appropriate vibe.
You may want to lay on some speakeasy games in some darker corners of the bar. Leave some cards and chips lying about so guests can play poker while they drink. Finally, give the guests a password with their invite, so they feel like they are gaining access to the most exclusive party in town.
80s Classics
For those of us approaching our fifties, we all likely have a soft, fuzzy-focused glow for the big beats and bigger hair of the 1980s. Take yourself back to those halcyon neon days with a birthday party themed on the decade that didn't know how to quit.
A dance hall venue is essential for an 80s party as it will provide ample opportunities to rock out or slow dance in a corner with your crush. Encourage guests not to hold back with their attire. Oversized jacket with ripped jeans and polo shirts for the boys and puffy sleeves, shoulder pads, and chunky jewellery for the girls should be on order.
There can never be too much hairspray, so stay away from any open flames at the event. Ponytails on the boys are actively encouraged unless they want to go full Stadium Rocker with double denim and hair as big as their egos.
You can have real fun with the decor as nothing is really too over the top in this decade. Neon lighting has to be everywhere, and a central disco floor is a must. Decorate the tables with Rubik's cubes and music tapes.
Get a band that knows all the classics from rock till your drop headbangers to the soft, new wave classics. 80s cocktails were big and over the top like everything else. Don't forget to break out the Babysham as well.
Keep everyone entertained with various games, including a break dancing contest, a lip synch-off, and who can do the best air guitar. What better way to remember your teenage years?
A Birthday Ball
The most elegant party of all, harking back to the golden age of debutants and country galas, is the birthday ball. Be your own duke or duchess for the evening and host the most remarkable event in town.
A ball requires a ballroom, so you'll need a suitably refined venue with room for talking, walking, and of course, dancing. A hotel ballroom is usually the best choice for an event such as this. Make sure the venue also has a veranda for guests to escape and gossip about the nightly events under the stars.
Hire a caller to introduce your guests to the room as they arrive. If the venue has a stately flight of stairs for them to descend as they enter, all the better. The caller can also manage the dances when your guests take the floor and introduce the steps for the group numbers.
Decorations will need to be lavish and coloured in whites, gold and silvers. Lots of lighting, including candelabras, should decorate the tables. Guests should've been asked to attend in their most formal attire, with ballgowns and dress suits highly encouraged.
For the music, you will need a string quartet or small classical band to play the waltzes for your guests to dance to during the evening. A harpist would also make an excellent addition during the meal and for moments when your guests just want to sit and recharge.
A ball is the highest class of party you can aspire to and will undoubtedly be the talk of your friends for many years to come. Make Unforgettable Memories With These Birthday Party Ideas
A birthday party is a very personal event and a time to celebrate another year with those you love and cherish in your life. It is also a time to share the things that you most value with your friends and family. Hopefully, some of these birthday party ideas for adults have sparked some inspiration for your next big celebration.
Birthday parties are an opportunity to bring together the people, food, and drink that you most enjoy. Music is a big part of that and fills the evening with joy and energy. Choosing the right music for your event is a big decision and one that we can help you with.
If you're planning a big birthday event in the future, then get in touch with us, and we'll help you find the perfect birthday party band to fill the night with the music that you love.