30 Unique Engagement Party Ideas to Celebrate in Style
Details

Category: blog
Updated: 26th January 2023
You've popped the question, but it might be a while until you can tie the knot! In the meantime, many couples decide to throw an engagement party to celebrate their upcoming nuptials. It's a great way to tide yourselves over until you reach the big day!
These celebrations run the gamut from casual, at-home affairs to over-the-top banquets with all the fixings. In other words, the only rule for engagement parties is that there are no rules! Anything goes when it comes to themes and venues!
While the opportunity for creativity might inspire some couples, it's enough to terrify others! Not sure where to start?
We've curated this list featuring thirty of our favourite engagement party ideas for newlyweds-to-be. Whether you're a "black tie banquet" couple or "pancakes and PJs", there's an idea for you!
Keep reading to start planning your perfect engagement celebration!
1. The Instant Celebration
If you're planning an over-the-top proposal, why not plan an engagement celebration to match? Choose a proposal that involves all your friends and loved ones, ideally in a festive location. Once you've popped the question, you can transition right into party mode then and there!
If you've proposed in the park, turn the proposal into an instant picnic! If you've proposed at a landmark location, usher the crew to a nearby restaurant, where a table is already reserved. It's easy, immediate, and keeps the good vibes flowing all night long! 2. A Wine and Cheese Soiree
If you're seeking classy engagement party ideas, consider hosting a wine and cheese celebration. The star of this party will be the food and drink. It's an opportunity to try your hand at the hip charcuterie trend while sampling delicious wines from across the region.
Bring in a string quartet to accompany your tasting for an additional touch of elegance. A proposal is a big step into adulthood. Enjoy feeling fancy and grown-up!
3. Savor a Sweet Dessert Party
With married life on the horizon, you can look forward to a sweet future! Embrace your saccharine prospects with a sugary, aesthetic dessert party. Make sure you have a gorgeous engagement cake as your centrepiece!
Think of it as a tea party without savoury offerings. Offer a massive Venetian table with every sweet you love and allow guests to pick from the buffet. You can serve them with dessert wines, tea, coffee, or even rent a sugary soda fountain!
You'll have plenty of energy and jitters, so bring in a pop group to help you dance it out! 4. Sail Away at Sunset
If you're seeking a sweet, intimate way to celebrate your engagement, hop on a sunset cruise. You can often reserve an entire boat for your party. Bring your own food and drinks on board and hire a small ensemble to play live music for dancing!
A private boat out on the water is about as romantic as it gets. You might have to limit your guest list, but that also adds a level of intimacy. It's a great time and place to ask your friends to be part of your bridal party.
5. Take It on the Road
Have you considered a destination engagement party? Take a holiday to an inclusive resort where you won't have to lift a finger during your celebration! Travel with a few other couples and bask in the luxury of having all the festivities planned for you!
Take this opportunity to order the "extras" you've always dreamed of. Choose the suite with the in-room jacuzzi! With any luck, you'll only be newly engaged once, after all! 6. A Glamorous Glamping Party
If you love the wilderness — but not too much wilderness — you might enjoy celebrating your engagement with a high-end camping trip! Glamping is camping but with all the amenities. You might stay in fancy yurts or cabins complete with furniture and, of course, plumbing!
Your guests can choose to celebrate during the day or spend the night. Don't forget to plan a blazing campfire. Bringing in a guitar player to lead the sing-along is always a nice touch!
7. Gelato Social in the Sunshine
Are you toasting a summer engagement? Chill that bubbly and bring it into the garden, where you can celebrate with a fun and festive ice cream social! Rent a gelato cart and allow guests to help themselves to some cold, sweet treats in the sunshine!
You can add a touch of whimsy by choosing decor inspired by the 1950s. You might also bring in some entertainment to evoke the era! A 50s rock n' roll band is the perfect touch for a cute, nostalgic soiree! 8. Embrace a Brunch
Brunch is a fancy, liminal meal that we like to reserve for celebrations! Hold your engagement party at your favourite local brunch spot, or whip up your favourites at home. Everyone can enjoy a few "breakfast cocktails" like screwdrivers, bloody marys, and mimosas when they toast to the newly engaged couple!
9. Hold a Tea Party
Do you like the brunch idea but prefer a more traditional, upmarket aesthetic? You can't go wrong when you host a tea party! It's a grand opportunity to dress your best and enjoy your favourite tiny sandwiches. 10. Show a Romantic Movie Outdoors
All you need to throw the perfect romantic outdoor movie party is the side of a building and a good projector! Ask your guests to bring blankets and chairs. Provide a popcorn cart and plenty of cinema snacks and invite everyone to settle in and enjoy a romantic film under the stars!
If you have the means, try to include some "coming attractions" and announce your engagement on the big screen!
11. Start With Art
A fun way to celebrate with a group is to hold a "paint and sip" party! At these events, guests arrive and receive everything they need to paint an original work of art. A host offers step-by-step instructions.
Ultimately, everyone leaves with a painting that looks great, perfect for a new home!
Hosts can usually choose the painting they work on during the party. Ask about "couples paintings" in which two people work on one half of a larger piece. It can add a romantic touch to your festive affair.
12. Throw a Reverse Surprise Party
When you're throwing a surprise party, the guest of honour is usually the one who gets the shock! At a reverse surprise party, the guests of honour get to do the surprising!
Invite all your guests to your home or a restaurant but don't tell them why. When everyone has arrived, take the opportunity to announce your engagement to the world! It can be challenging to keep things hush-hush, but it's worth it for the burst of love you'll experience at the celebration!
13. A Black Tie Banquet
While most engagement parties are casual, they don't have to be! An Old Hollywood-inspired black-tie affair can be the perfect way to share your news with the world! Hire a bartender to make classic, old-fashioned cocktails for guests to sip on as they mingle.
Once the night heats up, enjoy dancing to a live jazz band! A band with a postmodern aesthetic can incorporate all of the latest hits in that distinctive jazzy style. That mix of old and new is perfect for a new union like an engagement!
14. A Floral Fête
If you're hoping to capture some incredible photos at your spring or summer engagement party, choose a scenic venue like a botanical or historical garden. The natural backdrop eliminates the need for any extra decor! Guests can feel free to wander the grounds and mingle, perhaps even partaking in a few lawn games!
A meandering party calls for some roving musicians! Choose a band that is comfortable roaming around an event space. They can set up in lovely locations for small, intimate concerts throughout the event.
15. A "Test Run" Party
If you and your fiance live together, an engagement is a perfect opportunity to invite loved ones into your home. Why not throw a "test run" themed party and cater the meal yourselves? Make your engagement party your first dinner party as a couple, and do everything yourselves as a "test run" for the rest of your lives!
You and your partner will spend some wonderful bonding time together as you learn how to share counter space in your kitchen! It's especially fun for couples who already love to cook. Be sure to include recipes that reflect your respective cultures as an act of "bringing it all together." 16. Passionate Pizza Party
A pizza party is a surefire way to win over the crowd! Consider bringing in a caterer with a portable pizza oven. They can cook up fresh, hot pizzas for your guests — and it makes for great entertainment, too!
Work with the caterer to create a "speciality pizza" that reflects something about your relationship. Perhaps it has two toppings, reflecting each partner's favourite? Maybe they can even whip up a heart-shaped pizza for you!
17. Game Night Party
Why not celebrate your engagement by playing the night away! Host a board game night with plenty of junk food and snacks! You can hold the game night in your home or rent out a favourite cosy venue, such as a local cafe.
An intimate game night with friends is a beautiful way to keep the emphasis on relationships. It's an opportunity to be together and enjoy your changing relationship.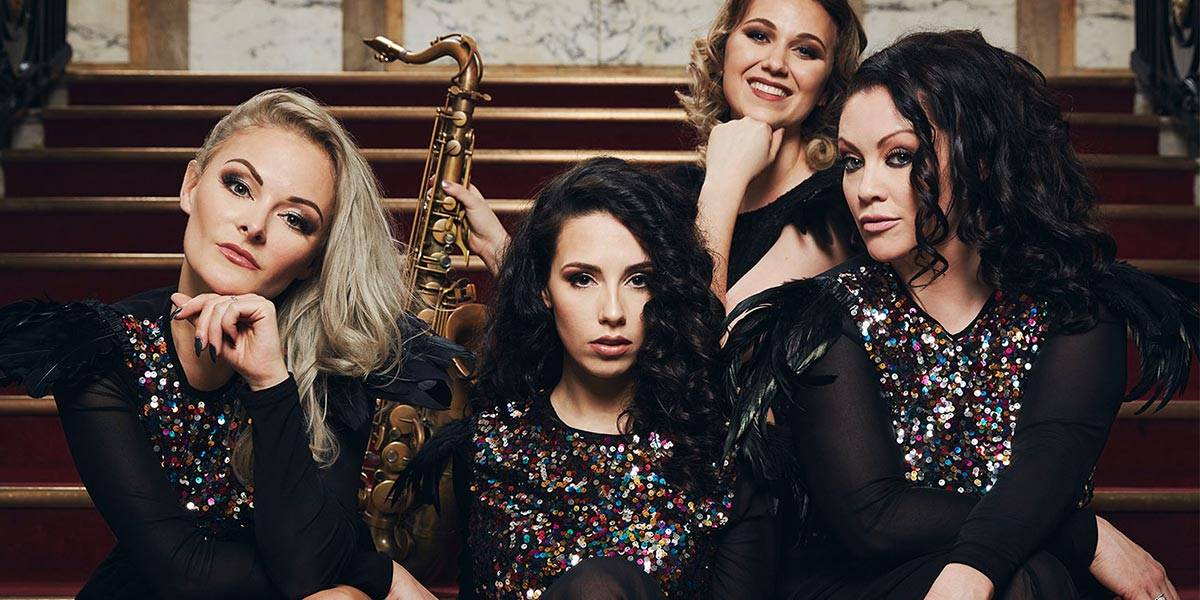 Party Entertainment
Take your event to the next level with one of our live party bands, musicians or DJs
18. Take It to the Pitch
Are you and your partner big football fans? You can hold your engagement party right on the pitch! Invite the crew to attend the next home game and celebrate while supporting your favourite side!
You can make things more festive by having your guests come dressed in matching t-shirts announcing your new relationship status! Everyone can enjoy a pint and a pie at the match. The best part is that you'll have nothing to clean up!
19. A Murder Mystery Bash
A murder mystery party is a great way to celebrate if you and your partner have a flair for the theatrical! Bring in a murder mystery dinner theatre company, or pick up a kit and host one on your own! A murder mystery dinner is ideal if you have friends who love the theatre, as they can keep things running smoothly!
You and your partner can even act in the show! Otherwise, throw a standard dinner party and let your theatrical guests take the reins! The show will play out over the entire evening, so there is never a dull moment!
20. Hold a White Party
A classy way to celebrate a summer engagement is by throwing a white party. Encourage a strict dress code, asking guests to come in white outfits. The happy couple can match the theme or choose to stand out in a colourful ensemble.
Every classy party calls for dancing under the stars! Hire a festival band to set a seasonal mood. Offer flower crowns as favours to add a bohemian midsummer touch!
21. A Pajama Party
A pyjama party is a low-key and relaxed way to celebrate a major life transition! All you need to do is host an old-fashioned slumber party, complete with pyjamas, movies, junk food, and spooky stories!
In the morning, make things more polished by hosting an engagement breakfast. Who doesn't want to enjoy a fluffy stack of delicious pancakes in their PJs? Guests can lounge around as they sip from their favourite breakfast cocktail.
22. A Casual Coffee Bar
If you and your partner are caffeine fiends, celebrate with a fancy coffee bar. Hold the event at a fancy cafe. Rather than an open bar with alcoholic drinks, allow guests the opportunity to order that fancy latte or espresso they've always wanted to try!
You can elevate the coffeehouse atmosphere by hiring an acoustic band to accompany your sipping and mingling. You can even make the party an open mic and let your guests do some of the entertaining! The cafe atmosphere is perfect for musicians, poets, and other creatives. 23. A Karaoke Night
If you have talented, extroverted friends, you can become your own entertainment! A karaoke night is your chance to get a little tipsy and sing your heart out! You can host your own event at home or take over a local karaoke room or pub!
To encourage a romantic engagement theme, offer strictly romantic songs or love duets! If you want to take the energy up a notch, hire a bandeoke band and allow your guests to be rockstars for the evening!
24. Taco Bar Fiesta
Do you and your partner wish every day was Taco Tuesday? Why not host a small fiesta with a make-your-own-taco bar and plenty of margaritas! Rent a frozen margarita machine and allow guests to help themselves to bottomless boozy confections!
You can set the tone by bringing in a mariachi band to keep the guests energized as they concoct their own tacos. For an Autumn engagement, you can even bring in a "Day of the Dead" theme with beautiful sugar skulls.
25. An International Feast
If you and your partner come from different cultural backgrounds, celebrate your unique heritage with a party that brings both sides together. Host a potluck and encourage your friends and families to provide a cultural dish. Set it up as a buffet so that every guest can try some brilliant international cuisine.
Your potluck is a great way to encourage your families to mix, mingle, and learn about one another, especially if they aren't yet close. Create a welcoming, open environment early. By the time you get to the wedding, the parents will be old pals! 26. Bring Your Own Bevvie Party
At many weddings, couples choose to offer a signature cocktail or two. Sometimes each member of the couple has their own signature cocktail that says something about who they are. Guests at the wedding are free to order the drink throughout the event.
The question is, how do you decide on your signature cocktails? Make your engagement party into a Bring Your Own Bevvie party! Ask each guest to come with the recipe and ingredients to make a unique cocktail.
Throughout the evening, you and your guests can sample a variety of drinks. Be prepared to get a touch tipsy and silly! Hand out scorecards so that guests can rank their favourites.
If a cocktail stands out, you'll already have completed one wedding task!
27. Pick Your Favorite Decade
Historical decades make perfect party themes, no matter the occasion! A vintage look always seems to suggest romance. Go all out with an art-deco-inspired Roaring 20s engagement bash, or embrace your love of swing music with a 40s theme.
The best way to evoke another era is by bringing in a band that can play the hits from the period. Often, the band will come in costume, adding an extra pop of historical flair. A jazz band can completely transform any party.
28. Winter Wonderland Engagement
Once you get engaged, all you'll want to do is snuggle with your partner! That goes double if you'll be celebrating a winter engagement. You can enjoy cuddling for warmth by embracing a cosy winter wonderland theme.
Invite guests to come in their cosiest jumper. Offer a fully-stocked hot cocoa bar. If possible, set up a fire or fire pit for warmth, and offer the materials for making delicious s'mores.
If you're feeling ambitious, rent a portable skating rink. These rinks use synthetic ice to create a surface where guests can ice skate and figure skate! If you have a rooftop or patio, this can lead to gorgeous, unique photo opportunities. 29. Make a Splash
There's nothing more fun than a pool party when the weather is warm! Blow up a bunch of quirky inflatables and encourage guests to lounge around with a drink. They can swim, float, or relax beside the pool.
You can add a tropical touch by making your pool party a luau. Offer guests flower leis as they arrive, or create a station where they can thread their own. You might want to set up a poolside tiki bar with plenty of tropical beverages!
Music improves every pool party. You can hire a DJ to play the latest summer hits, adapting to your guests' energy levels.
30. Fancy Dress Festivities
If you're a quirky couple, you might fall head over heels for a fancy dress or costume party. This idea is an excellent match for an Autumn engagement but works just as well any time of year! Your guests will love the opportunity to get goofy and gussied up to celebrate your love!
Want to lean into the romantic theme? Encourage couples costumes or costumes that require a dynamic duo!
If you're making the effort to come in costume, include plenty of photo opportunities. A photo booth is a classic way to capture memories for years to come. You can set up a DIY photo booth or rent a photo booth for the occasion.
As a fun addition, you can offer prizes for the best and more creative outfits.
Throw an Enchanting Engagement Party
If you imagine your engagement as a multi-course meal, the engagement party is like the cocktail hour. It has the power to set the tone and timbre for all of the celebrations to come! When you take the time to plan a celebration with all of the details in mind, you'll have taken your first step toward planning a phenomenal wedding!
Years from now, on your fiftieth wedding anniversary, what song will you be humming when you look back on your engagement party photos? When you work with Bands For Hire, we'll make sure the tune is worthy of your precious memories! Reach out today, and we'll match you with the ideal band for your stunning event.