The Best 40th Birthday Party Ideas for an Epic Celebration
Details

Category: blog
Updated: 07th July 2022
If you were born in 1981, 1982, or 1983, you've got a landmark birthday on the horizon! Some believe that "life begins at 40," but we believe that life begins at your 40th birthday party! You'll need a brilliant celebration filled with laughter and luxury to kick off the start of mid-adulthood and leave immaturity behind.
After 40 years on earth, you have likely been to many birthday parties, including a few of your own. You'll need a way to elevate your personal Ruby Jubilee above and beyond to make it worthy of this massive milestone. Our unique and iconic 40th birthday party ideas will help you embrace your last hurrah and have an unprecedented time!
At Bands for Hire, we know how to throw a 40th birthday party that you'll never forget! From quirky 40th birthday party themes to iconic music to decorations, we've gathered all our best tips to ensure your celebration is a success. Read on to begin planning a 40th bash they'll still be talking about in four more decades!
Celebrate With the Music of the Decade
For those born in the 80s, your early years would have been filled with music from the likes of ABBA, The Police, Queen, Blondie, The Who, and Kool and the Gang.
It was a raucous moment in music history, with some of the world's most beloved acts emerging during the decade. Modern rock, post-punk, and heavy metal made their mark on the evolution of contemporary music.
While mum and dad might have enjoyed those early hits, children of the 80s grew up with the sound of the 90s! New Kids on the Block, Sinéad O'Connor, Michael Jackson, Oasis, Depeche Mode, and Ace of Base were your jam! Beats, bass, and the rise of electronic music would have formed the basis of your ever-evolving musical tastes.
If you want to get a room of your contemporaries on their feet, throw a party that brings in the music that defined the summers of their childhood and adolescence.
Don't forget the popularity of choreographed dance crazes from the era, such as Voguing, the Macarena, Tragedy by Steps, and The Spice Girls Stop routine.
Bring Live 80s Hits to Your Party
While a simple playlist might do the job, nothing hits the mark like a live band. A cover band from the 80s or 90s can set the tone, raise energy levels, and respond to the mood in the room. They can take requests, bust out the most popular hits of the generation, and even add ambience through their wardrobe.
Begin the evening's entertainment with an 80s tribute band. The band can play the chart-toppers from your birth year to show how far you've come. You can expect a high-octane performance packed with the decadence of this daring decade!
Bring Live 90s Hits to Your Party
Continue the countdown when you bring in a 90s tribute band to play the jams you grew up belting in your bedroom! They'll play the best of dance, pop, and Britpop music, making the dance floor the hottest place to be. The group will dress the part, bringing back nostalgia and making guests long for their old platform shoes!
If Britpop was your style, consider hiring an indie rock band for a night of 90s throwback hits. Drop us an email and we'll hook you up with a band whose style will send you straight back to your teen years.
Be the Star
Why should the lead singer have all the fun when your rowdy, tipsy friends know all the lyrics and are eager to have a go? Choose interactive entertainment and book a band for an evening of Live Band Karaoke or Bandeoke. A live, professional function band will show up at your celebration equipped with their instruments, ready to back you up as you sing your heart out!
Bandeoke is one of our favourite party ideas for a 40th birthday because it involves every guest! It's just like video karaoke in that there is a prompter to help with the lyrics. Instead of canned backing tracks, the performers will play live and even help with backing vocals to elevate your performance!
When you contact us to book your live band, let us know you're looking to feature the greatest hits from the 80s and 90s. We'll make sure to send a band that knows its stuff. Between karaoke performances, they'll keep things lively with songs that suit your party's nostalgic theme. We can't think of a better way to say farewell to immaturity and usher in adulthood than by belting out your favourite childhood hits with a band behind you! Make It a Dance Party
Some of us move better than we sing, even with liquid courage in our systems! For a dynamic playlist loaded with hits from the 80s and 90s, hire a DJ to run your dance floor. Our professional DJs are masters at reading the room, gauging the energy level, and playing the right song at the perfect moment to keep the retro vibes flowing.
We're not sure how to celebrate turning 40 without bringing back those dance crazes we mentioned! A DJ can blast your favourites and get everyone on the dance floor to participate. You'll feel like teenagers as you Do The Loco-Motion or the Thriller dance!
Add a Musical Countdown
A DJ can even turn your event into an explicit countdown through the decades, serving up a playlist that takes you from your birthday to the present. Our DJs are fantastic hosts and can talk your guests through the most significant transitions of your life.
A musical countdown is extra entertaining if you've got a slideshow featuring photos from your life. Guests love seeing what you looked like when each song on the playlist was popular. It's a beautiful tribute and hilarious blast from the past rolled into one! Dress for the Decade
If you're keen, you can do more than show off photos of off-the-wall fashions from your youth. Instead, make it a fancy dress party and encourage guests to come in their best 80s or 90s ensemble. Everyone has something vintage in their closet that they couldn't bear to throw away!
Asking guests to dress up also leaves room for extra entertainment during the party. You can feature a fancy dress parade during the evening, set to a song like I'm Too Sexy by Right Said Fred. You might even award prizes for the best dressed, worst dressed, most authentic, and best runway walk!
Include a Vintage Photo Both
Alternately, provide the fashions yourself and set up a photo booth to recreate those pictures! We have the filter technology to make every selfie look like it came from a disposable camera. Set up a hashtag for your party so guests can tag their best pictures to share on social media.
Here are a few things to provide to make your photo booth a hit:
Shutter shades
A Rubick's cube
An old-school boombox
"Big Hair" wigs
3D glasses
Giant cell phones
Sweatbands
"Troll" hair wigs
Heart-shaped sunglasses
Bucket hats
Giant chains
Bumbags
Retro logo caps
You can gather a collection by raiding your closet and a local second-hand store. Ask friends and family to contribute their vintage artefacts to the cause. The current 90s fashion revival will make it even easier.
A 90s aesthetic backdrop is easy to make if you're willing to get messy! Both spray paint and splatter paint were popular at the time. Get a big piece of Luan and go wild!
Throw a Ruby Jubilee
If you'd prefer a classier, luxury-inspired affair, throw yourself a Ruby Jubilee! A ruby jubilee is usually the 40th anniversary of a monarch's coronation. You might not be a queen, but you can still borrow the theme to elevate your 40th birthday with brilliant pops of red. Dress to Impress
Instead of wild 80s or 90s-themed outfits, ask guests to come dressed to impress in formal or semi-formal attire. Be sure to let them know that there will be dancing! If you're offering favours, it's kind to provide a pair of socks or skid-free slippers so guests can kick off their heels and oxfords and enjoy the dance floor pain-free.
As guests check-in, you can offer bright red boutonnieres and corsages to keep the ruby theme consistent. Include pops of stunning red in all of your decor. Red roses, red uplighting, and a red carpet add a gorgeous touch.
A Touch of Class
You'll also want to elevate your music to suggest a royal affair. An instrumental jazz band is a classy way to bring high-energy sound to an elegant event. You might also consider a string quartet or vintage band for a more mature sound.
Don't forget to crown the guest of honour during the evening! It isn't a Ruby Jubilee without some royal flair! Designate an MC to host the ceremony for a fantastic photo opportunity!
At the event, include a guestbook and pen where guests can write a birthday note and leave "wisdom for the next 40 years." The book becomes a beautiful keepsake that the guest of honour will cherish. If you're lucky, you can display it as an artefact at your 80th birthday bash! Try a Taste of Adulthood
A 40th birthday marks the transition from early adulthood into middle adulthood. Some say that once you're 40, you're officially "over the hill." Others reserve that belief for your 50th birthday!
Whether you're over the hill or approaching the summit, you're old enough to appreciate the finer things in life. You might choose to throw a party with a focus on fine food and wine.
Expensive Taste
Nothing is more popular right now than preparing bespoke charcuterie and dessert boards. You can buy or create a fancy spread featuring every type of meat and cheese you've always wanted to try. If you've been waiting for a reason to indulge in a decadent feast of finger foods, this is it!
You can elevate the event even future by including a fancy caviar tasting. An expert can help you pair different varieties of caviar with wines from around the world. You can hire a sommelier for the evening to pair wines with every course!
Don't forget fancy champagne for a special birthday toast! Throw a Dinner Party
If you're planning an intimate affair, a private chef can come to your home and prepare a custom feast so you can sit back and enjoy it. They'll even take care of the dishes!
If you'd prefer a night out, book a private room at a Michelin-starred eatery and experience a tasting menu. Dining like that isn't something that most people do every day, even in their 40s! It's a great way to enjoy a "taste of the finer things in life" now that you've reached this milestone age!
Every tasting gets better with the addition of live music. Our favourite way to add class to an event is to hire a string quartet. Many of our musicians can even play today's hits in a classical style for a touch of whimsy!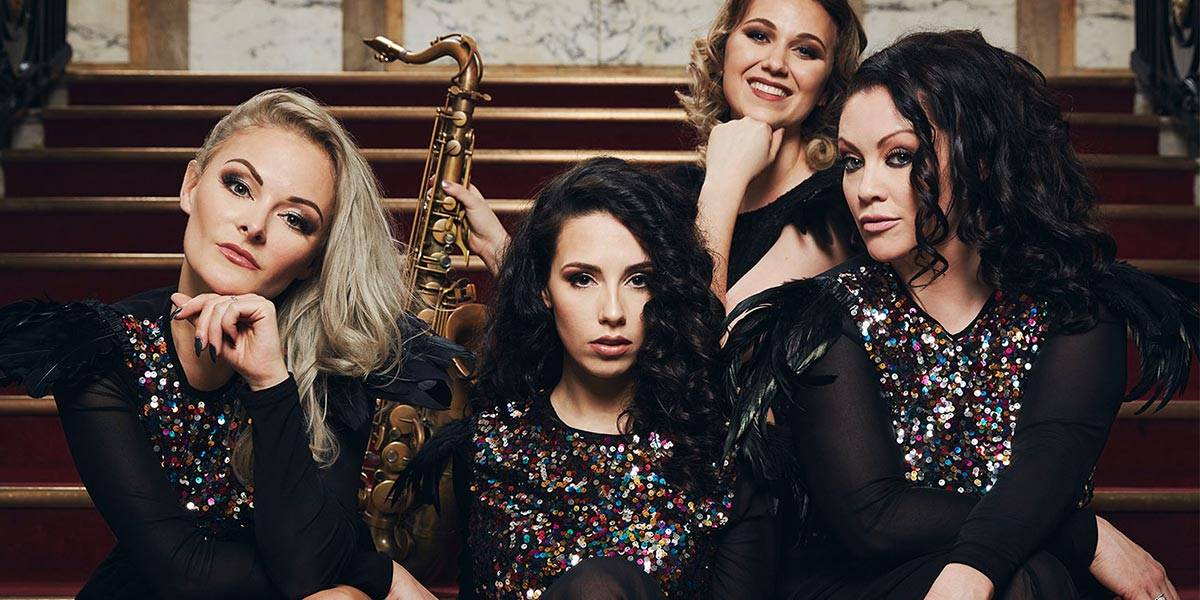 Party Entertainment
Take your event to the next level with one of our live party bands, musicians or DJs
40th Birthday Party Ideas to Usher in Adulthood
If you're on the cusp of your 40th birthday, you've reached the pinnacle of productivity in love, work, and life. You deserve a night to kick back and reminisce about the many years that brought you this far! Our 40th birthday party ideas are the ideal launch pad for an iconic 40th birthday celebration.
At Bands For Hire, our favourite way to experience a blast from the past is by rocking out to the music that raised us. When you hire one of our professional, high-energy function bands, your best memories will come flooding back at high volume! Get in touch so we can match you with the perfect party entertainment.