Recommended Wedding Bands for 2019
Details

Category: Blog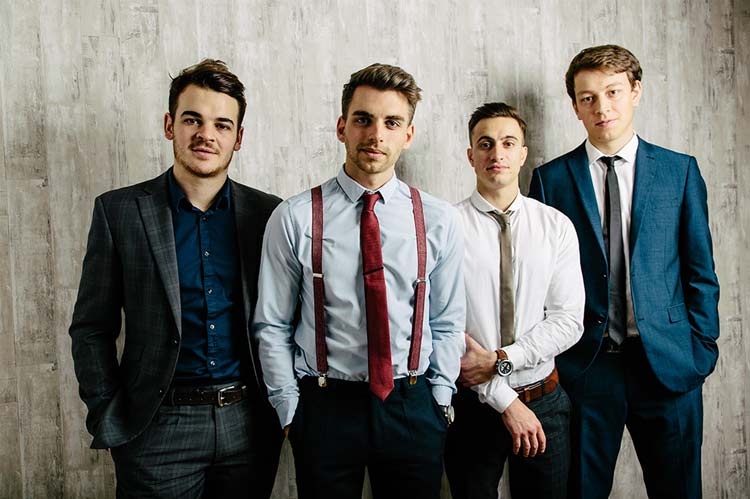 If you're on the search for some exceptional live entertainment for your wedding day, then we've got an excellent range of acts to consider. However, the process of trawling through websites looking at potential acts can be frustrating, understandably. This is precisely why we've hand pick our the best of the bunch and listed them below to easily look through - the following acts are our best wedding bands to hire in 2019!

This article has been carefully put together to help you find the perfect band for your event. Whether it be for a wedding reception, summer ball, festival or birthday party, we have the ultimate selection of bands to hire in 2019! To avoid disappointment we usually recommend that you start your search at least six months to a year in advance, especially if you're planning a summer wedding when demand for bands is extremely high on those peak Saturday nights. Fear not, our roster is continuously growing across the country and we're confident you'll find your perfect band right here!
Below is our list of the finest bands to hire for 2019, a variety of unique and individual acts well suited for all types of events and occasions...
Recommended Motown Band
Looking to secure a band that will perform all of the Motown Classics such as 'Say A Little Prayer', 'Rescue Me' and 'Heard It Through The Grape Vine'? Our recommendation for 2019 is Motown Sensation, a truly authentic Motown tribute band performing non-stop Motown hits from Stevie wonder, Marvin Gaye and Aretha Franklin to the Four Tops and The Jackson 5.
Recommended Indie Band
An indie band is the perfect choice to ensure everyone lets their hair down and heads out onto the dance floor. Our best indie band for 2019 is The Overloads; with a repertoire that covers everything from The Arctic monkeys, Killers and Kings of Leon to The Chilli Peppers and the Foo Fighters, The Overloads are the perfect indie wedding band to get you dancing and singing all night long. The band have a wealth of experience having played at Twickenham Stadium, Rugby World Cup 2015 and Ricoh Arena.
Recommended Band in the North West
Searching for the perfect band to play for your event up North? It's a good thing we've just recently expanded our roster! We're now covering all of the Northern areas, which is why we are excited to showcase our latest function bands in Manchester, Leeds, Liverpool and Yorkshire. Our best Northern band for 2019 is Tailor & Co; a young and energetic band that cover everything from the Beatles to Bob Marley in their own catchy and captivating style.
Recommended High End Band
Are you planning a big budget wedding? Our high end party band recommendation for 2019 would be The Oliver Soul Band; an energetic and entertaining party band bringing you the absolute best from the Motown era, 90s RnB and all the contemporary hits. We have a variety of high end party bands to choose from, why not check them out and decide which one is your favourite?
Recommended Jazz Band
Our Jazz band recommendation for 2019 is Pocket Full Of Swing; a professional group of trad Jazz musicians with an eclectic repertoire that highlights the charming sound of Dixieland and gypsy jazz. They offer a range of line ups from a duo right up to a full 5-piece band that includes the clarinet, double bass and saxophone. This band are ideal for a vintage style wedding or event; perfect for background music or for guests to get up and swing too!
Recommended Swing Band
Our Swing band recommendation for 2019 is The Swing Band; performing a selection of classic tracks from all the greats and offering an authentic take on the 40's and 50's covering artists such as Frank Sinatra, Sammie Davis Junior, Dean Martin and Tony Bennett. A fantastic choice to compliment those of you who are planning a vintage wedding or event.
Recommended Band Under £1000
Our best band under £1000 for 2019 is Sound City; a trio of high quality musicians performing classics from the last 50 years, from Fleetwood Mac, Michael Jackson and Marvin Gaye to Ed Sheeran, Bruno Mars, Justin Timberlake and Kings of Leon. We realise that budgets are a big factor when planning and organising event, which is why we strive to bring you the best quality bands at the very best prices.
Recommended Acoustic Duo
Our recommended Acoustic Duo for 2019 is Harbour Lights; a lively and enigmatic acoustic duo with captivating harmonies and rhythm. Taking a unique approach on modern day hits, Harbour Lights strip it right down to the bare bones with their own unforgettable style. Harbour Lights are made up of two professional, multi-instrumentalists whose repertoire is vibrant and unforgettable!
Recommended Soloist
Our Soloist recommendation for 2019 is Anthony; specialising in carefully crafted piano arrangements of the great classic indie, pop and rock songs through the ages. Anthony has a wealth of experience in performing, writing and arranging. The perfect accompaniment for background music.
Recommended World Music
Our recommended world music act for 2019 is Will - Steel Pannist; bringing a taste of the Caribbean to all four corners of the UK, Will is an exceptionally talented steel pannist with a colourful repertoire that covers songs across the decades right up to the present day. Accompanied by professional backing tracks, Will is the ideal musical backdrop for drinks receptions, summer parties and weddings with his wonderfully enchanting and rhythmic sound.
Recommended Modern & Contemporary Band
Our recommended modern & contemporary band for 2019 is Halcyon; a fresh and vibrant young band bringing a high energy show to get your event rockin'! The band are made up of five extremely accomplished musicians, all of which have graduated from the Academy of Contemporary Music. With a wealth of experience performing at all types of events across the UK, this band are certain to get your guests dancing all night long.
Recommended Vintage Band
Our recommended vintage band for 2019 is Postmodern Jukes; a glamorous and stylish act that deliver a charming and elegant performance perfect for Great Gatsby themed parties. A spectacular band to blow the socks off of your wedding guests or headline any event! It doesn't get more vintage than this sensational prohibition styled swing and jazz band.
Recommended String Quartet
Our recommended string quartet for 2019 is Electrica; a modern all-female string quartet bringing a rock 'n' roll edge to classical music. Featuring either acoustic or electric strings, the band have put together a range of options to suit events of all sizes. The perfect accompaniment for wedding ceremonies, drinks receptions and wedding breakfasts.
Recommended Band To Watch
Our band to watch in 2019 is The New Tones, a young and exciting 4-piece band with vibrant takes on modern hits. With a fresh sound that oozes style and charisma, these four incredibly talented musicians are worth keeping an eye on next year.