16 Wedding Themes To Suit Your Style
Details

Category: blog
Updated: 16th February 2023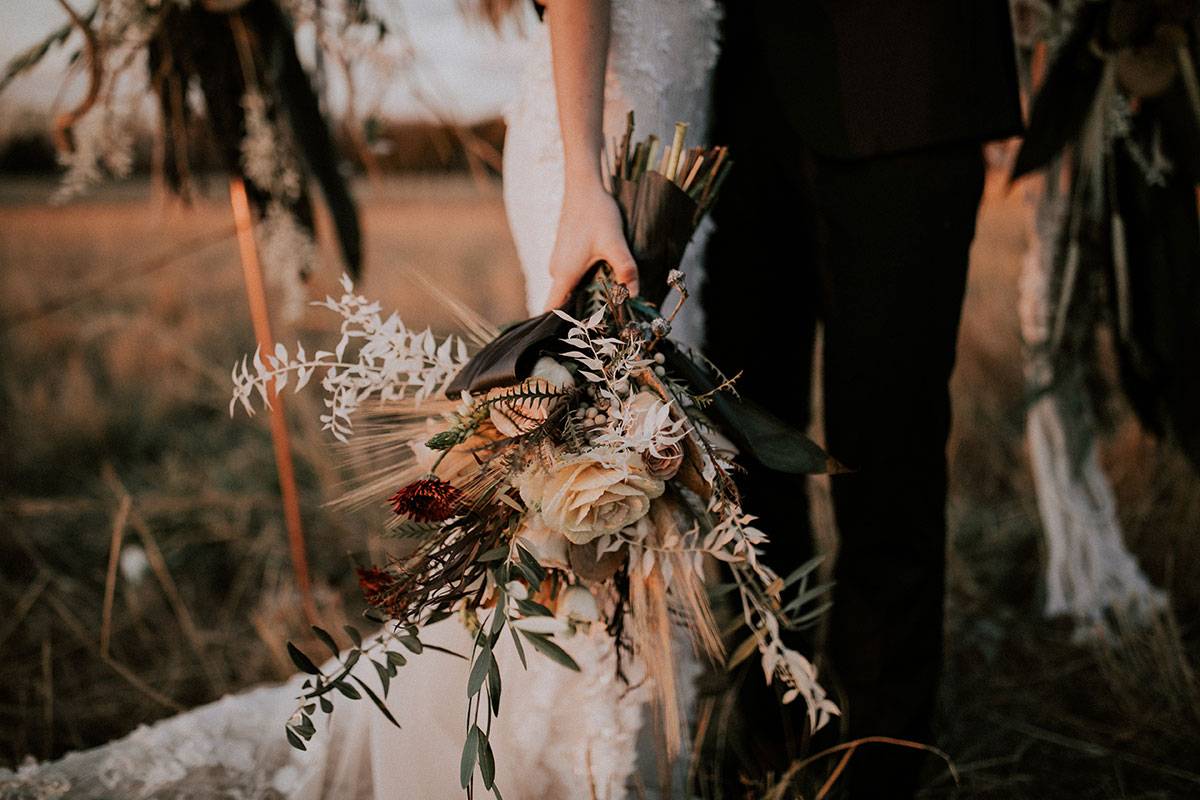 The secret key to simplifying your wedding planning is this: start with a theme.
Wedding themes aren't essential, but once you've chosen a theme, everything else will come together pretty easily. Your theme will narrow down your choice of venue, the wedding cake, the style of your bridesmaid's dresses and which band you hire for your reception.
A theme will also help you choose the wedding dress. The best part is because it's your special day, you can be guided by your theme but you don't have to keep any element of it that you don't like, isn't that perfect?
We agree that a theme is a wonderful thing, but how do you even begin to choose? Never fear, we're here to help. If you aren't sure what wedding theme ideas would work for you, keep reading for some inspiring ideas.
1. 50s Rock 'n Roll
A 1950s inspired wedding allows you to embrace old-school glamour and fun. Bridesmaid's dresses can end just below the knee in the wide-hemmed, cinched-waist style of the 50s. Up-do hairstyles that imitate beehives will add to the look while still being elegantly suitable for a wedding.
For decor, think black and white with pops of red. Play on the concept of the old 45" vinyl records in your decor by including black circle placemats and vinyl focal points in flower arrangements. Hire a vintage car to arrive in style.
Make sure the venue you hire has space for a dance floor because there's no way your guests will stay in their seats once the 1950's Rock 'n Roll Band starts stepping on blue suede shoes and rocking around the clock! 2. Bohemian Chic
Boho weddings are fun and playful, comfortable, and laid-back, with just a hint of sophistication. Inspired by the 60s, think natural and go for any of the warmer colour combinations that you'd find in a garden. Flowers are wild and wispy, such as baby's breath, pampas grass, or pressed palms.
For a cake that matches your Boho style, choose a pumpkin spice cake, laced with generous handfuls of walnuts. Or go for a naked cake dressed by Mother Nature herself in multicoloured blooms.
Boho wedding dresses offer simple lines that are effortless to wear. Empire-style waistlines and long, or puffed sleeves are a perfect fit for this relaxed style. Bridesmaids can dress in a mismatched style to suit individuals, with colour as the common thread.
Bohemian Chic wedding venues include large greenhouses or botanical gardens for a real flower-child feel. The soundtrack to your Boho wedding is provided by a live harpist. 3. Classic Traditional
One of the most popular wedding themes for good reason, a classic wedding theme is a timeless masterpiece of elegance. As one of the more formal wedding themes, classical leans toward clean lines, white arrangements, and lots of emotion in the room. Bouquets feature long-stemmed calla lilies, roses, or tulips.
A traditional classic wedding cake is a rich, dark fruitcake, complete with marzipan and royal icing. Two or more tiers are the norm, separated by cake pillars, and decorated with fresh, or icing flowers. The top of the cake can feature a wedding topper that resembles the bridal couple in some way. Some folks opt to have pre-packaged pieces of cake to distribute to the guests, instead of cutting up the actual cake on the day.
For this traditional theme, the ideal venue is a garden courtyard, a mansion, a vineyard, or a genuine ballroom complete with the twinkling of overhead chandeliers. Keep your decor sleek and minimalistic, allow the venue to provide the ambience. Pick a jazz band to fill the air with sultry rhythms as guests sip champagne in between the ceremony and reception.
4. Vintage
Wrap your special day in nostalgia as you revisit a time when life unfolded slowly and conversations lingered unrushed. Choose a venue that feels like it's been around long enough to tell the stories of generations, such as a mansion, estate, or historic courthouse. Create comfortable lounge areas with antique love seats or old armchairs to set the tone.
For the perfect vintage wedding theme, opt for soft lamplight and flickering candles in polished silver candlesticks. This isn't the time for crisp white table cloths but rather softer fabrics in muted colours. The alternative is to simply spread delicate lace over each table for casual elegance.
When it comes to the dress, think simple lines in off-white, cream, or shell-pink lace, embellished with beads and pearls. Spaghetti-strap shift dresses or a sleek mermaid silhouette are both ultra-vintage and flattering. For bouquets and buttonholes, choose delicate pastel flowers for a rich feel of yesteryear.
For music to set the mood, browse vintage bands until you find the one that will suit your occasion perfectly! 5. Eco-Friendly and Natural
There are many ways to love the earth and choosing your wedding elements carefully is one of them. Sky lanterns and balloons are traditional favourites because they're visually appealing, but what they do for the environment isn't great. Focus on using recyclable, reusable elements such as glass, bunting, bio-degradable confetti and glitter.
Eco-friendly wedding dresses tend to be made from natural fabrics that are produced under sustainable conditions. The other option is to hire or buy a pre-loved wedding dress. Doing this ticks the 'reuse' box. The use of printing and paper is limited. Many earth-conscious bridal couples are opting for electronic save-the-dates, invitations, and RSVP's. Printed invitations can be done using recycled paper.
Potted succulents replace traditional cut flower arrangements. Even the 'pots' can be cleverly earth-friendly, such as hollowed out, halved, coconut shells.
Eco-friendly music comes in the form of a roaming acoustic band that performs unplugged. 6. Glamorous
Book a gorgeous rooftop, a ballroom, or a luxe estate to host a dazzling occasion dripping in sparkles and luxury! A glamorous wedding uses every opportunity to celebrate the best things in life as two lives become one.
Glamorous weddings are set apart by a fine attention to detail. The dress can be anything from an extravagant corset-bodiced ballgown to a slinky number with a long train embedded with Swarovski crystals.
Use white as a base colour for decor, then pick an accent colour or two and bring it all to life with sparkles. Metallics are a must. Incorporate them in table and room décor, and hang mirrors on the walls. Choose elements that create reflections to double the impact of all the glitz in the room.
Plan some extraordinary entertainment for your quests such as a dynamic ballroom and Latin American demonstration team fresh from Blackpool, or a dazzling display of fireworks.
To add a rich sound to your occasion, hire a Postmodern Jukebox Style Band. 7. Modern Industrial
A modern industrial themed wedding sets an urban backdrop of stark simplicity. The textures contrast and highlight the beauty and softness of the wedding decor.
For a venue, look for a loft, or industrial warehouse with exposed brick and metallic pipework. Pair those with oversized windows to let in tons of natural light and sparkling city views after dark. The look is enhanced by lights dotted throughout and tons of greenery.
Ditch traditional flowers and go for terrariums of stones or succulents. Streamline your colour scheme and thread it through every detail to create a rich tapestry of depth. A monogram of your initials can embellish menus, table numbers and the dance floor.
A modern industrial wedding cake will be an understated, yet absolutely delicious creation. Think nouvelle cuisine in cake form. For a minimalist bride, the choice of an elegant wedding pantsuit would fit in perfectly with this theme.
To match the gritty vibe of the backdrop, hire an Indie Rock Band to keep the beat pumping.
8. Romantic
Romantic weddings are all about low lighting, gentle shades, and flowing dresses in airy fabrics. Colours are delicate - blush, ivory and soft pastels. Fresh flowers imbue the essence of romance and can be used in decor, as centrepieces on tables, in buttonholes and in bouquets. Let champagne flow liberally.
A romantic themed wedding works well in a castle, an estate ballroom, or an elegant historic home. A venue with a lake or fountain will make for magic photos, with reflections mirroring the gorgeous bridal party.
Hairstyles are soft curls pinned up with fresh flowers are sparkling diamante. For a romantic spin on the wedding cake, choose a light sponge with fluffy buttercream icing.
For a truly romantic wedding dress choose an off-the-shoulder neckline or an illusion bodice paired with an extravagantly puffy skirt, or a fitted silhouette with a flowing train.
Carry the romance through the music with the lilting sounds of a solo violinist. 9. Rustic
The rustic wedding theme creates a down-to-earth atmosphere of close friends and farm-fresh, good food. A renovated barn, a genuine farm or a ranch are ideal venues for the theme and will set the tone before you start decorating.
Draw on natural textures such as wood, stone, and organic paper carry this wedding theme. Dress naked wooden tables with sprawling, low, floral centrepieces. Mix 'n match glassware for an eclectic hint of glamour. Incorporate the natural textures of burlap and twine for raw beauty in the placemats and serviettes.
Rustic brides often get married in boots that make crossing uneven or muddy ground a simple matter. Rustic themed wedding dresses tend to be shorter but as with all themes, it's your day, you make the rules!
For some extra soul in the atmosphere, hire a Motown or Soul Band for smooth, easy tunes that will get feet tapping.
10. Alternative
For those quirky bridal couples who simply don't fit in with the traditional wedding ethos, an alternative theme allows for a celebration that embraces their uniqueness. You may want to base your theme on the common thing that led you to each other such as the love of a great Steampunk book series, or a passion for Marvel comics, or opera.
Think of hiring a museum, an art gallery, or a renovated movie theatre. Allow your common passion to inspire your decor choices and outfits. Does this mean that your bridesmaids have to come in Hulk suits? Not necessarily. But you can use green as your main colour.
Your decor, clothes, and food inspiration can all come from your common love. Get creative with textures, colours and lighting to create the feel you want. Your wedding cake offers a wonderful naked canvas for your unique creative style to be expressed. Work with your caterer to craft decorative details incorporating elements of your chosen inspiration.
When it comes to choosing a band, look for music that will enhance the unique ambience that you've created. Your options are wide-open. For a floor-thumping vibe that will get your guests up and shimmying on the dance floor, choose a 90s Cover Band.
11. Celestial
The perfect theme for a love that was written in the stars! Hire a gorgeous rooftop, or transform an inside space with midnight draping, hang stars from the ceiling and hang fairy lights. Play with the star signs in your décor to add an extra element of fun. Name guest tables after constellations.
Go dark and sparkly with dresses and decor, make the dress code black, silver and bling. Bring the heavens down with subtle uplighting and a multitude of candles.
Let an electric string quartet bring the night alive with an exhilarating star-studded live performance.
For a wedding dress that is out of this world, think beaded star embroidery and a veil dotted with sparkling diamante. This is the perfect occasion to step out in sparkly shoes.
Serve lumo cocktails to light up the bar area. Create a wedding cake reminiscent of a midnight sky with painted galaxy details and dusted with silver sparkles. A celestial theme celebrates your love that is out of this world! 12. Tropical
If you and your partner love the beach, there's nothing stopping you from having a tropical wedding, even if there isn't a real beach close by. Bring in truckloads of plants and greenery and lean towards bright colours.
If your wedding is a daytime wedding, use oversized beach umbrellas to create pools of colourful shade for guests. For a tropical evening wedding keep the umbrellas but edge them with fairy lights to add to the festive ambience. Serve up a banquet of finger foods that guests can help themselves to, and exotic cocktails in pineapples or coconut shells.
Go for floral tablecloths and create table centres using seashells, beach coral and sea urchins. Gel candles are the perfect choice to provide intimate lighting for each table as the gel looks like water.
Your dress can be a light, easy to wear number that floats in the breeze as you dance the night away to the joyful sounds of a Caribbean Steel Band. 13. Festival
A festival wedding is the way to go for a bridal pair who are super-chilled music lovers. Pick an outdoor venue with an area that can be set up as a stage. Hire a folky Mumford style wedding band to provide the vibes and entertainment.
Set out picnic blankets or low tables with cushions for guests to lounge on. Food can be served to each blanket in picnic baskets. This is a casual theme that works beautifully for a bridal pair who prefer a celebration that is minimum fuss and focuses on friends having a good time.
Wrap trees in the colour of your choice and fill the open spaces overhead with strings of lights between branches to create a warm glow. Use glowing lanterns around the bases of trees to layer the light in a way that creates a moody depth to the atmosphere.
Choose a wedding dress style that is easy to move in. Or pick a style that transforms and adapts, such as a dramatic ball gown skirt for the actual wedding ceremony that is removable for the reception. Underneath you could have a shorter skirt or dressy pants suitable for dancing the night away.
Pro Guest Tip: Include a dress code in your invitation so that guests arrive in clothes that are suited to lounging on cushions under open skies! 14. Whimsical
If you imagine a garden party jumbled up with your favourite Alice in Wonderland-ish fairy tale, that's whimsical! It's a playful explosion of colour set against a backdrop of lush greenery such as a forest, a botanical garden, or a landscaped backyard.
Set the enchanting tone of the day with clever wordplay or a quirky motif on your wedding invitations. For the celebration use mismatched, borrowed china on the tables. Let the bridal party wear individually unique dresses.
Organise some fun entertainment such as giant chess, a photo booth with theme-appropriate props, or a live artist to paint quick portraits or fun caricatures of guests.
A gypsy jazz band will deliver a smooth sound with a touch of wild to weave magic through the crowd and keep the fanciful vibe flowing.
15. Art Deco
Glitz and glam are the order of the day with this roaring 1920s based theme. Avant-garde décor is the way to go with bold geometrics in black, gold and other metallic touches. Sparkly sequined tablecloths or runners add to the glimmer of the evening. Break the strong lines and contrasts with plumes of soft white ostrich feathers.
For a dress to match the occasion, look for something with an unusually geometric neckline, or asymmetrical construction lines. Go for uniquely textured fabrics and impeccable construction.
If you're looking for a show-stopper, a champagne tower is a must, paired with a live performance of a 1920s band. A museum or historic home would be ideal for this opulent wedding theme. 16. Travel
If travelling is a passion for you as a couple, it would be fitting to have it as your wedding theme. Name tables after places you have been to or places that are on your bucket list. Decorate each table with a unique element that relates to the specific place.
Wedding invitations can be designed to mimic an aeroplane ticket with the address of the wedding as the destination.
A wedding dress created from fabric bought on your trips makes a unique dress loaded with memories of happy travels and sentimental value. Set the menu and drinks according to your favourite dishes from overseas.
Use vintage suitcases for décor. Stack closed suitcases on each other, but leave the top ones open and let trailing plants, fabric, or knickknacks spill out.
Live music of choice will be a band related to your favourite destination, such as a delightfully fun Mexican Mariachi Band. Wedding Themes 2022 for Memories That Will Last a Lifetime
The theme you pick for your wedding is there to help you by simplifying your choices and creating a seamless flow for your celebration. You have absolute freedom to change whatever you want to within your theme, it's your day! More than wedding themes, what creates a memorable occasion is the love and friendship between you and your partner, the guests you invite to share your day, and the music that threads between it all.
Choosing the right live band sets the tone for your special day. As you go about selecting your musicians, think about what atmosphere you want in the room. What would you like your guests to feel? Does the music fill your soul and make you happy? If you need help figuring out what checks those boxes, we are happy to help you figure it out. Contact us and let's make those memories last a lifetime!