Should I Book a Wedding Band or DJ?
Details

Category: blog
Updated: 16th February 2023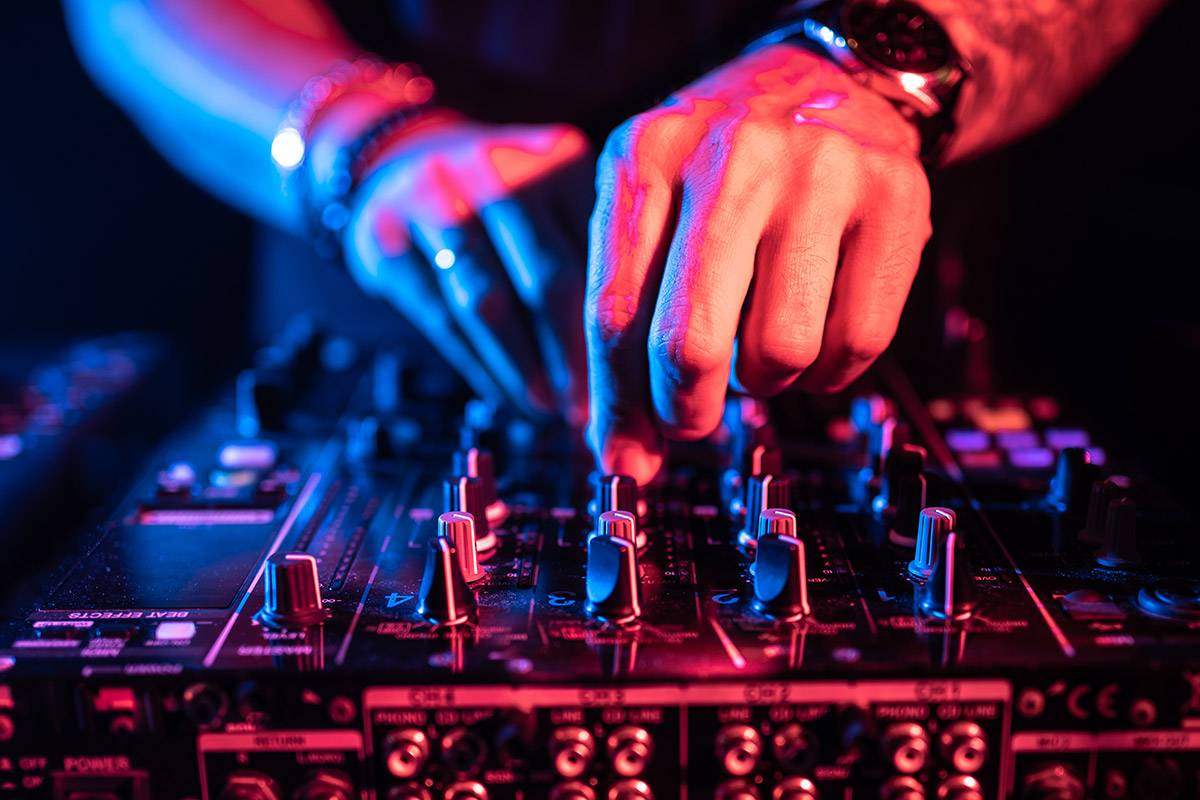 One of the most exciting elements of planning a wedding is choosing your evening's entertainment. There are numerous factors to consider, but perhaps the biggest question of all is: should I book a band or wedding DJ?
Both wedding bands and DJs have their pros and cons, but more often than not, it comes down to budget and personal preference.
Nothing quite compares to the raw energy a live band brings to the party. Not only does a band increase audience interaction, but they also add a real sense of occasion – a group of trained professional musicians will be far more impressive to your wedding guests than even the most skilled vinyl-spinner.
With the rising trend of 'DJ Live' acts, you may not even need to decide between the two. Many DJs offer a range of DJ/musician combos to deliver a set that incorporates drummers, sax players and vocalists into their set. Should I Book a Live Wedding Band?
Before we look at the pros and cons of hiring a wedding band, let's quickly look at the type of entertainment package you can expect to receive.
The price of a wedding band varies but most high-quality wedding bands start at around £1000-£1500. This will usually be for three or four band members and include the following:
2 x 60 or 3 x 40 minute sets
Professional PA system
Lighting to cover the stage and dance floor
Playlists throughout the evening until midnight
Wedding Band - Pros
1. Live bands sound incredible!
The epic and awe-inspiring sound of a live band is guaranteed to electrify the room.
2. Guaranteed to fill the dance floor
Whether it's rockin' drums, funky bass or incredible vocals you're into, the infectious energy a band brings will have even the most modest of guests on the dance floor.
3. Mashups / Medleys
Everybody loves a mashup and no one does it better than a live band. Whether it's a quick burst of your favourite 90s dance tunes or old school Motown merged with the latest hip-hop beats, a unique medley will always be an unexpected treat for your guests.
4. It's Totally Unique
Every time a band performs, the set is unique in one way or another and will never be replicated.
5. Suitable for all guests
Even guests who don't dance will still enjoy watching the band perform and interact with guests. Although many wedding bands focus on one particular genre, you'll find most bands perform a set list to cater for every age group.
6. Bands can improvise
A band isn't limited by the constraints of a record or playlist; experienced musicians are able to take the music in any direction at any time.
7. Bands can also DJ!
That's right! Most function bands also offer optional DJ sets from a member of the band. So even if you don't book a separate DJ, you can still have all of your favourite dance tunes after the band have finished performing. It's also a great way to save space if you're keen to have the best of both worlds. Wedding Band - Cons
1. Budget
Hiring a wedding band will usually set you back a little more than a wedding DJ. The main reason being that there are more people to pay.
2. Space Requirements
With live drums, sound system and at least three or four musicians, you're going to need to ensure you have enough space. In general, you'll need at least 4 x 3 meters for a typical 4-piece band.
3. Fixed Repertoire
Although most bands have up to a hundred songs or more in their repertoire, you'll obviously have less to choose from than a DJ who will have access to just about any song ever created. Most bands will be happy to learn your first dance song, but beyond that, the songs played on the night will be chosen from their repertoire.
4. Musicians need breaks
Whilst a wedding DJ can keep the music in full flow until midnight, a band will need to play fixed set times with breaks in between. Having said that, every cover band provides DJ playlists throughout the evening, so you'll never be left in silence! Should I Book a Wedding DJ?
A wedding DJ is the most popular choice for wedding entertainment, it's affordable, flexible and you'll be free to have as much input into the music as you wish.
So what are the pros and cons of a wedding DJ?
Wedding DJ - Pros
1. Variety
With guests that range from young children to grandparents, it's great to offer a varied selection of music that suits everyone. With mp3s and streaming platforms, a DJ will have access to every song imaginable - just ensure there's a wifi connection for any last-minute song requests!
2. Affordable
With just one professional to pay, the overall cost of a wedding DJ will usually be lower than a wedding band with three or more members. Some couples may even choose to put some of their entertainment budget towards wedding musicians earlier in the day.
3. Adaptable
A professional DJ knows how to work the room and can adapt their set at any point. If guests aren't responding well to the 90s house mix, they can change things up with some old school disco or carefully drop a floor filler at just the right time.
4. No Gaps Between Songs
A DJ has the advantage of being able to seamlessly segue from one song to the next, which makes for an uninterrupted party mix to keep guests dancing.
5. Adjustable Volume
With so many venues now introducing sound limiters, the volume of music can be a deciding factor. Whilst a band may struggle to work at specific levels, it's no problem for a DJ who can simply turn the volume down as required.
6. Small Footprint
If venue space is an issue, a wedding DJ may be the right choice for you. With just a DJ booth, lighting rig and speakers, a DJ can adjust their set-up to work around your requirements. Wedding DJ - Cons
1. Energy
Whilst a live band will naturally bring energy to the room with their performance, it's much harder for a DJ to amp up the atmosphere without a willing crowd.
2. Not as Original
A DJ may not be as original as a live band that offers a unique performance style. Professional DJs do bring personality and charisma to the table, but this is often down to the individual.
Wedding Band vs Wedding DJ (or Both?)
If you've got the budget for it, then a live wedding band coupled with a DJ will give you the best of both worlds.
Nothing quite beats the energy and showmanship of a live band, but it's hard to compete with the limitless reservoir of music a DJ has at their fingertips.
Whether you opt for a band or DJ, always be sure to book from a reputable source. At Bands For Hire, we represent some of the very best DJs and wedding bands in the UK, each bringing energy and professionalism in abundance.