Unconventional Wedding Ceremony Ideas for the Modern Couple
Details

Category: blog
Updated: 02nd May 2023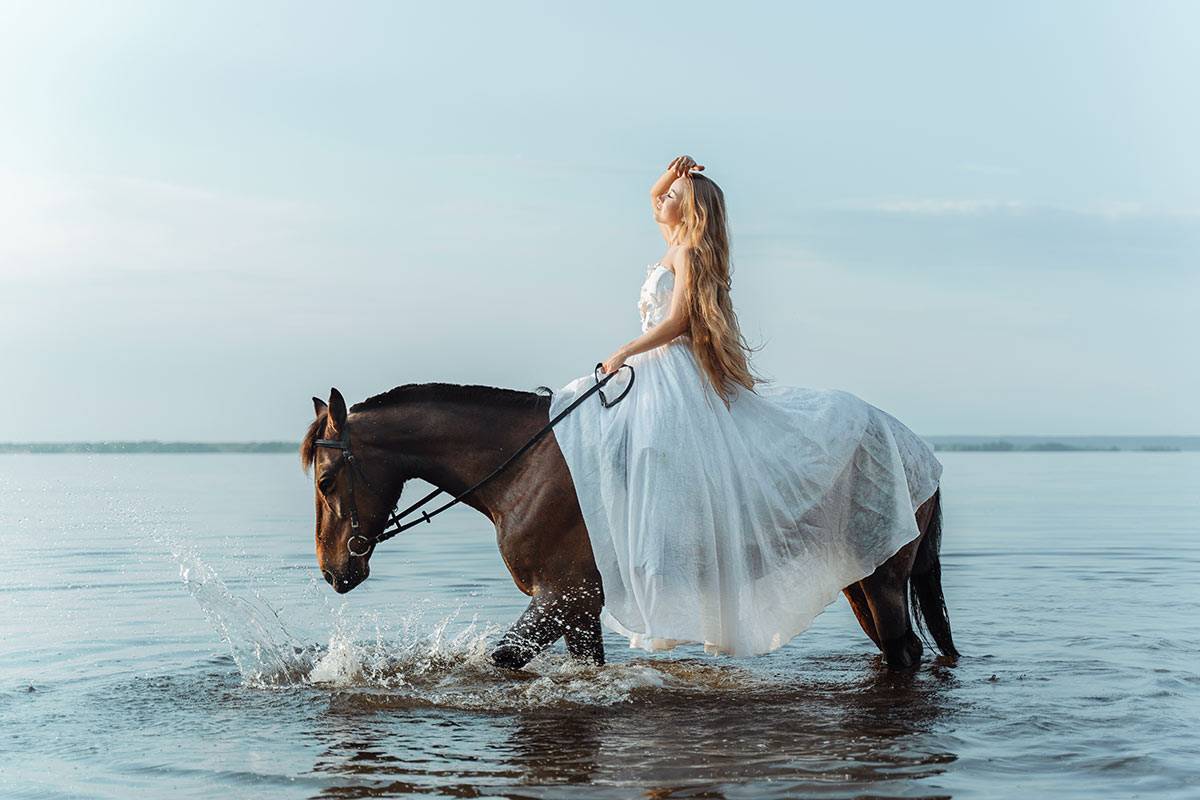 A recent poll showed that a whopping 52 per cent of married Brits found planning their wedding a stressful experience. In fact, psychologists have suggested that wedding planning can be higher on the stress scale than losing your job!
That said, one of the reasons that people find weddings such an ordeal to organise can often be because of external pressure to conform to wedding etiquette and rigid traditions. Thankfully, more and more couples are choosing to get married on their own terms, allowing them to hand-pick original yet meaningful ceremonial details that speak to them personally.
If that sounds like the kind of wedding you'd like to plan, let these unique wedding ceremony ideas be your inspiration!
Sit Your Guests in a Circle
Ask anyone to describe a wedding ceremony setting and they'll automatically think of seated rows intersected with an aisle. But if wedding ceremonies don't have to follow the same format, there's no reason why they have to follow the same layout either.
Getting your guests to sit in a circle around you is the perfect way to ensure that everyone gets a good view of the action. This set-up works especially well for intimate ceremonies. Or even better, make it a spiral and you can wind your way through your guests during the processional and back out again for the recessional. Incorporate Handfasting
Derived from Celtic roots, this non-conventional ceremony idea uses the symbolic gesture of tying the newlywed couple's hands. Most couples use string or ribbons, but you could use a scarf, wool, or even jewellery to convey a message of unity and togetherness.
Depending on your roots or your story as a couple, you might want to choose a fabric or colour for the handfasting that has a deeper meaning. For example, if you met at school you could use your school tie to make this aspect of the day even more unique and personal to you as a couple.
Walk Down the Aisle Together
For some couples, the guests all turning to watch as the bride walks in is the pinnacle of the ceremony. For others, it's a dread-inspiring moment they'd rather skip. If you're in the second group, descending the aisle as a couple offers a sweet and touching compromise.
Walking down the aisle together is becoming a popular choice for LGBTQ couples who don't want to feel forced into one of the traditional gendered roles. But this fresh twist on tradition can be a beautiful moment for all couples regardless of orientation or gender. Plus, walking in together and surprising your guests guarantees some great wedding ceremony photos!
Include a String Quartet
If you're a romantic at heart, walking down the aisle to a string quartet or having them play you out will sound like music to your ears. At once both traditional and unique, including a live classical piece or a string version of a contemporary number in your ceremony is what fairy tales are made of. Trust us, there won't be a dry eye in the house!
Choose a Unique Location
If you'd like to mix things up a little while still keeping most of the classic ceremonial elements, getting married in a non-traditional location can be a good way to express originality.
These days, you can get married almost anywhere you want - just don't forget to ask first! Some options include your back garden, the beach, a theme park, an Airbnb, or your football team's stadium. Or, why not go all out and opt for a destination wedding?! Ride in on a Horse
Make an entrance no one will ever forget by riding into your ceremony on a horse. If your wedding venue is in the countryside or near a wooded area, the photo opportunities of you emerging from the trees atop your trusty stead will be priceless.
Have a Pre-Ceremony Cocktail Hour
Rather than rushing into the ceremony and then encouraging your guests to mingle afterwards, treat them to a pre-ceremony cocktail or sparkling non-alcoholic drink before the main event. This non-traditional format encourages different groups to get to know each other and ensures that everyone is present and correct long before the official ceremony starts. Depending on the theme of your wedding, you might even want to include some musical accompaniment for a little added ambience.
Plant a Tree
This idea will surely appeal to all you nature-loving couples out there. Planting a tree as part of the ceremony serves as a representation of your enduring love and commitment to growth. It's also great for the environment!
Depending on where you get married you might need to plant it in a pot and then transfer it later to your garden or that of a friend or relative. But wherever you plant it, your wedding tree will be a beautiful reminder of your special day.
Hire a Wedding Singer
The right wedding song will make your big day even more special. But hiring a wedding singer to perform your chosen track live can take your ceremony up several notches. What's more, since they're singing live, they could even incorporate your names to personalise things or change the lyrics to make your chosen wedding song even more heartfelt than it already is.
Write Your Own Vows
The idea of writing your own vows isn't as novel as it used to be. But it does guarantee that the vows you share will be 100 per cent unique to you and your ceremony.
While it helps to have a way with words, your main objective should be to speak from the heart and keep things simple. And whatever you do, don't try to be funny. Jokes are fine for the speeches but aren't the right fit for your vows.
If you'd like to keep your vows as a surprise, get a third party involved to compare both sets. This way, they can make sure that both partners' vows are the same length and of a similar tone. Have a Friend or Family Member Officiate
You might not be able to get Adele to officiate your wedding like Alan Carr did. But getting a friend or family member to marry you and your partner is a touching way to include them in the ceremony.
One snag is that only registrars and religious representatives can legally marry people in the UK. That's not to say that a friend can't officiate your wedding though. Instead, it means that you'll have to make things legal at some point if you want the state to recognise your marriage. Many people get round this by popping to the registry office either before or after the big day.
Ditch the Devices
A room full of eyes on you is one thing. But a room full of iPhones and iPads on you can be a little disconcerting. Not to mention, it can ruin ceremony photos when the guests have all got screens held up in front of their faces.
One way to make life easier for your wedding photographer and ensure that your guests are fully invested in the moment is to insist on an 'unplugged' wedding. Guests can drop their devices off in a basket for safe-keeping with a groomsman at the venue entrance and then pick them up on the way out.
Parade to the Reception
Creative wedding ideas don't come much better than this one. If you're looking for a unique way to exit the ceremony and walk to the reception, invite your guests and one of these roaming bands to join you as you make your way, parade-style, to the next stop. We bet that everyone in town will wish they got an invite! Get Your Pets Involved
It's only natural to want to include all your family members in your wedding ceremony, including those of the furry, four-legged kind. Whether you just want your pets to look cute in the photos or you want your dog to be the ring bearer, getting your pets involved is a lot easier than you might think. Especially since many pet-sitters offer wedding ceremony services if you need someone to mind your dog during the ceremony.
Light a Candle
Lighting a candle is a symbolic feature of many kinds of religious ceremonies. But you can also use it to symbolise unity in a non-religious ceremony.
Normally, this involves each partner holding a candle and using them to light a larger candle together. You can get your guests involved too by giving everyone a lit candle or joining everyone together at the end to light a long line of candles. Whichever way you do it, candles can give the photos a magical touch.
Go for a Gospel Choir
For a joyful, powerful, and unforgettable addition to your wedding, how about hiring a gospel choir to perform while you walk down the aisle, exit the venue, or both?! Whether your ceremony is religious or not, there's nothing like the rousing sounds of the Funky Gospel Choir to lift the mood. Not only will their voices and harmonies wow your guests, but their energy is sure to get everyone up and dancing.
Include a Sand Ceremony
If you'd like to include a symbol of unity in your wedding ceremony, combining two types of sand is a unique and modern alternative to lighting a candle.
Usually, each of you will have a glass jar or vase of sand which you then combine in a larger vessel. The two sands could be different colours or you might want to use sand from your local beaches if you're from different places. You can then display the sand-filled jar in your home as a representation of your two souls becoming one - very romantic!
Add a Surprise Element
From waiters that suddenly break out into song to surprise guests, adding an unexpected element to your wedding ceremony makes for a unique and entertaining event. You could even make the whole thing a surprise by inviting everyone to your engagement party and then springing out all dressed up and ready to tie the knot. No doubt you'll be smiling about the shock on your guests' faces for years to come!
Blow Bubbles
Looking for ways to make your wedding ceremony photos stand out from the rest? Get your guests to blow bubbles!
Have one of the wedding party hand out small bottles of bubbles as well as a few bubble shooters to guests as they arrive. Later, the officiant can instruct everyone to get ready, set, and blow! This is a fun way to announce your newly married status and get some incredible photos at the same time. End the Vows With a Dance
Who says you need to wait until the reception to enjoy your first dance as a married couple? Topping off your vows with some cheek-to-cheek action can be an uplifting way to close the ceremony. You could even turn up the tempo with a fun dance down the aisle to the sweet sounds of one of these acoustic duos.
Create a Time Capsule
This creative wedding idea involves placing items from your wedding and relationship so far into a box for digging up on a significant anniversary. Some items you might want to include are coins from countries you've visited, photos, your wedding programme, a newspaper clipping from your wedding day, the restaurant menu from your first meal together, and handwritten copies of your vows.
Exit in Style
Forget the rice or rose petals and have guests wave sparklers or cheerleader-style pom poms as you leave the ceremony. Another option is to place tambourines, party blowers, and maracas on guests' seats to turn your exit into a show of noise and excitement!
Unique Wedding Ceremony Ideas
If you're feeling a little tense about planning your wedding, we hope these unique wedding ceremony ideas have put a smile on your face and sparked your creativity.
Remember, your ceremony should reflect you as a couple. If that means sticking to tradition, going all-out original, or mixing and matching a little of both, it's your choice!
No matter how unique or how traditional you go, however, music is always a must. Check out our weddings and events blog for more inspiring ideas or contact us here at Bands for Hire for more information on selecting the right music for your big day!