How to Throw a Legendary Great Gatsby Themed Party
Details

Category: blog
Updated: 08th July 2022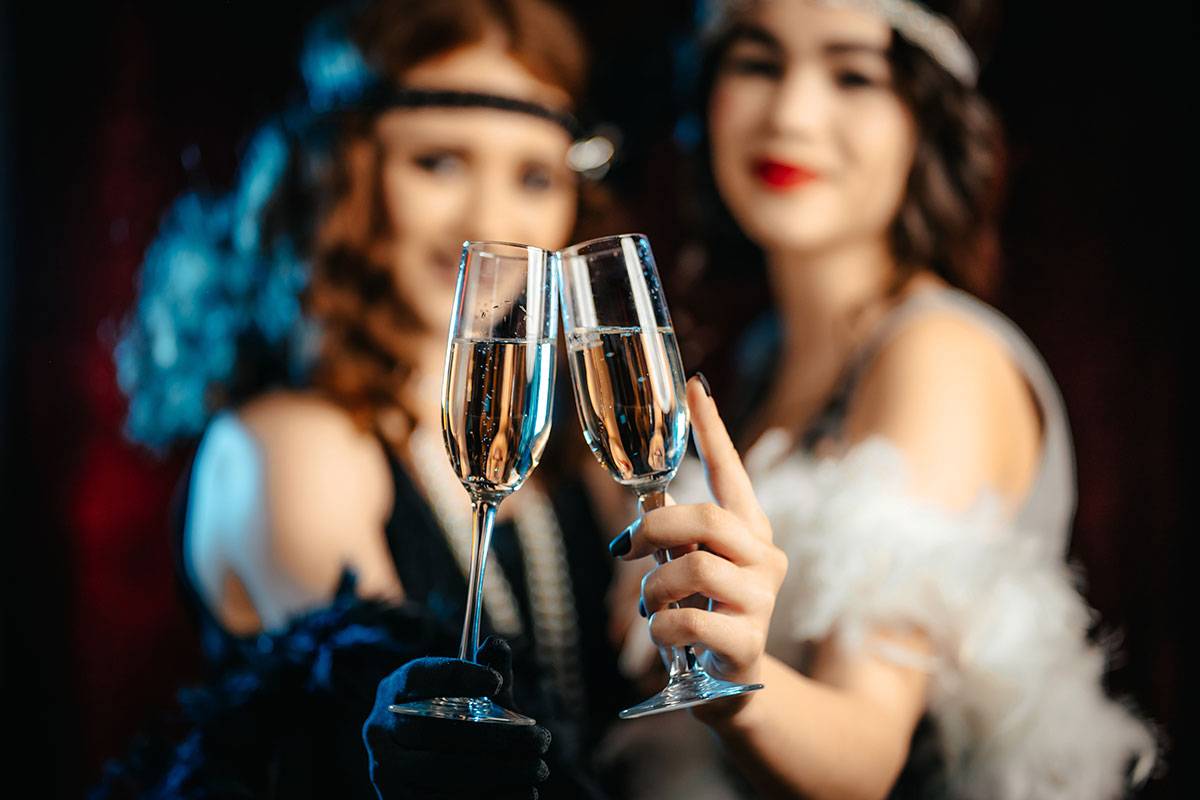 What would you do for love?
If you ask Jay Gatsby, there is no expense too great when you're seeking to impress a long-lost flame. This literary lover's sterling soirees were bright, energetic beacons intended to draw the lovely Daisy Buchanan back to his side.
This year marks the 100th anniversary of Jay Gatsby's final blowout bash in the fictional West Egg, New York. In homage, why not throw your own Great Gatsby themed party? Whether or not you're trying to catch the attention of a far-away lover, you'll certainly capture the hearts of your guests!
The key to how to throw a truly Great Gatsby themed party is to embrace the feeling, sound, and aesthetic of the roaring 20s. This decade was all about gilding, decadence, and jazz. You can generate that ambience through fancy dress, live music, brilliant decorations, and 1920s-inspired drinks!
We've created this Great Gatsby Party checklist to help ensure that you include everything you need to throw host an event that would make Gatsby himself blush! We've filled it with our best Great Gatsby themed party planning tips to get your gala going from start to finish.
Read on to learn just how wild and wonderful the jazz age can be! Razzle Dazzle With a Dress Code
The 1920s was a daring time for fashion. We began to see the rise of "the new woman," another word for flappers. Ladies at all levels of society began reaching for more daring hemlines, boxier silhouettes, and stunning art deco details.
It also marked the rise of notorious gangsters like Al Capone and Peaky Blinders. Men began to emulate their style, favouring three-piece suits and flat caps.
The post-war era was one of the first periods when the average consumer could afford to own flashy clothing and accessories, and Partiers could afford to chase the latest fads. You can embrace the feeling of fashion freedom by encouraging guests to dress the part.
Encourage masculine guests to wear suits in light, bright colours and hues with a fedora or derby hat. Feminine guests might wear a flashy cocktail or flapper-inspired dress with a feathered or beaded headpiece.
The Sounds of the Jazz Age
Did you know that Great Gatsby author F. Scott Fitzgerald coined the term "The Jazz Age?" The sound of the roaring 20s was just as lavish as the rest of this stand-out decade, featuring multi-instrument ensembles playing high-energy music that made everyone want to get up and do the Charleston! The post-war boom allowed many people to own records and play the biggest hits in their homes.
Some popular hits from the decade include:
Swanee
The Moon Shines on the Moonshine
Avalon
You Ain't Heard Nothing Yet
That Old Irish Mother of Mine
Prohibition Blues
Pretty Kitty Kelly
You Can't Keep a Good Man Down
Lonesome Little Raindrop
After You Get What You Want
Irene
Jazz music is an essential element of Great Gatsby themed party entertainment. You might choose to hire a vintage jazz band, a swing band, or a postmodern jukebox-style band for the event. Your musicians will arrive dressed for the era, adding another aesthetic touch.
The difference between each type of ensemble is style. A swing or vintage band will play more traditional jazz music for dancing. These groups may or may not include a vocalist.
In contrast, a postmodern jukebox-inspired jazz band can play contemporary hits in a jazzy style. They almost always include a crooning jazz vocalist in addition to a range of live musicians. They can often shift between the music of the era and the top 40 pop hits of today.
You don't need to save your music acts for after-dinner entertainment, either. Many hosts include smaller ensembles during arrival, cocktail hour, or between other performances. Hiring a jazz trio is a perfect way to keep the energy going during moments of transition.
Your choice is entirely dependent on your interpretation of The Great Gatsby theme. If you want to emulate the type of historical party that Jay Gatsby held, hire a vintage jazz group. If you'd prefer to bring the jazz age into the twenty-first century, a Postmodern group is a great fit. A Profusive Party Venue
Gatsby hosted his famous parties in a Gold Coast mansion on Long Island, New York. In modern currency, his home would cost over £70 million! You might be pondering how to throw a Great Gatsby themed party without the exorbitant setting, but we believe it's possible!
Still, the venue can make a difference if you choose wisely. Your best bet is to host it at a large estate or palatial event hall that evokes the gold coast aesthetic. If possible, choose a building in the art deco architectural style that was popular during Gatsby's heyday.
Remember that Gatsby threw his legendary bashes outside in his garden. If your party is in the summertime, consider making it an authentic pool party. An in-ground swimming pool in a lovely natural setting will reflect the celebrations in the book and film.
Imagine how incredible it will be to swim and dance under the stars while a live jazz band underscores the event! Barring that, any venue can transform into a space fit for Gatsby with 20s-inspired party decor.
Decorate With Decadence
The art deco movement inspired much of the design and decor during the roaring 20s. Once you understand what makes this movement distinct, you'll have no trouble choosing period-inspired decorations.
The features of the art deco style include:
Clean lines
Geometric forms
Sleek design
Symmetry
Repetition of design elements
The most popular shapes and motifs included repeating trapezoids, chevrons, zig-zags, stepped forms, sweeping curves, and sunbursts. These designs were relatively simple, favouring uncomplicated repeating patterns. They often appeared in contrasting colours, like white on black or gold on white.
An art deco-inspired photo backdrop makes a stunning feature at a Gatsby party. You can create your own using Luan and painter's tape.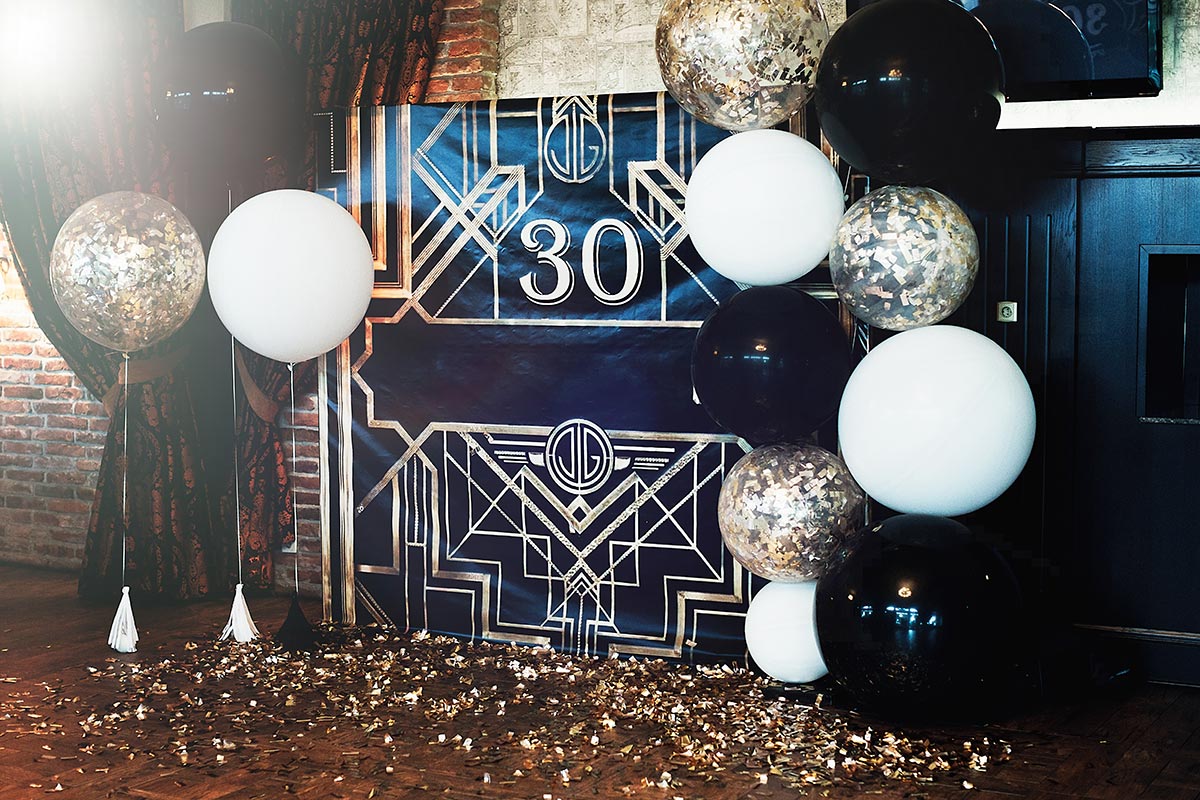 Paint your Luan in your accent colour, then tape out your design. With painter's tape, geometric patterns such as chevrons are easiest. Paint over the design, let it dry, and then remove the tape to reveal the colour underneath.
You can take photos of your guests as they arrive or set it out with props as a DIY photo area. You might include some fedoras and feathered headpieces for guests who haven't come dressed for the theme. Black and white photos look extra gorgeous when everyone is in period-inspired garb!
Gatsby's parties were also known for their lights. String lights and lanterns will add a magical touch to your setting.
The most popular colour scheme for 1920s-inspired parties is black, gold, and white. You can bring in these colours by including balloons in your decor. Balloons are an unexpected match for the art deco sensibility, as they offer a simple repeating, contrasting pattern!
Finally, an over-the-top centrepiece can go a long way toward creating a sense of luxury. Large feathers, golden details, and shining marbles make decadent additions. You can never go wrong with candles!
If you're specifically focused on The Great Gatsby, decorating with the eyes of Dr TJ Eckleberg is a fun nod to the novel! Find places to incorporate book art and references. Hiring a classic yellow coupe (or another classic car) makes for a unique photo opportunity!
Inspire a Speakeasy Vibe
The Great Gatsby takes place in America during prohibition. At the time, the sale (but not the consumption) of alcohol was illegal. If flappers wanted a good time, they had to track down a speakeasy, an underground establishment where bootleggers sold alcohol in secret.
Other prohibition-era thrill-seekers took a more do-it-yourself approach to acquire their liquor. "Bathtub moonshine" was gin distilled in - you guessed it - the bathtub! Others distilled their moonshine in hidden mason jars.
While bootlegging was punishable by hefty fines or jailing, it was an innocuous crime. In the novel, Gatsby uses bootlegging as a front to cover up his more nefarious money laundering schemes. He has no trouble sourcing spirits to deck out his open bar, offering "old-fashioned" cocktails, even for the period!
With that said, don't forget to incorporate alcohol (or mocktails) into your celebration! To lean into the speakeasy inspiration, place your bar in a separate room and require a password to enter. You might serve drinks in moonshine-inspired mason jars. Include cocktails named after the characters, such as a Long Island Iced Tea for Nick Carraway or an elevated mint julep for Daisy Buchanan.
It can be fun to include a few drinks that have gone out of style since the 1920s, too. Guests will get in the spirit with a Gin Rickey, Sidecar, Mary Pickford, or Ward Eight! Hiring a bartender with enthusiasm for the era can make a big difference!
A Feast Fit for an Old Money Heiress
Speakeasies were intimate spaces where guests got up close and personal when they wanted to dance! The food that those revellers enjoyed couldn't take up too much space! Hors d'oeuvres and passed apps were a hit at rollicking jazz-infused celebrations like Gatsby's.
Some of the most popular cocktail dishes from the 20s included:
Cheese trays
Finger sandwiches
Crab cakes
Stuffed mushrooms
Shrimp cocktail
Deviled eggs
Grilled oysters
Olive platters
Mixed nuts
The main course is a great place to lean into the over-the-top concept of "a party thrown by a millionaire." Make it a sumptuous sit-down feast! The wealthy elite would have enjoyed a soup and salad course.
For the main dish, you might allow guests to choose from baked ham or turkey, which Gatsby served at his event. Any fancy sit-down dinner should be enough to evoke the era, however!
For pudding, you might offer some small cakes and bite-sized sweets for guests to enjoy when they take a break from the dance floor. In the novel, Nick Carraway notably purchases lemon cakes for Gatsby's big reunion with Daisy. Little cupcakes with metallic sprinkles are another great way to lean into the art deco style without sacrificing taste! Roaring Entertainment Options
Eating and dancing will keep your guests busy for most of the night. Even so, you might want to offer some entertainment options to keep guests occupied if they need a rest!
Some hosts choose to turn their Great Gatsby themed party into a 20s-themed murder mystery event. You can bring in an outside company or plan your own dinner theatre performance featuring your friends! This option requires a lot of planning and commitment and is only ideal if you want to add structure to your event.
You might include a few decks of playing cards at each table, including the directions for some popular games from the decade. Guests can open up a pack and take a break. It will only add to the ambience!
You can also have a dance contest during the evening! Some hosts choose to bring in an expert to teach the dances of the period. You can also hire professional swing dancers to perform!
You shouldn't need to plan too many other activities if you hire the right band! Your guests will love dancing to the most popular hits from one hundred years ago and today.
Jazz Up Your Great Gatsby Themed Party
The jazz age was a time of opulence, dancing, and gilded dreams. Things may not have worked out for Gatsby, but he sure knew how to have a good time! Throwing a Great Gatsby themed party is one way to embrace the dynamic era with a gorgeous, cohesive aesthetic that guests will adore.
You can tie your evening together when you hire a vintage jazz band, swing band, or postmodern jazz ensemble to play at your event. Our high-energy ensembles will ensure that your guests take to the dance floor and stay there! Contact us today so we can connect you with the perfect musical act for your Gatsby-inspired affair.